Kawasaki atv parts & models
Quad ATV Models n' some history
Kawasaki ATV Parts - knowing how to get good cheap used atvs for sale .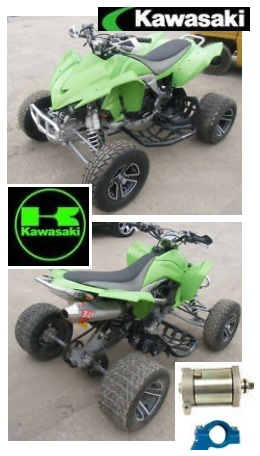 If you can buy good inexpensive ATV's in the first instance, buying spares will be less of an activity – wont it?
If you're in the market for a Quad ATV, you should definitely consider Kawasaki (and kawasaki atv parts in the future). Kawasaki has become one of the leaders of motocross bikes and ATVs in the world.
Kawasaki ATV spares help
Offroad riding can take a heavy toll on your Kawasaki ATV. To stay safe and in good condition your ATV will need careful attention and regular maintenance, and it is likely that damaged parts will need to be replaced from time to time.
This can be costly, and so many owners consider buying used Kawasaki ATV parts. There is a thriving market for used atv parts, but it is important to be careful about what you are buying. Used parts that perform a non-critical function, such as body housings, trim, lights and many electrical parts can generally be used safely.
But take care when choosing used parts for critical mechanisms, such as parts for the engine, wheels, suspension and braking systems. In some cases used parts have been taken from an ATV that have been severely damaged in a crash, and while used parts may appear to be in good condition, it is not always possible to tell just by looking.
Ensure the part is clean and shows no signs of damage, such as scratches, dents or marks. Used Kawasaki ATV parts sold by a reputable parts dealer should have passed a mechanical inspection before they are sold. Ask to see any inspection report, and try to learn as much as possible about the history of any used part before you buy.
What types of parts & accessories are most popular for ATV's ?
Kawasaki: Company History
Kawasaki Heavy Industries Limited has actually existed since 1896.

Interestingly, the company is named after its founder Shozo Kawasaki, but isn't related to the Japanese city of Kawasaki.
That's certainly some useful information if you need to purchase kawasaki atv parts for your Quad ATV.
The company's first motorcycle was a 125cc two-stroke model that it introduced in 1960. Meanwhile, Kawasaki's first Quad ATV was the Tecate-4 250, which it manufactured from 1987 to 1988. The Tecate-4 250 was a response to high-performance Quad ATV models that Suzuki and Honda had manufactured.
Kawasaki: Quad ATV Models
If you're in the market for a Kawasaki Quad ATV, then it's crucial to know about some of its major models. This would also help if you need to purchase kawasaki atv parts in the future. Here are some of the most noteworthy models:
Good Spares advice.
Buying both cheap atvs for sale and atv aftermarket parts – you need to buy from a reputable store, or individual. Ideally if you are using ebay, pick one with excellent feedback. Same goes for atv tires wheels, and especially used atv tires – or part worn (used) spares too.
You can find almost any conceivable pre-used spare and part on ebay, but the trick is not just knowing it'll fit – but will it be suitable for the rigors of use? If you're in any doubt, buy NEW and buy OEM (an original equipment manufacturer part).
Various types of ATV's and accessories.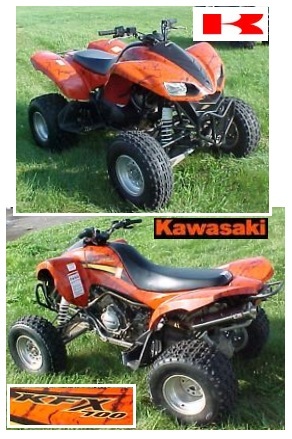 Kawasaki: Quad ATV Models
Before searching for a Kawasaki Quad ATV (or kawasaki atv parts later), it's important to be aware of the most common types of ATV Quad vehicles. Here are some of their main categories:
Recreation Utility Vehicles: These Quad ATVs are ideal when you want to perform light work or play. This is certainly one of the most versatile types of Quad ATVs from Kawasaki.
Sport: This is an excellent option for new Quad ATV riders (who would also later need kawasaki atv parts). Such ATVs provide many automatic and safety features that make them perfect if you're just starting your ATV adventures. After getting some experience with a Sport ATV, you'll be ready to graduate to more advanced models.
Sport Utility: This is basically an upgrade from the Sport Quad ATVs from Kawasaki. While they're rugged like the Sport ATVS are, the Sport Utility models can provide you with more control of your riding.
As their name suggests, Sport Utility ATVs can be functional for both work and play. If you're looking for an all-purpose Quad ATV, then you should definitely consider Sport Utility ATVs from Kawasaki.
Utility: When you want to be strictly business with your Quad ATV, then you should choose Kawsaki's line of Utility ATVs. These ATVs are built-to-last, and have all of the features you'd need to get the job done using your ATV.
Used prices are of course cheaper than buying new. So once you have picked your style of ATV narrow down your choice further to a handful of models, then go hunting and bargain with the seller on a suitable price. (Often the seller might have parts along with the ATV for sale – buy them if the price is right – it nearly always is).
Kawasaki: ATV Accessories
Here are some of the most common types of accessories for Kawasaki Quad ATVs:
Gloves: A solid pair of gloves is one of the best investments you can make for your Kawasaki Quad ATV. They can keep your hands dry and warm, and most importantly-help to improve the operation of the ATV.
Helmets: A wide array of different helmets is available from Kawasaki. Helmets will help to make your riding as safe as it is fun.
Riding Gear: These accessories will help to keep you comfy and safe while riding your Kawasaki Quad ATV. They're available in different designs, colors, and sizes.
Windshield: This accessory will help to protect you from rain, snow, and even insects.
---
Home | Dirt Bikes | Cheap Dirt Bikes | Accessories | Mini Dirt Bikes | Motocross Racing
Motocross Gear | Off Road Bikes | Used Dirt Bikes | Wholesale Dirt Bikes
Honda | Kawasaki | Suzuki | Yamaha