Kids Dirt Bikes
Cheap dirt bikes for children - what would you want your kids to have?
Kids dirt bikes – fun for little cash.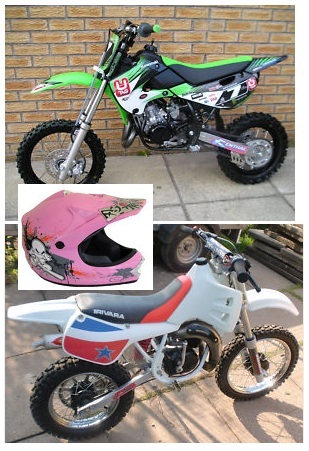 As we all should know, children cannot legally ride kid's dirtbikes on a normal road. They will, however, be able to ride their bikes on a dirt track or in a field.
It is absolutely essential for the kids dirt bike to be able to handle any kind of rough terrain. A good motorbike helmet, preferably full-face, should be well fitting and protective clothing should also be an essential part of the whole motorbike outfit.
It is only natural to assume that a child will eventually fall off the dirt bike, so therefore having the correct safety equipment will be very important while riding their dirt bikes.
No other child should ever be allowed to ride on board a motorbike with another child at the helm. Despite the fact that this is illegal, this situation only leads to a child showing off and is definitely a surefire way for accidents to happen in an instant.
Extra weight is also added to the kids dirt bike when carrying another person, which the bike will not have been designed for. Due to the extra weight, the handling of the motorbike will change and the child who is operating the dirt bike might not compensate for this.
Riding or operating a dirt bike could be dangerous for an adult and a child alike, but it certainly can be a whole lot of fun as well. Riding and acting responsibly means a safer ride all round.
Riding dirt bikes teaches kids a lot about responsibility from a young age, as well as learning valuable skills with operating a bike in the correct way and the safety issues that come hand in hand.
MX Bikes & Motocross clothing for kid riders.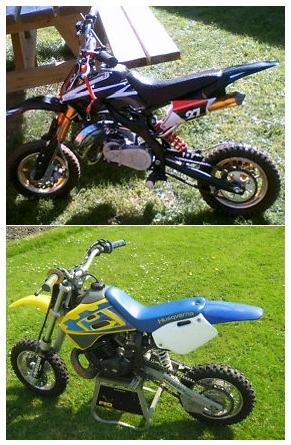 If a child wears the correct safety equipment all the time they will carry on doing this when they are an adult. Their skills will also be better developed to be a safer driver, so that by the time they get their own motorcycle or automobile there will be plenty of experience behind them.
The Kids ATV is an extremely rugged four wheeler with an engine size starting at 70cc and going up to 110cc in either a 2 stroke or 4 stroke model. The top speed of this bike will range from 25 up to 35 mph. Two stroke engines require a mix of gas and oil, while four strokes only need gas.
The bike has brake and front lights and kids can choose from a range of bright colors like lime green, yellow, pink, green, red, black and blue.
Safety features include a remote-start/kill alarm that disables the bike's ignition key to avoid any misuse by kids. There is also a rear tether- cord. The bike's maximum speed is 5mph, perfect for a child as young as 6 years old.
The 50cc mini kids dirt bikes are extremely lightweight which is perfect for battling a challenging landscape. Tires are very important to be able to handle a terrain that has rocky surfaces, potholes and mud puddles.
This dirt bike has a 4-speed manual transmission, a semi automatic model as well as a fully automatic transmission.
The 50cc dirt bike engine is aligned and positioned to ensure no damage will occur during jolts and jumps. These kids dirt bikes are becoming very popular amongst teenagers and adolescents, and are also fuel efficient and economical to run. These are just two exciting examples of kids dirt bikes that can be enjoyed by kids of various ages.

A used small dirt bike for sale, can be of great benefit to a parents wallet. But do spend on kids motocross gear – especially the helmet, that must be bought new and without a blemish.
---
Home | Dirt Bikes | Cheap Dirt Bikes | Accessories | Mini Dirt Bikes | Motocross Racing
Motocross Gear | Off Road Bikes | Used Dirt Bikes | Wholesale Dirt Bikes
Honda | Kawasaki | Suzuki | Yamaha