Kids dirt bikes for sale
Kids bikes – what are they all about?
When buying kids dirt bikes for sale you need firstly to ensure how skilled your child is on a motorbike. Ideally you won't be seeking a lot of power until your son or daughter becomes proficient first.
The bike must fit them well, by that we mean their feet must easily touch the ground and they are able to reach the handlebars, and gears without any severe stretching.
If the bike is too large it can quickly become out of control on a difficult racing track. Make sure the child is happy with the bike overall and they feel safe to ride it, if not leave well alone.
A number of dirtbike manufacturers do produce kids electric motos and mini pocket bikes. Not all of these are toy dirtbikes however, as some of the mini-moto petrol driven dirt bikes can travel at a fast pace and although small are built for adults. Your child will also need a dirt bike helmet too; in both protection from injury and no organised motocross track would let a child race without one. So ensure it fits snug but not tight.
From 50cc, 65cc dirt bikes up to 80cc MX models, the list is almost limitless. A motocross forum can sometimes help in tracking down a good used youth dirt bike, but we went over a few dirt bike websites to find a ride fit for a future moto champion.
Ebay.com had 2 125cc discount bikes (junior field bikes), they were a set of non branded Chinese pitbikes in excellent condition with a starting bid of £500.00.
With a little under 2 days bidding to go, the 2 mini moto bikes had very little use – and could be regarded as unwanted presents.
Still on ebay we uncovered a BETA 50cc JUNIOR motoX bike for £550. It had a 49CC two stroke petrol motor, again hardly used due to running costs – so an urgent sale was required.
From ebay to junior-motorcycles.co.uk who had various Kids dirt bikes for sale, ie: Lem Junior Race Bikes from £1,620. They have 50cc auto competition engines, producing around 11bhp. Hydraulic disc brakes & 10-10 wheels were all inclusive - this moto will certainly thrill your child. Also on sale was the NEW Polini X1 '04 AC; going for approx £2400; but a similar shop soiled mini model was going for a few hundred pounds less!
If that doesn't excite you the web site store had a KTM Pro Junior 50cc ride - the DB Magnum which is under £1,000. This pit bike will make good use of your MX techniques as the power produced can be around 8.5bhp. Power limiters can be attained if you're worried about a crash with your dirt biker child at the helm – so please ask the store owner should you be concerned.
A Used kids dirt bike
This is the way to buy a cheap child's motocrosser.
The minibikecentre.com had a number of appetising choices; within the remit of Kids dirt bikes for sale ; starting with a SUDA JR-70 2008 trial bike selling at £341.57. Front / rear drum brakes, KnN Style air filter and Electric start were attached to this motorcycle. The dirt bike muffler has been silenced, plus a 3 months parts warranty should give you peace of mind should you not know your mini moto's oily bits that well.
Moto x & freestyle accessories are also available from the minibike centre – such as an O'NEAL Element Jersey going for £13.69, and a pair of O'Neal Element Boots at a sale price of £49.99. A Superb accessory for your Kids dirt bikes for sale - as these boots have the 3 buckle closure system, steel shank and un-directional sole.
The dirt bike catalog over at harglo-performance.com had a couple of cool MX bikes and Kids dirt bikes for sale. The MALAGUTI DB MAGNUM, has a quick 50cc engine kicking out 11bhp. Adjustable clutch plus a fully mapped digital ignition – and suitable for 6 years and above. Selling for £995, you might think they would need some repair but they are ready to race!
If you want to spend more a used LEM RX65 with a 65cc Franco Morini geared engine might be more your thing? Priced at £1500, the Wavy discs and Black alloy rims with a full slick sticker set of course, make this a star amongst lesser bikes in mud racing.
Suzuki-off-road.co.uk, also provide Kids dirt bikes for sale. The site has a Junior Off Road motocross bike called a DR-Z70 . This puts out 67cc for a cost saving of £995. Great for newbie's and beginners but specific ability skills were not available (that we could see) so you would need to contact the store for confirmation on what age range; is suitable for your child.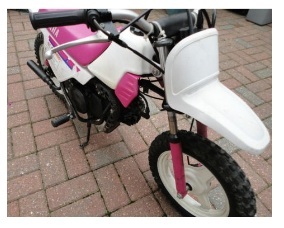 Mxchange.co.uk has a sense of community amongst its classifieds. It never disappoints as the website has a whole page dedicated to KIDS MOTOCROSS BIKES FOR SALE.
We picked over a Honda CR 85 going for £1000 and a Yamaha YZ 85 for a slightly dearer price of £1500. A Yamaha YZ 85 for a middle price of £1250, was like new containing dirt bike handguards, MX triple clamps and a pro circuit exhaust. Which is brilliant value overall.
Also a girls pink pw50 yamaha mini-motocross bike was up for sale at just £550 – which is ideal for your daughter, just setting off into her new dirt track adventures.
Do remember it's easy to fall into the trap that these dirtbikes are for moto-cross games, as they appear so toy-like - so do act sensibly and ensure your kids wear all the motocross gear when out zooming around.
If you want to play without a helmet the free dirt bike games online and radio controlled dirtbikes would be a safer choice.
Kids dirt bikes for sale
Most children will start off on an electric dirt bike - often regarded as "toy" motocross bikes. Some still have a fair bit of power – so always read the age guidance (age-range) on the description on the box. Ideally if your buying new or used second hand dirtbikes, you should take the child with you – if only so they can sit on it – and you can immediately tell if the bike is too big or small for them.
If they have never ever ridden on an MX bike before, go for the lowest cc you can find. A bigger bike, can be bought later, if the child responds to the power ok and rides sensibly. Buying Kids dirt bikes for sale need not be a nightmare.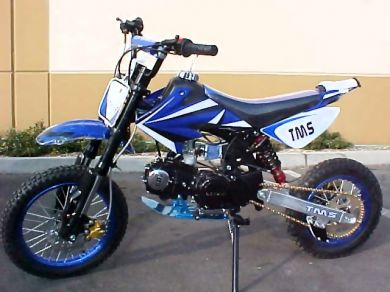 ---
Home | Dirt Bikes | Cheap Dirt Bikes | Accessories | Mini Dirt Bikes | Motocross Racing
Motocross Gear | Off Road Bikes | Used Dirt Bikes | Wholesale Dirt Bikes
Honda | Kawasaki | Suzuki | Yamaha