MX Girl Thoughts
MX Girl Thoughts Continue to Focus on the Same Names
You have seen the names before and you will see them again, because history does not change. It gets better depending on who is telling the story and what has happened in the last few years.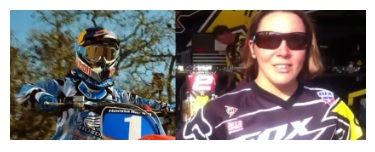 A quick recap about the MX girl thoughts that started official competition among women MX riders; as 300 competed at the first and only Powder Puff National Championship, held in 1974.
Nancy Payne, one of the first Americans to ride in Europe, won the competition. The event was renamed the Women's Motocross Nationals, partly to get rid of the demeaning sound of "powder puff."
Sue Fish had a rare AMA Men's Pro Racing License in her name. She was that good and won an AMA 125cc National Men's Pro competition. Mercedes Gonzalez joined Kawasaki Team Green. The MX girl thoughts of these women and others, such as Dee Wood and Kim Douglass, focused on more opportunities for women MotoX competitors.
The message worked, since more girls became interested in all aspects of motocross, earned sponsorships, and continued to urge others to enter the competition. There are female riders across the world and several of them stand out.
Ashley Fiolek was born to ride. The fact that she is deaf does not interfere with riding, relying on shadows and vibrations to alert her to upcoming bikes or problems. She rode her Honda CRF250R to a win in Moto 1 and fifth place in Moto 2 at Hangtown in Sacramento this May. The next competition at Freestone resulted in a grueling second place finish in WMX Moto 1 and a Moto 2 win 5 seconds ahead of the competition, which led to an overall 2-1 finish.
Fiolek is now trailing Jessica Patterson by three points in the championship standings. This rider displays her MX girl thoughts with speeches about her passion for the sport, as well as a recent appearance in Vogue to show that females can handle both parts of the game.

Jessica Patterson, a 28-year old rider formerly with the DNA Shred Stix Racing Yamaha team, signed an agreement in April 2012 with Rockstar Energy Racing Suzuki., who, according to team manager Dave Gowland, was surprised she did not race last season. A six time Women's Pro Motocross tourney, she is delighted to be back in competition with the RM-Z250 bike giving her all she asks for.
Hangtown Moto 1 resulted in second place and she recovered from a crash to take second in Moto 2, winning overall. Her May 26 Moto 1 win at Freestone and second place finish in Moto 2 leaves her out in front in the standings. The ambition and drive to bring the championship home for her new team echoes the MX girl thoughts of excellence.
Jolene Van Vugt is deserving of inquiring MX girl thoughts. A Canadian rider, she set a world record in 2010 at the Brisbane Entertainment Centre as she became the first female to backflip a motorbike ramp to ramp. It took four tries, but she did it. Jolene fell in love with motocross at a young age, influenced by her MX dad, Bill.
Performing in Nitro Circus gains a lot of recognition. Donating items for the auction that raises money to help pay for expenses of the Canadian Women's MX series displays her hope that more females continue to participate and excel in motocross.
What are your experiences?
MX Girl Thoughts on the wild world of motocross.

We want to know more about our girl motocrossers.
Our demographic wizards here at dirtbikefix.com; tell us that the (slight) majority of fans browsing this site are ladies! Yep - so we'd like to know more about you.
Do you want to tell us about a race you won? A trophy your proud of or share some pics of your new bike? If so send em' in.
Don't forget - as a personal thanks from us - you get a spam free e-book about 10 things you must check when buying a Dirtbike once you make your submission.
Are you a Motocross Girl or Pitbike Woman?
Do you have a great story to tell? Share it!
What Other Visitors Have Said
Click below to see contributions from other visitors to this page...

hi

i like doing jumps and seeing all the fight boys and showing off your lady bumps. (cleaned-up version - editor)....wink.