Mini dirtbikes for sale
Used dirt bikes, a good thing?
Mini dirtbikes for sale - How to Choose a small Dirt Bike (or any size for that matter).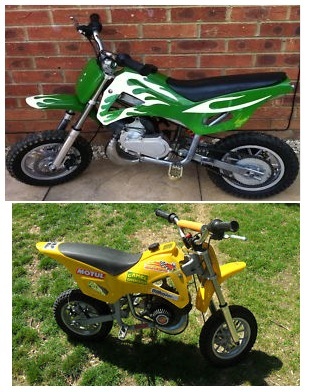 There are hundreds of full size, mid-sized, and mini dirt bikes for sale in stores near you, and selecting your dirt bike can be an arduous process if you don't know what you are looking for in a dirt bike.
Of all the medium, large and mini dirtbikes for sale, how can you know which is the best one for you, and how can you ensure that you get the best dirt bike possible?
1. Find a dirt bike that fits your lifestyle, one that is safe for you to ride regularly. You want a bike that you can rely on, one that you know will perform consistently.
2. Find a bike that you can use easily and one that you can keep in good condition. Some dirt bikes are simply too complicated for you to care for yourself, but you can look through the large, medium, and mini dirt bikes for sale to find one that you can understand and maintain in good condition.
3. Try to find a bike that is fairly reasonably priced, but make sure that it is in good condition. A used un-molested minibike should certainly be on your shortlist.
Many bikes that have been stolen are resold as used, and you want to watch out for bikes that are being sold at prices that are suspiciously low. Look for a bike that is reasonably priced, but low enough that you can afford it.
Built for a motocross giant !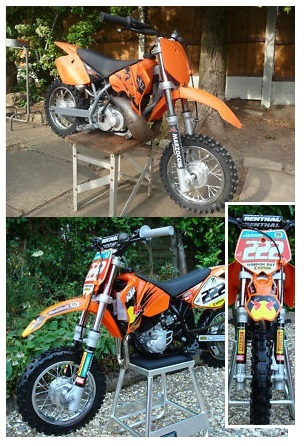 4. Make sure that the bike you buy is age appropriate. If you are looking for a bike for a child, there are many mini dirtbikes for sale that will be the perfect size.
For a teenager who is new to motorcross racing, a medium sized bike will work. For adults, there is a large range of bikes of all sizes. It is important that the bike rider can touch the ground with both feet easily while sitting on the bike, and you should find a bike that is sized correctly for its rider.
5. Look for a bike that the rider can handle. If your child wants to ride a motorcross bike, one of the mini dirt bikes for sale may be the best choice. They usually have smaller motors that are easier to handle. For a teenager or adult, a bike of the right size and speed should be found.
Dirt bikes can range from 49cc to 650cc, and some bikes may simply be too powerful for their rider. Find a bike that is easy to control, easy to maneuver, and you are guaranteed to have a bike that will perform well.
6. The stroke of the engine is also important, as the different strokes of the engine perform differently. Two stroke engines are able to deliver power more quickly, but they are often more difficult to handle. Four stroke engines are more sluggish, but they deliver the power from the engine more smoothly.
7. Will you be trail or track riding? Some dirt bikes are made only for offroading, while some are made only for track riding. Find a bike that suits the activity that you will be doing. Then you have your perfect mini dirtbikes for sale.

---
Home | Dirt Bikes | Cheap Dirt Bikes | Accessories | Mini Dirt Bikes | Motocross Racing
Motocross Gear | Off Road Bikes | Used Dirt Bikes | Wholesale Dirt Bikes
Honda | Kawasaki | Suzuki | Yamaha