Motocross bedding for kids
Dirt bike bedding for a dirt bike kid?
Seeking motocross bedding for kids for a motocross present?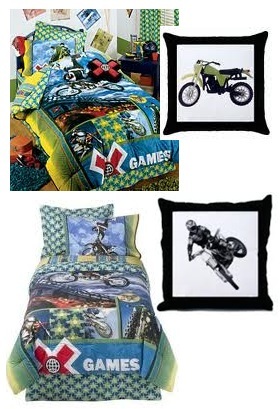 Making bedding that appeals to kids and their current likes has been around for years, quickly slipping into the category of collectibles and favorites.
Spiderman, Batman, Tinker Bell, Arielle the Little Mermaid: all of these are favorites. Recently, real-life heroes have gained attention, resulting in bedding items created with sports and sports figures. With motocross bedding for kids, it is not just the logo, but the equipment, track, dirt, and legends.
The motocross bedding set
It is always a good idea to keep a list of each kid's favorite motocross heros by the phone or on the computer. If Uncle Joe or Grandma Jane calls wondering what the birthday child wants for a birthday or graduation, the answer is right at your fingertips: motocross bedding for kids. Refer them to Dirtwerkz for a Jeremy McGrath fleece blanket.
This Signature Series Blanket is made of 100 % polyester. The sublimated four -color process makes it poster-quality in appearance. Sponsor logos are on the blanket as well as a replica of Jeremy's autograph.
Washable is a great name to everyone and fits this blanket perfectly. The blanket is durable enough to hang on the wall or take to the next Supercross event, or even use it to wrap in while watching television. Of course, it is a warm, perfect bed blanket and sure to bring good motocross dreams to the recipient.
There is a lot of camping out when the family follow or perform in motocross, so a sleeping bag is always welcome.
Bedding bags and motocross bed sheets.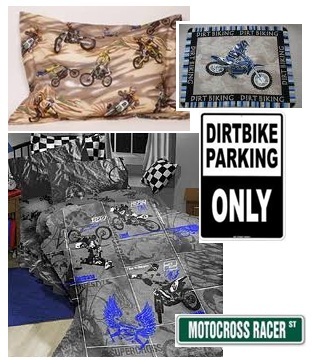 Motocross bed in a bag.
Perhaps the kids are going to a sleepover, a Pro Outdoor National, off on a vacation or watching an all-night motocross marathon in the den on the DVR.
Check out Racewayatv for the latest motocross bedding for kids such as Reed, McGrath or Pastrana sleeping bags are 100 % polyester with sublimated graphics. Extra warmth and comfort are provided by the comfy inner lining.
The bag, Flame Retardant for extra protection, has a heavy duty zipper. The size is 58 x 60 inches. If there are too many favorites in your child's life, consider the great picture on the SX bag.
There is nothing to prohibit big kids of any age from having Motocross themed bedding. From infant on up, Dirtwerkz is a site that knows the sport and what fans want. Teenage or grownup kids might want one of the reversible MX Duvet Sets in full or queen size.
With a 250- thread count and a soft poly/cotton blend fabric, the MX Duvet is perfect for inserting your favorite blanket and enjoying the great MX scenes on the material. Two different designs grace the front and back; one side is themed on blue and the other on brown. The set includes the duvet, fitted and flat sheet and pillowcase.
Kids bedding
Turn the room into a track and get the matching curtains and accessories, such as MX throw pillows, trashcans, and rider pennants.
Company Kids offers a great variety of Motocross bedding for kids in twin, full and queen size percale sheets, pillowcases and comforters.
The main color is off-white with dirt bike scenes. The riders are in white, green and black colors. Enjoy looking at all the Motocross bedding for kids and selecting some for now and later.

---
Home | Dirt Bikes | Cheap Dirt Bikes | Accessories | Mini Dirt Bikes | Motocross Racing
Motocross Gear | Off Road Bikes | Used Dirt Bikes | Wholesale Dirt Bikes
Honda | Kawasaki | Suzuki | Yamaha