Motocross videos
The throng of motocross clips online.
Motocross Videos - Variety is good.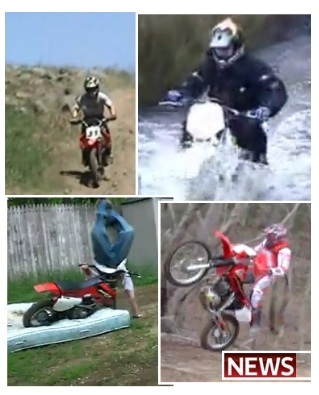 Motorcross videos are a wonderful way to introduce anyone in the family to the excitement and skill needed to participate in this sport.
Techniques, timing, and observation help many understand what it requires to accomplish a specific activity, like a jump, acceleration on a ramp or even changing a tire on your offroad bike.
Adults like to learn basic information by watching 'how to' videos because they can talk about motocross comfortably with fans of the sport.
Freestyle motocross vids
Teenagers like to watch the videos because the jumps and action are incredible. Even a two year old will watch motocross videos because they are age-specific. Action, music and other kids get the attention quickly.
For the young set age two to seven consider the video 'Michael, Michael - Motorcycle' who turns his garage into a dirtbike supershop. His young friends Johnny and Billy embark on a fantastic ride.
Not only is it one of the educational motocross videos that is listed, it is interesting and drives home the point that dirtbike riding is a friendly family activity.
Resisting dirt bike videos ?
The songs are easy to learn and sing. The world of motocross is presented with quads, mini-bike racers, AND lots of dirt and mud. What kid can resist? Safety gear and dirtbikes are introduced in a positive way, making it much easier for the young one to accept the equipment when it needs to be donned.
If your kid already knows all this, he or she will probably not like it all that much, as it could be going over old ground.
Some MX videos you gotta see.
Video lessons in what you should be doing.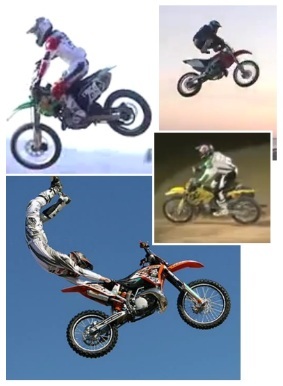 The film 'Small Bikes, Big Fun With Scot and Ryder' is for kids from four to ten. Some of the older kids might enjoy it for the action, because there is real MX racing. The video lets you spend the day with Scot and his son, Ryder.
The two are going riding and there is a good discussion about dirt bikes, street bikes and motocross events. Scot shows Ryder the ins and outs of a motocross track. LJ talks about his experiences riding when he was 3 years old.
Both Ryder and his dad are riding, so safety gear is covered. Finally, the slogan for the video is a good one for kids to remember: 'Good clean fun in a dirty sport.'
One of the older motocross videos is 'Eric,' but it will draw the interest of kids, teens, and many adults. There is excellent coverage of motocross racers like Justin Barcia, Matt Lemoine, Eli Tomac, Brandon Mays, Cooper Webb and more racing in natural terrain. 'Eric' is a product of VurbMoto and GK Films.
Dirt bike video clips
Adults have their own view of what they want to watch and there are a lot of 'how to' motocross videos to help any rider get more skilled and focus more on performance and vision. 'Vid: No Toil Privateer Journey' is an interesting look at a team that is focused on helping up and coming racers get to the factory teams.
The video is put together by Vurbmoto. Vitalmx member videos take a great look at Alec Watts shredding airway. Another member video is of the Milestone MX Pro Show May 11, with video of several pro riders showing their best moves and creating better ones.
The important thing is to learn techniques, practice good etiquette and courtesy, wear safety equipment and have fun. You will find that a lot on many motocross videos and it will help you explain it to others.
The Privateer Journey at Salt Lake City
Xcorps Action Sports TV #42.) MX GIRLS seg.1
Small Bikes Big Fun with Scot & Ryder
---
Home | Dirt Bikes | Cheap Dirt Bikes | Accessories | Mini Dirt Bikes | Motocross Racing
Motocross Gear | Off Road Bikes | Used Dirt Bikes | Wholesale Dirt Bikes
Honda | Kawasaki | Suzuki | Yamaha