Motocross clothing
Is it all discount motocross gear?
Motocross Clothing - dissecting the various mx gear components.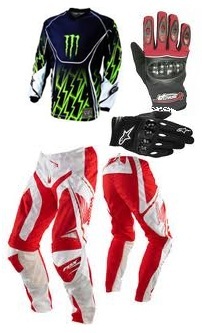 Go to the track with sunglasses because motocross clothing is colorful, bright and bold. Dangerous sports demand protective gear and MX is up to the challenge.
Chest protectors, elbow pads and kneepads offer additional protection against road burn and debris. Every item worn by an MX rider provides safety, from the boots to the helmet. Never buy used helmets or goggles. Both items need to fit the rider and the foam inside gradually adjusts to the owner.
Each time something happens to affect the stability of goggles or helmets, they lose stability. You are worth excellent new equipment. Your life depends on it when you are involved in any extreme sport, particularly motocross.
Motocross clothing like jerseys made of polyester micromesh are best. They offer flexibility, padding at the elbows, have a V-neck collar for ventilation, non-binding sleeves and knit collars and cuffs.
Troy Lee Designs has a women's GP Air Jersey especially designed to fit the contours of a woman. It features 100 percent lightweight breathable small- holed micromesh polyester fiber with a ribbed stretch V-neck collar for comfort and durability.
It is hot pink, white and grey. It is stylish and fits the description of a quality MX jersey. Also many riders buy thor motocross jerseys, and its indeed a quality brand, which is durable and their designs have wide appeal.
Some people argue that the government gets involved in too many things. Stepping in with minimum protective standards on helmets is a good thing. When a rider and his bike part company, the rider's head just naturally seems to be attracted to something solid and hard to hit. A DOT rating insures compliance.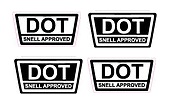 A Snell rating means the helmet has passed strenuous impact tests. A helmet does not have to be bulky and awkward. Look for the safest, lightest, best-fitting helmet you can find and make sure it is compatible with your MX goggles - depending on your type of racing.
The Troy Lee Designs Air Stinger Helmet is new for 2012 and features a lighter, durable advanced aerospace carbon/composite shell construction. New materials and techniques advance all the time.
Motocross pants & tops, (as vital clothing items), must be durable. They are going to get a lot of abuse from new or seasoned MX veterans. Comfort is important; the rider must have ultimate flexibility for sudden moves during stunts and moving over the bike.
Fox offers an ergonomic pre-curved construction that provides the perfect fit in the "ride" position. An adjustable front fly-cam closure gives the waist a custom fit too.
It has tricot mesh lining and inner knee panels made of leather that protect the rider against heat and abrasion. Stretch panels offer flexibility in the back, crotch, knees and lower back legs.
Motocross gloves and more.........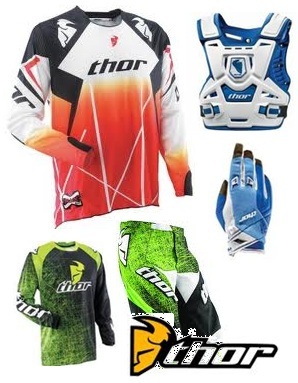 Another consideration in motocross clothing is gloves. Flexibility is important within MX gloves. Patches provide extra protection for fingers and hands and extra palm protection absorbs some of the shock from the ride.
Two-way stretch and hook-and-loop closures improve reaction. Silicone fingertips give added lever control and grip.
The gloves make it easier to pick up the bike, if needed, and protect hands against shock and abrasion. No Fear and Fox are two of the respected names in extreme sports gloves.
There is an incredible selection of MX boots from such companies as Thor and Alpinestars. Like all motocross clothing, commitment to safety is a big part of the composition of the boots.
Features will include dual locking buckle systems, shock and vibration dampening midsoles, extreme shin guards and high traction outsoles. A quality MotoX jacket will complete the safety check and clear a rider for a great day on the track.
If you buy well, and get all the right gear that is up to and beyond current safety standards, you can forget worrying about the gear and get on with important considerations – like winning a race.
---
Home | Dirt Bikes | Cheap Dirt Bikes | Accessories | Mini Dirt Bikes | Motocross Racing
Motocross Gear | Off Road Bikes | Used Dirt Bikes | Wholesale Dirt Bikes
Honda | Kawasaki | Suzuki | Yamaha