Motocross fmx riding
BE part of the fmx team with games and stunts.
Motocross fmx riding - Freestyle Motocross: The FMX Experience.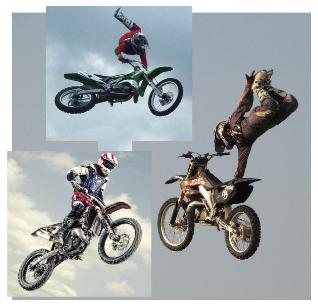 As motocross gains popularity at an exponential rate, one of the niches within this culture has gotten a lot of prestige.
Freestyle motocross, also referred to as Motocross FMX, is one of the most exciting spin offs of standard motocross, and now has a dedicated fan base, multiple sponsors, a huge variety of websites and equipment dedicated specifically to motocross FMX riding.
It allows for not only riding, but promotes doing tricks while on the motocross bike as well.
Motocross FMX videos are now sold nationwide and incorporate a lot more than simply motocross racing - it extends out to the league of flips, whips, and people suspending themselves above and away from the motocross bike in the middle of the air; making it a much more exhilarating experience to many viewers and participants.
Motocross has a huge appeal to many Americans, it's the same excitement we get when we see a sports car or an action movie, and it's the adrenaline.
Nothing can compare to the feeling of motocross and when you combine the already exhilarating experience that is riding a motocross bike with the customization and exciting, yet outrageous movements, associated with freestyle motocross FMX riding, we can see where the person's heart gets pumping.
Adrenaline fuelled Yamaha and Honda fmx stunts.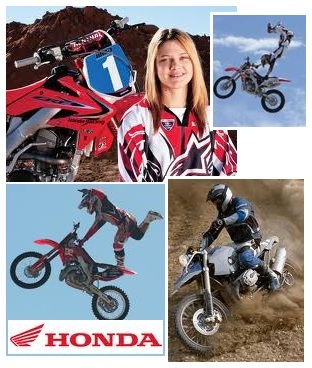 It is an experience not to be looked down upon, and one that many would criticize as too dangerous and wild, but the fun behind it is something that anyone will tell you just can't be mimicked.
It's the same reason we bungee jump, or parachute out of an airplane. It is one of the most exciting experiences a person can have.
When getting into motocross FMX riding, one must be careful and start easy. While you might want to jump right in with extreme spins, and whips that you see in a video done by a professional, it is important to remember they started small too, and if you aren't careful you can become seriously injured, even with all the standard safety equipment & clothing.
Don't skimp on safety, it is simply necessary especially when attempting advanced motocross FMX moves.
Start out with a small spin, and maybe a whip. Work your way up, and eventually try lifting yourself from the bike and moving your body back onto the bike whilst in the air. Most riders also jump from the ramp INTO a ready-made pit of foam chunks or blocks, that way you don't harm yourself or the bike – but it does take some cash to build one, but its highly recommended that you DO build one, if your going to be making a career from it.
It is important, especially when beginning this process, to have someone spectating you in case something happens.
It is never a good idea to do this on your own, even if you are the most cautious person in the world, a lot of chance is entered into the equation, and while that adds to the excitement, it is nothing to play around with.
And then it's down to practice….practice …practice….just like the pro's did when they started out.
Fmx can be achieved on Yamaha and Honda dirtbikes, but even cheaper brands can now soak up a lot of punishment for stunts and tricks. Be aware however that some of the Chinese bikes may be found wanting in the tuff department when trying to complete hard landings over an extended period.
Finally - Be sure to wear the proper MX equipment and you'll be enjoying the thrills of motocross FMX riding in no time!
---
Home | Dirt Bikes | Cheap Dirt Bikes | Accessories | Mini Dirt Bikes | Motocross Racing
Motocross Gear | Off Road Bikes | Used Dirt Bikes | Wholesale Dirt Bikes
Honda | Kawasaki | Suzuki | Yamaha