Motocross goggles - see ya'
Motocross Goggles Designed to Protect your Eyes
Chances are good that you will not blink twice over the price of upgrades for your bike. Be certain, then, to give your eyes the same courtesy. A swift rock or even a small clump of mud can produce a serious injury in the eye area. Avoid injury as much as possible by investing in an excellent pair of motocross goggles and wearing them whenever you are riding.
Seven Items found in Great Goggles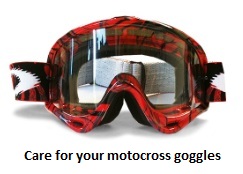 Easy grab tear-offs
Enough foam for comfort and a snug fit
Mirror lenses
UV resistant lenses
Silicon beaded strap
Removable lenses
Anti-fog, scratch-resistant lenses
Keep them Clean
Use a chamois cloth when wiping the grime and dust from the lenses of your motocross goggles. Cleaning the nylon strap is important, as well, since it will keep the dirt from settling into the fabric. Put a sponge into warm, soapy water and squeeze most of the water out until the sponge is just damp.
Wipe it across the strap to get the dust and dirt off. Rinse the sponge open. Scrub lightly once you remove the top surface of debris.
Use a separate, clean chamois and put anti-fog lens cleaner on it after you have cleaned the lenses. Wipe each lens, putting an even coating of the cleaner on each one. Regular care will help your goggles protect you while riding and minimize replacement costs over the years.
The Advantage of Tear-Offs
Anytime a person is riding in the dirt and has to share the trail or track with others, dirt is shared on the face and motocross goggles. A good tear-off system provides for the opportunity to have film across the lens and when it is so bad it interferes with vision, you then JUST grab to remove it, leaving a clean strip behind. The easier it is to put the tear-offs on the goggles, the easier it is to remember to use them.
Famous and Quality Brands of Goggle
THOR Hero motocross goggles focus on safety and comfort. The drilled frame increases air circulation while an anti-fog coating lessens the chance of fogging.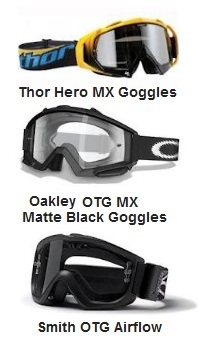 The Hero lenses have mounting pins, so tear-offs are easy to put on and change. The frame has a secure fit against the face.
Oakley OTG MX Matte Black Goggles have a clear lens are great for kids. They are designed to fit over prescription eyewear. The scratch and impact resistant lenses also have an anti-fog ability.
Wicking away sweat is no problem for the triple-layer face foam fleece. The reduced glare emphasizes contrast so objects are easy to see with the quality coatings.
Smith Option OTG Airflow is designed to avoid fogging with its airflow. In addition, its main feature is the ability to fit over eyeglasses. The strap is 33mm wide. Silicone strips grip the helmet surface so the strap does not hitch up the outside of the helmet.
Although image is not anywhere as important as safety, you can have both for a bargain price when you shop around for quality motocross goggles. Color and style vary, offering the serious rider a chance to have a fancy pattern or design in nearly any dramatic color imaginable. The lenses also have different colors that allow better vision for different weather situations.
Dirt bike goggles – eyes to the right.
Motocross goggles - Wearing Proper Motorcross Gear Can Save your Life.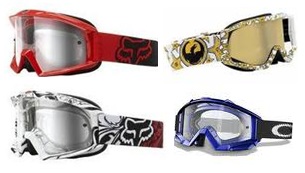 When it comes to protecting yourself on a motorcross track, wearing the proper motocross goggles, helmet, gloves, and other gear will save your life.
Get your kids motocross stuff right first time
Every motorcrosser can tell you stories of the time that they were nearly seriously injured, but were protected thanks to their motorcross protective gear. Racing without protective gear is like going skydiving without a parachute.
Each item of protective gear is designed to keep you safe while motorcross racing, and it is vital to your health and safety that you wear the proper safety gear.
You should ensure that the clothing and armor that you get is designed specifically for the type of motorcross races you will participate in, and you should ensure that it is the best quality gear money can buy.
Motocross goggles are designed to help protect the eyes - period. Motorcross goggles are one of the most important parts of your protective gear, as they help to protect your face from bugs, dirt, and grit that can get thrown up into your face.
Motocross goggles also help to protect your eyes from small rocks or stones kicked up by the tires of the dirt bikes ahead of you, and you should wear motorcross goggles to avoid getting debris in your eyes.
You only get one pair of eyes, and despite us all wanting to be tuff guys - the eyes are extremely delicate and fragile and it's too late once damage has occurred. Motocross goggles will stop that.
Reviewing your dirt bike gear.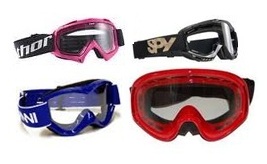 The motorcross helmet is designed in such a way as to cushion the impact that your head would absorb if you landed on it. The design of the helmet is to be overlarge so that the helmet will come in contact with your shoulders should you land on your head.
Head injuries can be very serious, and you should get a helmet with a high DOT rating to ensure your head is completely protected from any injuries. You should look for a helmet that gives you the most visibility and is as light as possible, while still protecting your head effectively.
It's all about the dirt bike clothes dude.
The motorcross jerseys are designed as a way to identify riders on the motorcross track, and anyone participating in a motorcross event should obtain a jersey to get themselves noticed.
The jerseys are usually brightly colored, meaning that other racers can also see the jerseys. This makes it easier for racers to avoid collisions. But the jersey offers no protection in itself with only little padding, and most are made from breathable materials to aid cooling off.
The motorcross pants are designed to help protect your legs in case of a wipe out or accident. Often the motorcross track is covered in loose rock or gravel which can seriously shred the skin of your leg. Motorcross pants will help your legs remain unshredded, and can give you additional padding in case of a fall.
Motorcross armor is designed to cover the chest, shoulders, and abdomen, and is a vital part of the motorcross protective gear.
Many collisions result in a chest or stomach injury, or riders can be thrown from their bikes to land far away on their shoulders. Wearing this armor will help to protect riders from injury during collisions and jumps. Armor has its limits – big jumps and high speed collisions can happen and even armor can break and shatter.
Motorcross boots are vital to help protect the feet, ankles, and lower legs of the riders. The design of the boots is such that they will protect the feet and ankles even if a dirt bike lands on top of them. The soles of the boots are also very strong, and they provide extra grip on the bike and the track.
Boots have various closure systems and features to aid comfort and strength, so it's a case of picking a brand you like or trust and getting a perfect fit.

---
Home | Dirt Bikes | Cheap Dirt Bikes | Accessories | Mini Dirt Bikes | Motocross Racing
Motocross Gear | Off Road Bikes | Used Dirt Bikes | Wholesale Dirt Bikes
Honda | Kawasaki | Suzuki | Yamaha