Motocross pants
Suzuki motocross, or honda motocross pants?
Motocross Pants : Keep Informed and Stay Safe.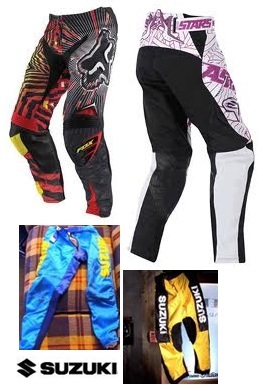 The most important thing about motorcross pants is wearing a pair designed to do the job. Not only do they offer protection in the event of a crash or against rocks and dirt flung up from the track, they offer comfort while you are riding.
It is important to be flexible, so ease of movement is definitely a requirement. Riding different types of terrain or in different kinds of weather means more than one set of MX pants, so select accordingly.
Most consist of polyester and nylon material, with vents to allow air cooling and protective pads in case of a crash. Brands like Moose, Fox, No Fear, Troy Lee Designs and Thor are popular because of their excellent design and construction, durability and user-friendliness.
Be certain that you have signed up for email notifications and alerts with your favorite online MX shops. Whether it is a special sale or a recall notice, you will appreciate the opportunity to be the first to know about news regarding anything MX related.
Perhaps you know someone new to MX racing that is spending conservatively until deciding it is a passion, not a passing fancy.
A tip about the Fox 180 Checked Out motocross pants is that they are economical in price and the quality is good. Leather knee panels offer protection against the heat and they are abrasion-resistant.
The body moves during racing and Fox helps your body stay moveable and comfortable with stretch panels for the lower back, legs, knees, crotch and back. Tricot mesh lining and an adjustable closure are additional comfort features.
Presents for guys and motocross girls.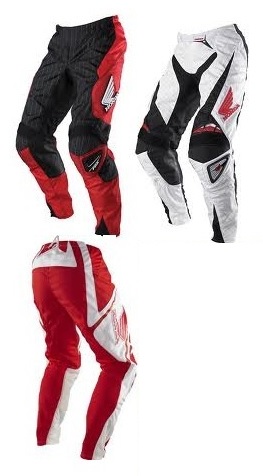 Another advantage of email notifications is having a link to forward to relatives who want to know what you would like for your birthday.
A pair of the Thor Phase motorcross pants with the adjustable waist closure and no-cuff leg openings is a good response.
Built for durability, stretch panels are in all the key areas allowing great airflow and mobility. Heat resistant leather inner knee panels and double/triple stitched seams emphasize the quality, heightened with a comfortable, sewn-in liner.
Women love colorful, quality motocross pants. It does not matter if they are riding with a few friends or competing in national competition with pictures of the action part of the scene. Durability and safety combine very well with style and looks. Syncron nylon and polyester MX pants offer great fit, pre-curved knees add comfort.
The knee area has a full pocket to ease any type of restriction. One of the best features from Syncron is their concern in rider safety by offering a range in size from youth 16 to an adult 50.
Polyester oxford weave fabric is made for durability; a mesh liner adds comfort to the MSR MX Renegade women's motocross pants. Thigh patches and rubber knees enhance the upper knee panels of ribbed spandex and inner knee panels of full grain leather give strength.
The belt closure is ratchet styled for quick, easy fastening and release. The all-over graphics have no safety purpose whatsoever, but look good.
MSR's MX Women's Metal Mulisha Pants are similar to the Renegade and feature sublimated spandex graphics. It is much easier to select the right pair of motocross pants when the safety and usability features are included in the major brand names.
If you buy your pants for top dollar, or you buy them in a close out sale your want list should be the same – you need them to be a comfortable fit, with enough movement so you can perform. Plus you need as many safety features within them as possible (price will play a small factor here). Then it's down to personal choice in regards to the graphics.
Buying pants is far from rocket science, but buying badly is another distraction you don't need on the track.
---
Home | Dirt Bikes | Cheap Dirt Bikes | Accessories | Mini Dirt Bikes | Motocross Racing
Motocross Gear | Off Road Bikes | Used Dirt Bikes | Wholesale Dirt Bikes
Honda | Kawasaki | Suzuki | Yamaha