Why Motorcross accessories
Are you all set for motorcross events ?
Motorcross Accessories - Tips for Buying.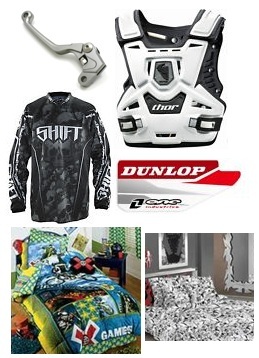 Dirt biking is, by far, one of the most dangerous activities you can undertake. It is understandable because even normal street biking is regarded as a dangerous way to travel by many people.
However, the reason why people take up dirt biking is almost the same as the reason why people take up street biking. The answer is the kind of rush that being on a bike gives to its rider.
If riding a normal bike can give people a rush, it is no surprise that people experience an even bigger rush when they race, do stunts and compete with each other on motocross bikes with motorcross accessories and equipment.
Even though the activity is dangerous, most of the risks of dirt biking are rendered null and void with high quality motocross accessories.
Effectively, it is critical that you are very careful about the motorcross accessories that you buy because they can be the difference between a life threatening injury and an intoxicating adrenalin rush. Here are some tips pertaining to dirt biking and motorcross accessories.
1. Very simple and often repeated advice given to dirt bike riders is that they should never go on the track without a helmet, even if they are going for a cruise ride. The reason for this is the fact that the helmet is the most important accessory for any motocross rider. It protects the rider from head injuries which, as per doctors advice, can be life threatening in the majority of times.
Resultantly, when you are buying a helmet, you should look at the level of safety and comfort that it provides you. The level of safety is based upon the sturdiness of the material it is made up of i.e. Kevlar, carbon fibers, fiber glass or composite material.
What are the best makes of dirt bike helmet?
Bell
Arai
Shoei
HJC
Nitro
The widest range of motocross stuff gives you better buying decisions.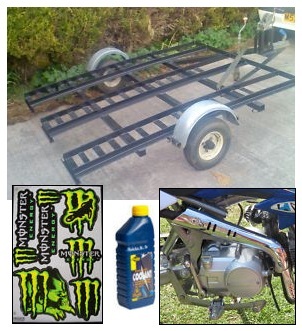 2. Eyes are regarded as one of the most sensitive organs of the body. This simply means that it is particularly easy for a person's eyes to get damaged.
All it needs is a stray particle which can be found in abundance on a dirt track due to the loose earth. Therefore, you should also avoid being on the track without proper goggles.
Good goggles can be classified on the basis of properties like shock resistance, fit, face protection, padding and the clarity of vision.
3. If you have ever been on a bike, then you know how easy it is for boots to get damaged. A dirt bike can damage boots even more easily because of the kind of impacts and grinding that they have to endure.
Therefore, you should try to buy boots that are not only extremely sturdy but also able to protect your foot from damage resulting from landing from jumps and grinding at turns.
4. Finally, while you may feel that you can buy all these motorcross accessories from your local dirt biking store, you would be well advised to not rely on it too much.
The reason for this is that smaller towns tend to have inadequately stocked motorcross accessories stores, which means that you do not get the best equipment. Consequently, if you do not find what you like, then you should buy from online stores.
From motorcross bedding, to motorcross trailers, they could all be described as accessories of one sort or another. So do your homework, read past customer reviews; and when you see your perfect item, see if you can get it cheaper too.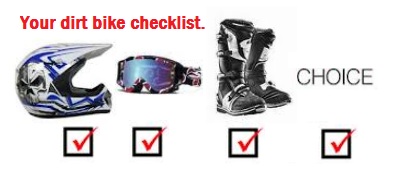 ---
Home | Dirt Bikes | Cheap Dirt Bikes | Accessories | Mini Dirt Bikes | Motocross Racing
Motocross Gear | Off Road Bikes | Used Dirt Bikes | Wholesale Dirt Bikes
Honda | Kawasaki | Suzuki | Yamaha