OEM Honda motorcycle parts
Replacing OEM Honda Motorcycle Parts.
When your Honda CRF450R starts having fits, there will be OEM Honda motorcycle parts needed to replace them. Things like a clutch, crankshaft, piston or cylinder wear more quickly when used in active motorsports, even though you give them proper care.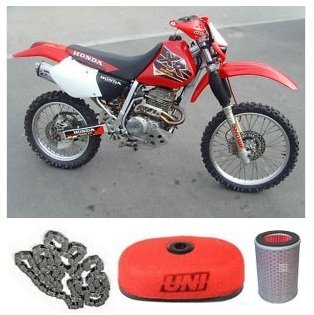 How many parts goes into building that beautiful Honda dirtbike? Quite a few, and rebuilding or repairing even smaller items can mean hours in disassembly, cleaning, fixing and reassembling.
You already know how important the air cleaner is, but it can be a shock to discover there are around 30 separate pieces to that assembly.
An important thing to decide about each part on your bike is whether to use OEM Honda motorcycle parts or generic parts, which are far less expensive. Following that decision is understanding any consequences of using generic parts and what effect it might have on performance and safety of your bike.
Honda parts, such as a gasket or bearings, are built to fit a certain model of bike exactly. On-the-shelf generic parts are usually designed to fit more than one make and model. Something as simple as a gasket can cause poor performance, and chains may need an extra link removed before they fit.
Carburetors and spark plugs are prime examples of factory equipment removed and replaced to get even better performance. In that case, the rider is moving up in quality and price, replacing stock parts with premium options. The biggest concern is receiving the correct replacement and installing it properly. Drawbacks of using generic instead of original Honda parts are not always evident.
Online businesses are trying to sell things to customers, not scare them off with warnings. Read between the lines for subtle hints about compatibility or check with your local MX shop to get their opinion on a certain item.
No matter what you replace, it is going to take up time. It is a lot more fun to be out riding your bike instead of taking it apart again to replace an inferior product. From handlebars to transmissions, OEM Honda motorcycle parts can be replaced by generic ones, but only certain trades are recommended.
This stuff's not in the honda owners manual.
Oem Honda motorcycle parts are some of the leading parts for your entire bike needs no matter if they are professional or for personal use.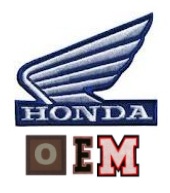 Oem stands for original equipment manufacturing, and represents all the parts that have been made by Honda, and no other manufacturer. Finding oem parts can be a challenge with some manufacturers, however, with Honda they are specialists in what they do.
No matter what part you are looking for the team at Honda will be able to assist you. There are often online stores that have a large selection of oem parts for you to choose from.
You can either put in the time, and search yourself, or pay the parts shop to put in the leg work. Buying a motorcycle is a very serious business no matter what you use it for, and many people have them for years.
When it comes to repairing them, and replacing the parts you will want to know that you can find all of the oem Honda motorcycle parts with ease. Although in some cases you can replace the parts with generic items some people prefer to keep all of the original parts on the bike.
Although aftermarket parts are made to the same specification there is something special about keeping the motorcycle the way it has always been.
Used honda parts VS vintage motorcycle parts.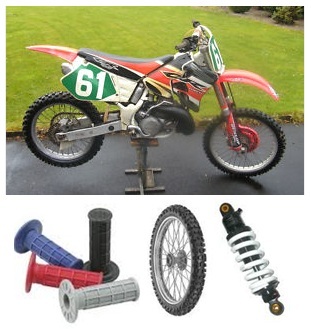 Typical parts that are improved aftermarket parts that people tend to use are brake parts, exhausts, and filters. These do not have to be oem Honda motorcycle parts, however, many riders prefer them to be.
They are thought to be of a far higher quality, and will be exactly what the bike should have on it. Motorcycle owners are very traditional people, who like to know that their bikes are getting the best there is available.
There is a huge array of different parts available to you when looking for your motorcycle, and often novices will be bogged down with the choice. You have to decide exactly what you want from the parts, and if it is to keep the bike original, or to keep the cost down.
Often the oem Honda motorcycle parts will be more expensive, and this is usually why they are not sourced for the bikes. Generic aftermarket parts are far cheaper, and often do not need to be ordered in.
If you want to create a custom motorcycle using aftermarket parts its a great way to achieve this as your bike will be one of a kind. But should you have an older style motorcycle you may find it very difficult to find the original OEM Honda motorcycle parts, however - it is never impossible.
If you want to spend the time, and effort looking you will find the parts that you need. Some people claim that having aftermarket parts on your bike will make the performance slower; however, this is often personal opinion.
No matter what parts you decide to have fitted on your motorcycle you want to ensure that you have regular maintenance carried out. You need to consider the style of bike that you own, and the use that you have for it.
If you use your bike for sports, and motocross you will need top quality oem Honda motorcycle parts to ensure that the performance is at a premium.
Often with some honda motorcycles for sale, used parts will be part of the deal, maybe even un-used spares as well. Honda bikes, are very durable but if you're engaged in a sport like racing; (or racing on tarmac), spares will only last a certain length of time.

It's obviously best to avoid used parts even if they once were OEM parts, as the length of time they maybe operating on the bike will be much reduced. However if you do have a vintage bike, you may have little choice but to attach used parts to your bike to keep it running.
So keep on top of servicing regularly with your service manual and repair manuals and you'll know you've done everything you can to lengthen the life of your OEM parts.
Home | Dirt Bikes | Cheap Dirt Bikes | Accessories | Mini Dirt Bikes | Motocross Racing
Motocross Gear | Off Road Bikes | Used Dirt Bikes | Wholesale Dirt Bikes
Honda | Kawasaki | Suzuki | Yamaha