Pitbikes and dirt bikes
The Pros and Cons of Riding Pitbikes and Dirt Bikes.
Be prepared for an enthusiastic discussion anytime you bring up the subject of riding pitbikes and dirt bikes. It seems like anyone who rides has a preference and you will even get ATV fans adding their opinion.
It is always interesting to get an idea of what others think about the pros and cons of each type of bike, although now and then someone may get a little more vocal than necessary with their opinion.
The Good and Bad about Pitbikes
Ranging from 110cc to 150cc engines, today's pitbike has the ability to travel at a good speed. Originally used to get around the pit area quickly because of the ability to negotiate sharp turns and bypass hurdles, riders also like pitbikes because adults and kids can ride them.
The small wheelbase averages 10 to 12 inches. Although the frame remains small, the handlebars are conveniently full-sized for adult riders and taller teens.
The thrill of racing is part of the excitement of riding, although the downside is that the best off-track speed is done on smooth surfaces for better control. A large backyard can handle a small pit bike track. A variety of professional tracks across America are sponsoring pitbike races in a number of classes. That is perhaps one of the best positive moves for this type of racing sport yet.
Pros and Cons of Riding Dirt Bikes
Offering a broader spectrum of engine size, dirt bikes are built to carry that weight. Ranging from 100cc to 650cc, there is a variety of bike for novice through pro. Kids and adults safely learn to handle clutches, transmissions and turning.
The frame and parts are typically easy maintenance. That in turn provides the opportunity to learn how to care for the bike and modify it specifically for the rider.
It is built to take a lot of punishment. Speed is not important so it is usually heavier than a racing bike. The biggest negative is it is sometimes difficult for the rider to lift after it drops.
Overall, both styles offer a great riding experience, each slightly different than the other.
What's the difference between dirtbikes & pitbikes?
Pitbikes and Dirt bikes - the GOOD makes.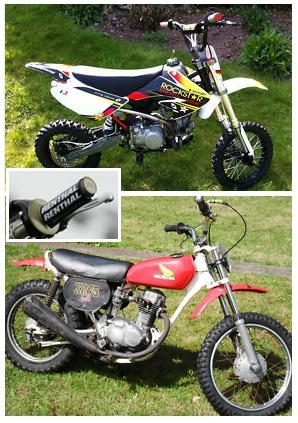 Pitbikes and dirt bikes are both designed to be offroad, extreme sports motorbikes, but they are not designed in the same way.
Dirtbikes are designed to be ridden hard, but they are usually used on a regular track. They are sturdy, solid machines, but they are nowhere near as rugged as a pit bike.
Pitbikes are created to be ridden, and ridden hard, and these bikes are able to endure serious punishment. The courses laid out for pit bikes are usually much more rigorous and demanding than those for dirt bikes, but riding a pit bike is far more difficult than riding a dirt bike.
When looking for a dirtbike or a pitbike, there are only a few names that stand out at the top of the list.
Pitbikes and dirt bikes don't come cheap, and the best ones can cost a lot. However, it is important that you get the best pitbikes and dirt bikes for yourself, so here is a list of some of the best of both types of bikes.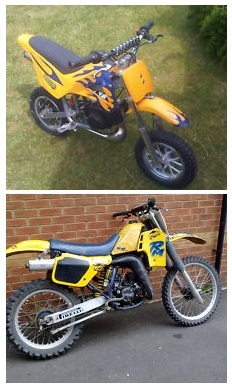 2 Great dirt bikes:
• Honda
Honda has made some of the best pitbikes and dirt bikes, though it usually focuses on the production of dirtbikes. Their latest model, the CRF250R, is the top of the line, and its older models are no slouches either.
The cheaper models usually start at just over $1300, and the heavy duty 650cc models can run as high as $6400. They are well worth the price, however, and owning one of these amazing dirtbikes is truly something to dream about.
• Yamaha
Yamaha is Honda's competition for dirtbikes, and its main model, the YZ450F, is one of the most sought after models. Despite its high cost of $6899, the Yamaha bike sets the tone for the rest of its models, and you should definitely look through the Yamaha dirt bike catalogue to find the bike of your dreams.
Yamaha bikes are usually designed to be lighter and more agile than Honda bikes, but they are not quite as sturdy and rugged as their competitors counterparts.
A brace of pit bikes in a beautifully formed package.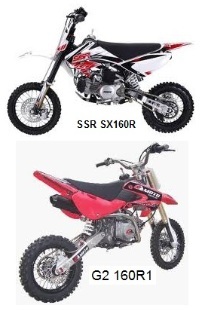 Pit Bikes:
• SSR-160 R
Heading up the list of the best pit bikes, the SSR-160 is the best bike of its kind. The 160cc motorbike is incredibly light and versatile, and is the easiest of the pit bikes for anyone to handle.
The front brakes feature double pistons for extra stopping power, as do the rear brakes. Not only does the light frame make it excellent to do long-lasting aerials, the power of the brakes ensures that you will land the stunt easily and safely.
• G2 160R1
G2 is famous for making excellent pit bikes, and their 160cc version is no slouch. Despite the fact that the suspension is Chinese-made, the pit bike gets high marks for attractiveness. The overall design is made to be as aesthetically pleasing as possible, making the G2 160R1 one of the most beautiful pit bikes around.
Both pitbikes and dirtbikes are great fun to ride for anyone of any age, and they can provide hours of entertainment and adrenaline fueled thrills. When you do go for a motorcycle don't get hung up if it has the wrong sticker set, or perhaps its got a few scuffs and scratches - you want a solid bike that fits you well, and you CAN control.
---
Home | Dirt Bikes | Cheap Dirt Bikes | Accessories | Mini Dirt Bikes | Motocross Racing
Motocross Gear | Off Road Bikes | Used Dirt Bikes | Wholesale Dirt Bikes
Honda | Kawasaki | Suzuki | Yamaha