Pitster pro dirt bikes
Historic Trivia about USA Motortoys LLC and Pitster Pro Dirt Bikes.
Pitster Pro dirt bikes are an excellent example of quality manufacturing from the USA, except the bikes are actually made in China. There is a lot of history behind the alliance of men who knew the quality they wanted in machinery and put their ideas together.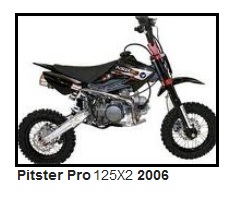 To begin with, dirt bikes are just the tip of the iceberg, accompanied by ATVs, UTVs, engines and parts for all makes and models. Chances are good that if it has an engine, Pitster Pro has the parts for it.
GPX Motosports, operating under USA Motortoys, knew the importance of finding an honorable factory that would build the bikes to a high standard.
From professional, strong welding to dependable assembly, it quickly became apparent that the manufacturing facility would need to create a higher standard of product than that typically brought in from that nation. As the distributor, manufacturer and designer of all Pitster Pro products, those two respected companies would be held responsible for any problems.
In 2005, USA Motortoys President Gary Goodwin sealed a deal with one of the Chinese companies to have racing pit bikes assembled to their specifications. The ultimate goal was a competitive bike at a significant discount when compared to other high quality bikes.
The result was the 2006 Pitster Pro 125X pit bike, a definite answer to the quest for a stylish bike that included both stamina and power. The Jialing engine and parts were structured to hold up to the punishment of a fast-moving motorized bike. The company, based in Lindon, Utah, achieved its goal and immediately set new ones.
Jeremiah Staggs of Staggs Racing Company and Gary Goodwin formed a joint partnership, SGR-USA. In 2007, SGR-USA announced a joint venture partnership with GCB of Italy, famous for performance forks and shock absorbers, that would result in the opportunity to offer excellent aftermarket motorcycle, UTV and ATV shocks in their line.
The quality workmanship continues to this day, largely due to the foresight of Goodwin to stay true to the original vision for Pitster Pro dirt bikes, providing a reliable, easily modified quality product at considerable savings.
Pitster pro pit bikes = fantastic ride + good looks.
Pitster pro dirt bikes are made by a company who has a passion for pit bikes and mini-motocross.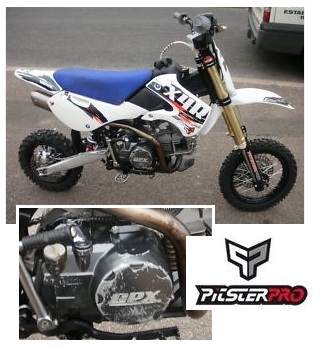 What is mini-motocross? It's been called "BMX on steroids". It is what you get when you take all the obstacles from a fullsized two kilometer track and shove them into a small four hundred meter long track.
These small intense races used to be held in the "pit" areas of full scale motocross events, but have evolved into a sport of its own. Pit bikes used to be converted from a child's minibike.
Once the demand was realized to exist kits started coming out. These days you do not have to make one yourself. Pitster pro dirt bikes exist to fill the gap. This company states they have the most advanced pit bikes on the market.
Pit bike racing is far more affordable than "full on" motocross. Typical pit bikes have 4-stroke horizontal single cylinder engines. The power range for these is from 49 to 195 cc. Mini-motocross includes the mini-supermoto racing which features street tires instead of the off-road knobby tires that are used on straight mini-motocross.
Pitster pro dirt bikes come in eleven models. These range from 90 to 155cc. Most offer rear shock and H/L speed comp. Adjustments. The Billet ¼ turn throttle is also common on these bikes.
The most advanced LXR series have the more powerful engines, special Pitser progressive link rear suspension, lightweight but strong wheels and hubs (with a 44.5 inch wheelbase) and a choice of rotor sizes.
Pitster pro motorcycle models.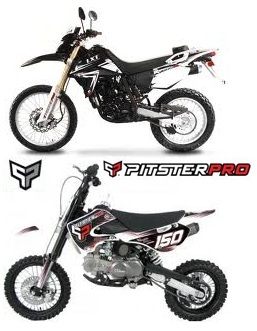 The twelve and fourteen models also have dual oil coolers. The LX gives you two engine mount styles to choose from while the MXR has a smaller engine but all the other features of the LXR.
The MX has the same 110cc engine but older features, like a 4-speed transmission, preloaded adjustable shocks, improved heavy duty fork springs, and a skid plate.
Other options of Pitster pro dirt bikes include the X series. These range from the 90cc X2 to the 140cc X5. All feature the quarter-turn twist throttle and each one has various features that work for specific niches.
The X2 has over the peg steel foot breaks, floating caliper rear brakes, oversized Wave Rotors, and a GPX Moto DNM Rear shock. You can get this model in both the 90cc and a 140cc version. The X4 has tapered fat bars, lightened CNC hubs and aluminum hoops, oversized waver rotors, an improved swingarm design, break and shifter stay, and rim lock, making it great for doing tricks.
The X5 is a 4-stroke, 140cc powerhorse. Designed with CNC triple clamps, inverted forks (with an amazing seven-inch travel), an oil cooler, hydraulic brakes, and piston front calipers, this sleek bike gives you a powerful machine that is affordable too.
One should not forget the XJR 90 SS Pitster pro dirt bike. This motorbike is stock/mod legal with a 4-speed transmission, preloaded adjustable rear shocks, wider pegs, a kick stand, skid plate and heel guard included.
Decisions,… decisions, will you buy the lxt 400 ? Or the pitster pro 150 ? Maybe you'll find the pitster pro classic 125 might be the motorbike of your dreams? Whatever the case, this brand will have something for the dedicated rider & beginner.
So don't spare the horses, find your perfect pitster and begin the fun right away.
Home | Dirt Bikes | Cheap Dirt Bikes | Accessories | Mini Dirt Bikes | Motocross Racing
Motocross Gear | Off Road Bikes | Used Dirt Bikes | Wholesale Dirt Bikes
Honda | Kawasaki | Suzuki | Yamaha