Ricky Carmichael motocrosser
Are you part of the ricky carmichael fan club ?
Ricky Carmichael Motocrosser history & ricky carmichael pictures.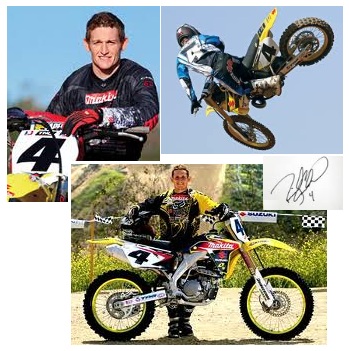 Ricky Carmichael Motocrosser is said to be one of the greatest Motocross bikers of all time. In 1996 he earned himself the AMA Motocross Rookie of the Year title.
This was his initial taste of his professional motocross career and showed everyone the promise of upcoming greatness. In 1997 he certainly did not slow down, and earned a few wins in the Eastern Region 125 cc Supercross races with his Pro Circuit Kawasaki.
He also dominated the 125 cc National Motocross Championship Series and captured his first ever professional championship.
The following year he did not disappoint again. Winning every round of their 125 cc Eastern Region Supercross championships, he also scored 8 overall wins in the 125 cc Mazda Truck Motocross National championships. For the 1st time in his biking career Ricky Carmichael Motocrosser entered the AMA 250 cc Supercross Series in 1999.
However, he could not acclimate to this bigger bike and even tougher competition and went back to his 125 cc bike. He subsequently won his 3rd consecutive championship within this class at the AMA Motocross Nationals. This was to be his last championship for the team of Mitch Payton Pro Circuit Kawasaki.
For the entire 2000 season, Ricky rode a 250 cc bike. At Daytona he won his first 250 cc Supercross win, and scored an extra 5 podium finishes. He was a strong outdoor rider, and dominated at the AMA 250 cc US Supercross. He won nine overalls and the series championships.
Alongside teammates Travis Pastrana and Ryan Hughes, he secured the title of team Motocross des Nations for the US. In 2001, he dethroned Jeremy McGrath for the AMA 250 cc Supercross Champion title with his Team Chevy Trucks Kawasaki.
SX & MX 2002 featuring ricky Carmichael.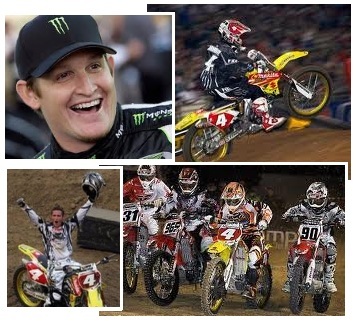 Switching to team Honda in 2002, Ricky Carmichael Motocrosser dominated the AMA Supercross championships.
He proceeded to set his record that will not be broken within the AMA 250 cc National Motocross, winning every moto that he entered in that season. This earned him the 1st perfect season within US motocross history.
In 2003 he won the AMA National Motocross championships and the AMA Supercross championships once again. In 2004 in his last season on his Factory American Honda Ricky once again won all twenty four motos of that season on a 4- stroke CRF450R in place of the 2-stroke CR250R from two years back.
The ricky carmichael knee injury/surgery - saw him bow out of the 2004 Supercross season.
Ricky carmichael Suzuki.
Ricky joined forces with team Factory Makita Suzuki in the 2005 racing season. He won both the AMA Motocross and Supercross championships as well as the Motocross des Nations and the US Open of Supercross. 2006 was the last season of Ricky's motocross racing from where he stepped into semi then full retirement.
Once again he won the AMA Motocross and Supercross championships and captained Team USA for another victory at the Motocross des Nations. His achievements were recognized by the AMA and for his record 5th time they named him Athlete of the Year.
Championship motocross featuring ricky Carmichael.
In 2007 Ricky Carmichael Motocrosser went into semi retirement but still excelled on the tracks. He won all 6 overalls of the 6 AMA Motorcross championships races that he entered. These 6 wins would bring his combined MX/SX career wins totalling a record one hundred and fifty.
He bowed out of professional motocross by winning the Motocross des Nations in Budds Creek for Team USA. Ricky is currently racing, developing and driving stock cars with Ken Schrader Racing.
So will motocross racer ricky Carmichael, now be called carmichael nascar ricky ? only time will tell…..
Home | Dirt Bikes | Cheap Dirt Bikes | Accessories | Mini Dirt Bikes | Motocross Racing
Motocross Gear | Off Road Bikes | Used Dirt Bikes | Wholesale Dirt Bikes
Honda | Kawasaki | Suzuki | Yamaha