SSR wheels for pit bikes
Ssr accessories such as wheels n' tires.
SSR Wheels for Pit Bikes – what would an ssr forum say?
SSR Wheels for Pit Bikes / dirt bikes and motocross motorbikes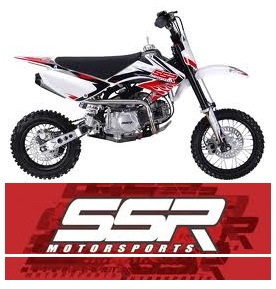 People used to use pit bikes only as a way to get to the racing area of a track but now they've become quite popular, particularly for racing. While Southern California is one of the main areas for riding pit bikes, the races are also popular in many other states.
Finding the parts for pit bikes isn't always easy. In fact, finding the SSR wheels for pit bikes at the best price might take a while. Many people look for the wheels in bike shops locally but if you want to buy SSR wheels for pit bikes, there are several ways to find them on the internet, besides going to your local brick and mortar bike shop.
SSR Motorsports.com is one place to find the wheels for your pit bike. Simply click on the link provided and then parts. You'll see "Tires and Wheels" at the bottom of the page. It's easy to see since there's a tire right above it. Click on that to find SSR wheels for pit bikes.
TBolt USA is another site that's easy to navigate and offers a wide selection. The site allows you to find parts based on company, bike style and part. This makes hunting for the SSR wheels for pit bikes much easier and far less time consuming.
If you aren't sure what type of tires you want, simply fill out an order form at Killer Motorsports . You can put the brand, model and even upload an image of the part you need, besides using the comment area to tell them. They'll email you information back once they find what you need. This is probably the easiest method of finding the wheels for your bike, although it may not be the most inexpensive based on the part you want.
Finally, once you have a basis for comparison, you can check your local brick and mortar shops to see what they offer. When you compare prices from the online stores, don't forget to include the cost of shipping. Many times that makes a huge difference in price when you're purchasing SSR wheels for pit bikes.
Pit bike types.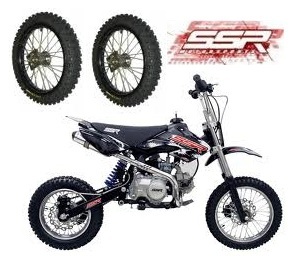 Pit bikes are small on road/off road motorcycles that were originally ridden around the staging area or pits of motocross races.
Since 2000 the sport has become quite popular within the USA, especially Southern California. The term of pit bikes has been applied to bicycles within similar venues. There are various disciplines with regards a pit bike:
Motocross: This is the main discipline of a pit bike. Before racing a pit bike, a rider needs to upgrade his suspension from standard. A jump can put a rider 10 feet plus into the air, so there are very high chances of injury. SSR wheels for pit bikes include a knobby tire which is a must-have for any type of dirt racing.
Supermoto: Pocket bikes are slowly taking over Supermoto. These bikes generally have a speed of up to sixty mph. A slick tire as part of SSR wheels for pit bikes is an absolute must-have for a devoted Supermoto racer.
Because it is a fast paced discipline that has speeds of up to sixty mph, Supermoto will generally have the most severe injuries.
Pit Park: This is probably the most recent discipline for a pit bike. Pit park started with riders taking their pit bikes to a skatepark and riding their bikes around like the BMXers. Most of the skateparks will not allow these pit bikes as the torque tears up the wood. Concrete and metal parks are best suited for pit park.
Together with the SSR wheels for pit bikes a slick tire is preferred although a knobby tire can also be used. Pit park dangers are comparable to BMX injuries.
Street: Street riding will involve having the ability in maneuvering any obstacle which is thrown at a rider. It is illegal in some countries to ride pit street on the sidewalks.
Most of the police take a pit bike more seriously than skateboarders skating in any illegal areas, the reason being that a pit bike's motor size is from 50 cc to 160 cc.
The dangers of ssr motorsports.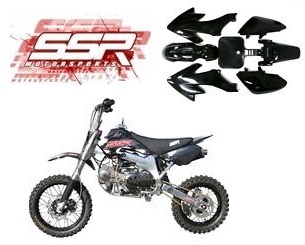 Obstacles could include walls, curbs, ledges, stairs and of course anything else that is not meant to have a bike riding on it.
Pegs will be a big plus for grinding and bunny hops. Street riding can be extremely dangerous, as a pit bike will be much faster than the typical BMX.
Due to this extra momentum the possibility of injuries is amplified.
Stunt: This is a more popular type of riding pit bike. Stunt riding will generally consist of wheelies and stoppies and variations of wheelies. A lot of pit bike riders have tried stunting. When doing serious stunting it will require a lot of modifications that will include pegs and optional mods for example foot throttles.
Because pit biking is so popular, there have been quite a few pit bike racing series appearing in different parts of the USA.
These include the Masters of Minis racing series and the 2-Up Minis series, which are located within the North East, the Mini Moto Supercross racing that is held just before the final rounds of the Las Vegas AMA Supercross series every year, and the Missouri Sho-Me series.
An example of SSR wheels for pit bikes is the SSR OEM Pro Wheel that fits the SR140-B3/TX and the SR125-B2/X3 Plus/Pro as well as various other pit bikes. The hub is billet alloy. The rim is also alloy.
That leads us to our final point about ssr parts. When you do need spare ssr rims or tires, be sure and take all the info along to the motocross store.
Do you own a 2005 ssr or a 2004 ssr pitbike? The spares store guy's sure to ask. Same goes when you buy an ssr for sale, get as much paperwork on the motorbike as you can, that'll make it easier later on getting the right fitting wheel for it.
Home | Dirt Bikes | Cheap Dirt Bikes | Accessories | Mini Dirt Bikes | Motocross Racing
Motocross Gear | Off Road Bikes | Used Dirt Bikes | Wholesale Dirt Bikes
Honda | Kawasaki | Suzuki | Yamaha