Street legal dirt bike
Dirt bike info on legalities.
Street Legal Dirt Bike – Converting a Moto-crosser.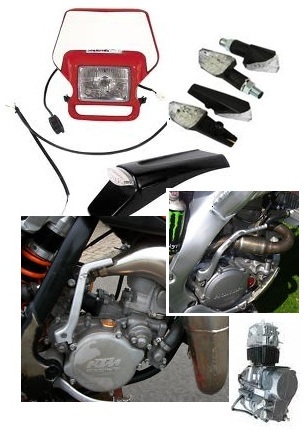 Your dirt bike is not a street legal dirt bike. It has been the source of weekend entertainment, good companionship and lots of fun and excitement for several years.
You grew up on the back of two wheels and an engine and never stopped learning. Suddenly the economy has gone haywire and you need to find an economical way to get to work and back.
You have your dirt bike mastered. It is well cared for, trusty and reliable. How do you go about changing the status?
The first thing to do is check with your state's Department of Motor Vehicles (DMV). Like any government agency, laws can change at the flick of a switch. Some states will not allow dirt bikes to become street legal, citing reasons such as lack of emissions certification.
Other countries may have similar problems. For those lucky enough to live where sanity reigns rather than bureaucracy, following are the things needed to make a street legal dirt bike.
Some of the most common upgrades will be adding a head light, tail light, and brake light. The brake light should light up when you use the rear brake or the front and rear brakes, as it lets others know you are slowing down.
Turn signals, also known as indicator lights, are not only required, they are lifesavers. You will get a ticket for not having them, and they are an easy way to let others on the road aware of your intentions. Lights can be found at hardware stores, and motorcycle equipment shops and online stores.
A mirror on the driver's side is mandatory, but you are on a bike amidst a group of drivers who often miss seeing motorcycles, so add a mirror to both sides so you are aware of your surroundings.
Hook up an attention getting horn to warn other drivers who drift in your lane. All this electrical equipment may need a more powerful starter to handle the load you are putting on it.
Some states require an odometer and speedometer. Although steel gas tanks are required for street motorcycles, most states overlook that requirement for a converted street legal dirt bike.
Riding dirt bikes on the highway.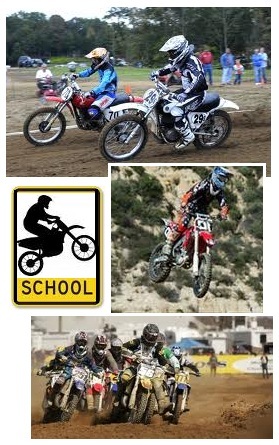 Change your tires to smoother ones for the pavement. Have two sets of tires and rims, one for your working street legal dirt bike and one set for your weekend competition dirt bike.
When you go to DMV for your paperwork and license, you will need to have a place on your bike to put the license plate. Common practice is to take the bike to DMV for an inspection to show that all the lighting requirements have been met.
Your DMV may offer street title, offroad title or dual registration, which is the one you want. Check online or with your insurance agent to find out about motorcycle insurance, which is normally required for road driving.
You will need a helmet designed to protect you on the roadway. It is illegal to ride a motorcycle without one because the roads are dangerous and you want all the protection you can get.
Consider protective padding and dress to protect yourself in case your bike goes down while you are traveling on the highway or roadway. Good leather motorcycle gloves are definitely a good idea.
Being able to switch from road use during the week to dirt racing on the weekend will give you the best of both worlds. You get to ride your bike more often, you are saving money by getting to work and back economically, and you still can enjoy weekend dirt racing with your street legal dirt bike.
If you're still not sure a local dirt bike school or automobile licence registration centre will tell you exactly what to do. Have your bike details and dirt bike engine specs ready should they begin asking questions. Then you can be a daily dirt bike rider, on the tarmac and on the track.
Home | Dirt Bikes | Cheap Dirt Bikes | Accessories | Mini Dirt Bikes | Motocross Racing
Motocross Gear | Off Road Bikes | Used Dirt Bikes | Wholesale Dirt Bikes
Honda | Kawasaki | Suzuki | Yamaha