Stunt Dirt Bike
MX Stunts, tricks and flips.
A stunt dirt bike is used at a Freestyle Motocross event by a motorcycle rider attempting to impress the judges with stunts and jumps.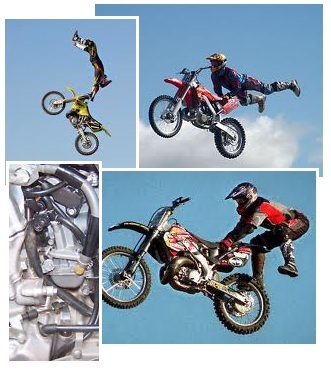 Freestyle Motocross (or FMX) is another form of motocross. A rider will use a modified motocross bike that is kitted out with after-market parts so as to lower the weight as well as improve performance.
The seat foam will often be shaved down by the rider so that they can move around more and have a better grip while on their seat.
Steering stabilizers will also be common on the stunt bike. These are used in helping to keep the bike's front tire to run in a straight line when certain tricks require a rider in letting go of their handle bars.
Many riders also tend to shorten the distance between the bike's handle bars. This makes it easier for the rider to put their legs around the bike's handle bars. The 'rodeo' or the 'heelclicker' are examples of such tricks being performed.
Excess cables are normally redirected from the handle bars, such as clutch cables and brakes. This will avoid the rider's boots from getting caught on their bike. The mechanical details and engine of the FMX motorbike are actually fairly stock, unlike any fine tuning needed by any racing bike.
Some riders will also opt for a 'lever' on the bike's handle bars. This will help them when performing the "Kiss of Death Backflip". A 'lever' usually consists of a pipe or metal plate that comes off the stunt bike's handle bars. This stops the riders from rotating while doing their flips by going in the front of their lower arm or wrist, while allowing the bike to keep moving.
A stunt dirt bike also has after-market performance pipes for more power. A stunt dirt bike must also have very good quality tires and an extremely strong suspension. Graphic kits are often put on stunt dirt bikes so that the riders can show off.
The FMX gear, and bring on the foam.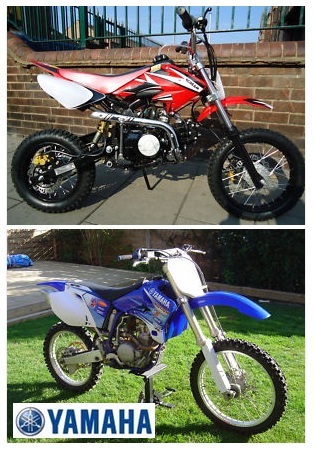 A stunt pit bike rider normally uses the same rider gear as a MX racer. This will include a helmet and goggles, chest protector, gloves, jersey, MX pants and boots.
They may also choose to wear knee and elbow pants to supplement this gear.
A stunt dirt rider can also wear the 'body armor' that will protect their chest as well as legs while performing extremely dangerous tricks. Neck braces can be worn as well if any rider is concerned about injuries to the neck or if they are attempting any dangerous tricks.
A major part of any Freestyle Motocross event is their foam pit. The foam pit sizes will vary, but are normally rectangular boxes filled with cubed or shredded foam.
The stunt dirt bike rider jumps from the ramp at the event, displaying a certain prototype trick or a more dangerous one, and will execute a landing in the foam irrespective of their landing position.
Ramps are usually made from metal, as this keeps the ramp's 'lips' consistent. The stunt dirt bike's landing ramp is usually constructed out of dirt. When there are limited resources, the landing ramps can be built onto trailers or trucks.
When freeriding though, the stunt rider will jump dirt to dirt. Well known FMX stunt dirt bikes events include the X-Games, Big-X and Gravity Games.
If you're wanting to be an FMX pro, you might consider cheap dirt bikes for sale, or indeed even used yamaha dirt bikes. Buying new could be costly, when you're learning your trade, as some bikes will take extensive damage. Whatever fmx bike you DO buy, be sure the dirt bike parts are cost effective as well.
Home | Dirt Bikes | Cheap Dirt Bikes | Accessories | Mini Dirt Bikes | Motocross Racing
Motocross Gear | Off Road Bikes | Used Dirt Bikes | Wholesale Dirt Bikes
Honda | Kawasaki | Suzuki | Yamaha