Supermoto parts
Rolling along on your supermoto rims ? – get new spares.
Supermoto Parts for your motorcycle.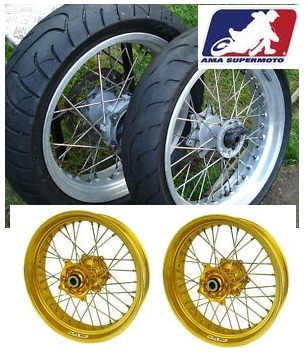 Supermoto is a circuit motorcycle race that will alternate between three different kinds of track: road racing, motocross and flat track using motorcycles that are designed for this purpose using Supermoto parts.
Races are usually held on a medium sized go kart track or road racing with an off- road infield section. The Supermoto race track has about 50 to 75% tarmac and the rest is off-road.
Dirt sections of the track are usually made with packed clay and will feature motocross styled obstacles such as bermed corners as well as jumps.
Supermoto is a very portable type of racing because entire tracks can be put together wherever a large expanse of open asphalt as well as dirt is. These races are also successfully held in busy city centers using blocked off streets for the race's road course as well as vacant lots for the dirt section.
The motorcycles that are used are often a custom created combination of road racing tires/wheels and off-road motorcycles. These are known as a 'supermotard' bike. A rider will sport a combination of off-road and road race Supermoto parts and equipment.
This will normally include motocross boots and helmet and road-racing leathers. Unlike a normal motorcycle race, the emphasis will lie on a slower speed which will in general be less than 160 kph or 100 mph on a short and technical track. The skill of the rider will matter more than the outright performance of the machine.
Pocket bikes are slowly taking over Supermoto. These will generally have a speed of up to 60 mph. Slick tires will be a must for the keen supermoto racer. Because the discipline is fast paced with a speed of up to 60 mph, Supermoto will generally have very serious injuries.
Manufactured for supermoto racing.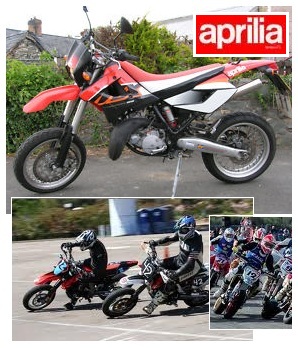 The Supermoto parts conversion kit is popular as a starting point for the majority of the Supermoto riders that are on the road.
A kit will usually come with fenders, Supermoto tires, brakes, wheels and various other parts that are necessary for any conversion for that model of bike.
These parts can be used for professional and amateur racing and also street Supermoto. Luggage racks, speedometers and headlights are available for the street machines.
Exhaust systems, slipper clutches and sliders are just a sampling of what is available for a racer for his bike conversion.
Supermoto conversion kits include the Sportsman, the Sportsman Pro, Bare Bones, Adventure Motard, RoadRunner, The Street Legalizer, Street Hooligan, Quick-Switch, Super Street, 50/50 Street/ Race, Club Racer and Pro Racer.
Supermoto parts for brakes include the Brake Kits, Brake Rotors, Brake Calipers, Brake Lines, Brake Pads, Brake Fittings, Caliper Relocators, and Master Cylinders.
Supermoto body parts include Supermoto Sliders, Handguards, Fenders, Plastic Kits, Number Plates, Axle Blocks, Seats, Footpegs, Kickstands, Graphics, Mirrors, and Carbon Parts.
Supermoto Headlights include the LED HP Headlight, Halogen Light Kit, Dual Sport Kit, HID Light Kit, HID 70W Headlight, MMX Headlight, Species Headlight, Road Warrior Headlight, Cyclops Headlight, Dimension Headlight, Eclipse Headlight, headlight guards, headlight straps, and Race Headlight.
Wheels include DNA Racing, Warp 9 Supermoto wheels, Haan Supermoto wheels, Excel Talon wheels, the Haan front and rear Supermoto wheel 85 cc to 150 cc to name a few. Supermoto bikes have such a practical appeal, thats why spares are so available.
Some great models to check out are :-
---
Home | Dirt Bikes | Cheap Dirt Bikes | Accessories | Mini Dirt Bikes | Motocross Racing
Motocross Gear | Off Road Bikes | Used Dirt Bikes | Wholesale Dirt Bikes
Honda | Kawasaki | Suzuki | Yamaha