Suzuki dirt bikes for sale
Time to get real - The suzuki brand.
When looking for Suzuki dirt bikes for sale, there are a few things to keep in mind. Check the bike over completely, for any bangs, knocks or suspected damage. OK - next -
Make sure it's described honestly, no one would moan at a little extra dirt and dust, but are bits missing? - or was it advertised with accessories that are now not included. When you test ride it, do you feel comfortable on the bike, is it too small or too large? If in any way you're not happy with the look or feel of those Suzuki dirt bikes for sale - save your cash for another bike – buy wisely.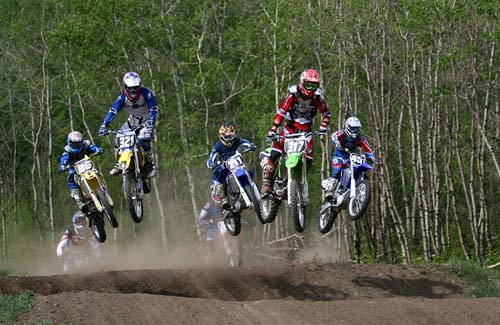 Wanting great suspension with awesome engines ready for an FMX show? Then you could be wanting Suzuki dirt bikes. The history of motocross shows that Suzuki bikes have always had a true grip on the american motorsports scene.
Many MX circuits have photographs of the Suzuki winning dirtbike tournaments and other track trophies.
Do any riders use the web to find pre-owned suzuki's? Yes, and they should do. If you want to buy great bikes; the web has lots of links to satisfy the most demanding male and female rider.
Suzuki.com is an obvious choice. It's the official site of course, and acts a little like a directory guiding you to local dealers and a stack of other free info as well can be found.
Suzuki-gb.co.uk is the English arm of Suzuki. Here you can get offroaders fit for local racing or most motorsport race events you might enter.
Mxchange.co.uk is packed with classified used ads. From simple dirtbikes to expensive vintage machines. Plus a whole section on Suzuki motorbikes. A 2005 Suzuki RM 250 was up for sale at £1195. Although a reluctant sale, it has had factory spares and new pistons and is of course well maintained.
A 2007 Suzuki RMZ 450 2stroke bike was selling for £2250. This was a £10,000 bike to build. Complete with cool wheels, fmf exhaust and a full white brothers race engine. This bike is far from being "common as muck" and a superb buy for the right rider.
Bike-exchange.com also has a grip on what bikers are seeking for used suzuki's. For instance we liked the look of a Suzuki DRZ-L 125 going for $1050, in running order, but it does need new spokes. Or what about a Suzuki RM 80 model up at $800, but very little description in the ad sadly.
Suzuki Sale - roll up-roll up
Before buying also visit a motocross forum for advice and the pitfalls of owning certain models of machine. If you don't have the budget to buy a dirtbike new - the used models are really incredible value. Plus should you wreck it, you haven't lost thousands of dollars.
Here are some free video clips on Suzuki's to see if they are suitable for your abilities. Suzuki dirt bikes for sale are 5 star rides - if you do buy one, we think you'll love them.
Suzuki RM-Z250 First Ride
Suzuki RM-Z450 - Test

Suzuki Spruce up
Buying suzuki dirt bikes is a brilliant idea. A suzuki offers reliability and a big branded backup of parts. They are easily found in sellers adverts on ebay or local ad's. And if you buy used how about a new suzuki graphic to brighten up an old ride.
Graphics are plentiful for this brand, and you'll be surprised by how far a lick of paint and new graphics go, in getting your oldster back in the groove. That's why when you buy any Suzuki, as long as the mechanicals and the engine is sweet, but cosmetically grungy – it's ok. Appearances can be fixed fairly inexpensively.
---
Home | Dirt Bikes | Cheap Dirt Bikes | Accessories | Mini Dirt Bikes | Motocross Racing
Motocross Gear | Off Road Bikes | Used Dirt Bikes | Wholesale Dirt Bikes
Honda | Kawasaki | Suzuki | Yamaha