Suzuki used dirt bike parts
Find what you seek - and "used" could be better.
Suzuki used dirt bike parts, certainly offer great value for your pocket, but it does depend on what parts you're buying. Ideally things like brakes and pipes should be bought new, as you rely on these too much, and after all it's your own safety that's important.
More than likely you'll be buying used parts from classifieds or internet ads, so check the description properly and double check with the seller the parts match your model of motorbike. Used parts for Suzuki bikes are great value but over used spares should be in the junkyard not on your dirt bike. Take care buying Suzuki used parts.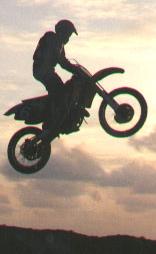 Teenage boys and girls for that matter, enjoy their dirt bike rides. Perhaps your jumping FMX ramps or pretending your in the arenacross nationals – well sooner or later you may get a split in your pro-taper bars, or a transmission leak.
Then you'll want Suzuki used dirt bike parts (and new ones as well).
An older suzuki model, and other used zuki's have a massive parts store. It's just a matter of tracking down a shop list, to get those much needed fuses and replacement FMX bars.
We'll get you some solid information, for you riders who need some servicing for your used motorcross bikes.
Cmsnl.com is superb for most offroad bikes. They have a huge volume of spares, and you can Search By part number and it will lead you to the required accessories; OEM replacement parts and other aftermarket spare parts. No poor used parts here. Visit the site; then you'll be ready for any event.
Suzuki.com is the official site for Suzuki bikes. All spares are new of course and not used here - and the cost as expected will be on the high end.
Dirtbikebitz.com have lots of 2stroke spares and plenty of accessory items. If you have kids (or big kids) check out these buys. Acerbis Suzuki Plastics Kits came in at £64.99. Complete with front and back fenders, & side panels, and colours match those of the original zuki plastic kits.
A One Industries Bar Pad for a Suzuki was only £9.99 , with durable back printed vinyl over high density foam & velcro closure. Plus a Suzuki RM Sticker Sheet was a mere £14.99.
Suzuki dirt bike Videos
If your buying spares for a mini Suzuki or a pro machine, do be sure you let the store know all the part numbers you have in your jotter. If all else fails an ebay spare – can be a stunning purchase. But you have to search regularly on ebay to be sure you don't miss a bargain.
Here are some vids for various maintenance which might save you buying spares in the first place.
Motocross Riding Tips - Pre-Race Setup & Check
How To Tighten Your Pitbike Spokes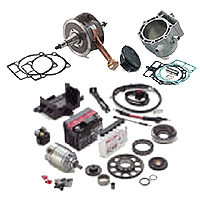 Why a Suzuki ?
The suzuki dirt bike is a great ride. Whether it's a powerful suzuki 125 or just a regular old plodder. The choice within the suzuki range should have something for everyone. Have a look online at stores giving discount sales, and take time choosing.
You can buy a (2nd) second hand Suzuki whole bike off ebay and use this entire ride as a source of your used spares, (often cheaper) but always remember regular maintenance and less tom foolery - will save a lot of parts buying.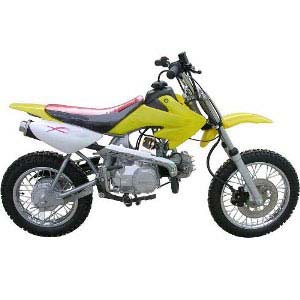 ---
Home | Dirt Bikes | Cheap Dirt Bikes | Accessories | Mini Dirt Bikes | Motocross Racing
Motocross Gear | Off Road Bikes | Used Dirt Bikes | Wholesale Dirt Bikes
Honda | Kawasaki | Suzuki | Yamaha