The Proper Motorcross Gear
Dirt bike equipment - a quick list.
The Proper Motorcross Gear - a brief reference for you.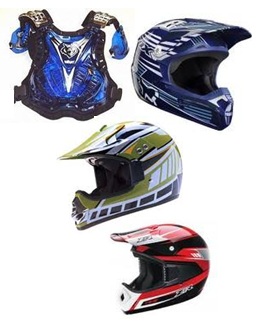 When it comes to motorcross racing, wearing proper motorcross pants, helmet, and other gear is a vital part of staying alive and uninjured.
Without the proper gear you could end up being seriously hurt in case of an accident or collision, so it is important that you wear the right gear in order to provide your body with ample protection.
A vital part of selecting the right motorcross gear is finding gear that is the proper fit for you. Getting gear that is too tight will simply restrict your movement, while purchasing gear that is too large can actually result in a part of your gear flying off or getting caught in your dirt bike's wheels.
Always make sure that your gear is the right fit before buying it. You can ask the sales clerk for help in finding the right gear for you.
The helmet is the most important part of any motorcross rider's gear. Never, ever buy a used helmet. You don't know if the helmet's structural integrity has been compromised because its previous owner was in an accident. Always buy a new helmet, one that has a SNELL rating. The lighter your helmet is, the easier it will be to use.
Make sure that you can adjust the cheek pads to ensure that you are comfortable wearing the helmet, and make sure that the mouth vent allows enough air into the helmet to allow you to breathe.
The skin on your face should move with the helmet once the straps are tightened, which is a good indication that the helmet is a good size for you.
Dirt bike gloves and their associates.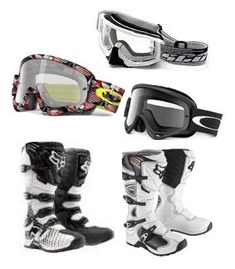 Motorcross goggles are not mandatory to wear, but they are useful to help keep dirt out of your eyes. Goggles ensure that no dirt is blown in around the glass of your visor, and you should find a pair of goggles that seals tightly around your visor.
Look for goggles with anti-fog lenses to ensure that your goggles don't fog up as you race. Thats The Proper Motorcross Gear.
Motorcross and dirt bike boots are vital to protect your feet in an accident or collision. The boots are designed with stiff sides that will help your feet not get crushed under the weight of your dirt bike, and they provide you with extra grip on the bike. Be sure that your boots are comfortable when you buy them, and they should fit your feet tightly.
Chest and body armor is vital to keep your chest and abdomen safe in case of an accident. The chest armor can be worn over a simple long sleeved shirt, and will help to keep the bones of your torso safe in an accident or a wipeout.
Motorcross pants are an important part of completing the Proper Motorcross Gear, as motorcross pants are designed to protect your legs in case of a wipeout or collision. Motorcross pants are usually made from thick material, and they are able to help your legs avoid being chopped up if you slide along the rough floor terrain of a track.
Motorcross gloves protect your hands from the track if you fall, and provide you with a good grip on your bike to make riding and steering easier.
So there you are - a complete short list of all the Proper Motorcross Gear you need.
Home | Dirt Bikes | Cheap Dirt Bikes | Accessories | Mini Dirt Bikes | Motocross Racing
Motocross Gear | Off Road Bikes | Used Dirt Bikes | Wholesale Dirt Bikes
Honda | Kawasaki | Suzuki | Yamaha