Thor MX
MX gear, and freestyle mx clothing.
Thor MX : Sponsorship and Equipment – for mx girls and guys.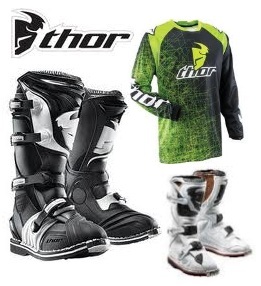 The best way to get exposure for excellent equipment is to sponsor team sports.
International interest, as in motocross, suggests international riders for maximum benefit. Marketing skills recognize the more positive exposure for your product, the better.
The incredible competition presented by riders such as Destry Abbott, Tyla Rattray, Blake Baggett, Mike Brown and Ryan Villopoto draws attention to the gear they are using and builds sales for Thor MX.
Not only is there gear for the rider, there is a variety of equipment for any fan, such as umbrellas and shirts.
Often an item will sell out right away. Sometimes the few left over sell later at a good price, like the Thor MX Mens Offroad Core 2009 Victory Jersey. The visible blue sleeves and tabs with the black chest draw attention.
The micro fiber moisture wicking polyester construction yields better construction. Pre-curved padded elbows allow greater flexibility and performance.
Airflow increases with the square hole mesh panels. Silicone molded logos on the chest and shoulders add style with durability. Action pictures of Thor MX team members demonstrate the additional equipment that keeps riders safe and organized.
Just going over the riding gear for men, women and children is incredible. There are the ordinary items like socks, mx boots, pants, jerseys, goggles and gloves. The mx boot is particularly sought after, but gets heavy competition from the Alpinestars brand in regards to durability.
Thor podiums and pinkies.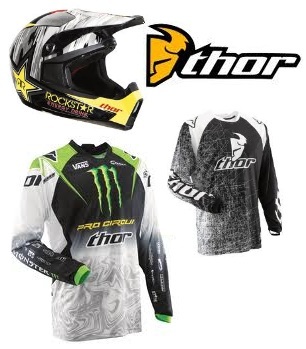 Helmets address the needs of riders and helmet accessories are available. Decals and stickers seem to need to be continually replaced. But Thor MX has them.
Goggle accessories, drink systems and gear bags keep dirt bike lovers happy. Ideal for thunder valley mx racing, or local circuit runs.
Brilliant colors make MX riders and their bikes visible and keep them safe. The 2011 Thor Flux Jersey Lazer has shades of orange to red with white and black balancing the color.
It is a great design and has the safety and comfort features present in all quality motocross jerseys, plus a bit more. Comfort and fit, multi-panel construction and vented mesh paneling are even better with the reduced weight of the shirt and increased airflow.
Imagine the benefit of a vented rear panel and vented sleeve panels. Elbow panels are padded. Stickiness on the tail keeps the jersey tucked in while riding. Stretch rib paneling eliminates the weight and need for cuffs.
Thor MX has gloves to match, featuring dimple mesh and a light-prene cuff designed for maximum mobility and airflow. Cooling vents in the single layer palm increase breathability while establishing the fact that the glove is durable and comfortable.
For control, there are knuckle bellows on level fingers and a silicone print for extra grip and lever control on the palm and fingertips. The thumb and fingers are colored black while orange to red colors blaze across the flat. White and black across the top add to the overall appearance of the jersey and glove.
Thor MX has a great team this year. On June 21, 2011, the Monster Energy FIM Motocross World Championship Round 7 took place at La Baneza, north of Madrid, Spain. The MX1 and MX2 classes saw four out of six podium spots claimed by THOR riders.
Steven Frossard and David Philippaerts both rode Yamahas and won first and third respectively in Moto 1. Frossard is in third place overall on the MX1 World Championship Standings and Philippaerts is in sixth place. In MX2 race 2, Tommy Searle rode a Kawasaki and Gautier Paulin rode a Yamaha and appeared on the MX2 podium in second and third place.
Thor MX has three riders in the Top Ten MX2 World Championship standings: Tommy Searle in third place, Gautier Paulin in fourth and Max Anstie in seventh.
Home | Dirt Bikes | Cheap Dirt Bikes | Accessories | Mini Dirt Bikes | Motocross Racing
Motocross Gear | Off Road Bikes | Used Dirt Bikes | Wholesale Dirt Bikes
Honda | Kawasaki | Suzuki | Yamaha