Used dirt bike parts
Cheap dirt bike spares – trials and tribulations.
Used Dirt Bike Parts – is it worth it?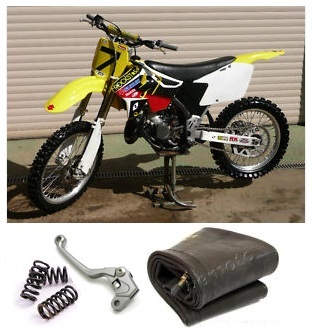 Anyone who is a dirt bike or motocross enthusiast is well aware of the cost of maintaining equipment.
Things break or wear out just like on any vehicle, and replacing those parts can be painful if you are on a tight budget. Thankfully, used dirtbike parts can offer an economical option for those who have to watch their spending.
Are Used Dirt Bike Parts a Viable Option?
Many people worry that getting used parts for their dirt bikes isn't a good idea. They figure that since the part is used, it is already too worn and they won't get their money's worth out of it.
While this may be true for a couple parts of a dirt bike, for the most part buying used parts is a great way to keep your equipment running without spending more money than is necessary each month.
Choosing Used Parts - dirt bike for sale spares and pointers.
If you have opted to purchase used dirtbike parts, there are some tips you can follow to ensure you are getting a good deal.
Check the price of a new part
By knowing what the part you are looking at would cost if it was brand new, you will make sure you are actually saving money. You don't want to buy a used part only to discover that you could have gotten it new with just a little more cash.
Used dirt bike bits, come good?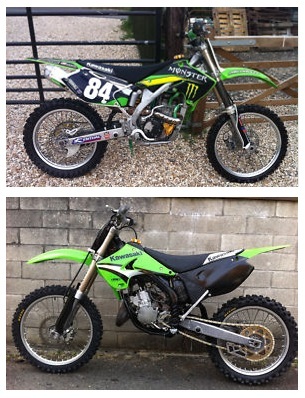 Find out why the part is being sold
There are many reasons why used parts come up for sale, and some are more important than others. Sometimes the owner of a bike gets a better part and decides to regain some of their investment by selling the old part. A lot of the time the part that is being sold is still good and you can get a great deal.
But sometimes someone will wreck their bike and part it out. While this doesn't automatically mean that the parts are useless, you should take an extra close look at a part that came off a wrecked bike in order to make sure it isn't damaged.
Find out if there are alternatives
Sometimes you can save a lot of money by simply buying a different brand or model of a certain part. When you are perusing used dirt bike parts, see if there is anything that can be substituted for the part you need to replace.
Likewise, if you absolutely must have a specific part made by a specific company, make sure you have this information close at hand. You don't want to purchase a part only to discover a minute difference that makes it useless for your application.
Keep Your Eyes Open
If there are parts of your dirt bike that wear out often you should always be on the lookout for used versions of that part, even if you don't need it right now. This way you can pick up good deals when you find them, and have an extra part available when yours wears out.
Used dirt bike parts aren't right for every situation - but in many cases you can pick up a used part for far less that you would pay for a new one, and the part will serve your purpose perfectly well.
Home | Dirt Bikes | Cheap Dirt Bikes | Accessories | Mini Dirt Bikes | Motocross Racing
Motocross Gear | Off Road Bikes | Used Dirt Bikes | Wholesale Dirt Bikes
Honda | Kawasaki | Suzuki | Yamaha