Yamaha Dirt Bike Parts
Spares and yamaha dirt bikes for sale.
Yamaha Dirt Bike Parts - Reasons You Might Wait.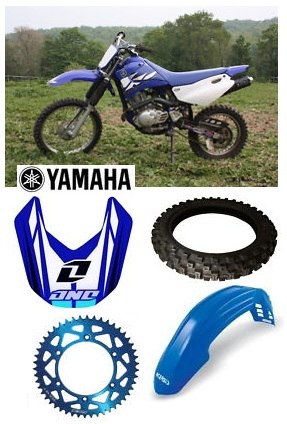 One thing is certain when you enjoy your dirt bike. You are going to need parts at some point of your riding life.
Yamaha dirt bike parts are easy to find, although sometimes you must order them and wait, especially if you need OEM (original equipment manufacturer) parts.
Yamaha is one of the top five selling brands of dirt bikes and that means you are facing some heavy competition for the ordinary things, like tires, the clutch and sprocket.
The first Yamaha dirt bike was the DT1, a 250cc two stroke dirt bike. The off road North American riding community fell in love with the promise of more power and freedom when riding in the open and other motorcycle companies soon followed the new dirt bike trend.
In 1998, Yamaha pleased the same crowd with a mid-capacity four stroke motocrosser, the YZ400F. Some perplexed dirt bike fans wonder why Yamaha does not produce new and advanced two strokes. Perhaps it will happen soon.
When thinking about Yamaha dirt bike parts you might need, browse other Yamaha bikes to see how many use the same parts. Consider the durability of the part. If it wears out quickly or damages easily, that part might need to be replaced frequently and be back-ordered.
It is always a good idea to have one extra of everything on the shelf, and carry spare parts with you when traveling. Even parts like the gold plate drive chain, gripper style seat cover, KYB rear shock, and aluminum brake hose clamps can be used on different bikes. Pro Taper bars are standard equipment on several Yamahas, increasing the demand.
Getting the right dirt bike engine part.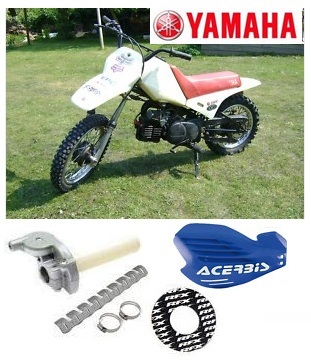 The YZ85 Yamaha dirt bike has not changed much. Even in 2009 it was built using the 36mm inverted forks in the front and link type shock by Kayaba on the rear.
The good part is that it keeps those parts available, while the downside, once again, is that so many depend on those parts to keep their dirt bike up to par.
Beginners to experts, the YZ85 handles all riders, offering a digital CDI ignition and six speed transmission.
Many online sites stock genuine OEM Yamaha dirt bike parts. This gives you the opportunity to comparison shop. Your dirt bike will maintain the quality you depend on while riding. When you are depending on finding the particular shade of red to match the rest of your bike, knowing it is available is good news.
Your favorite dirt bike never looks the same after use as it did before you started. Some of the various Yamaha parts you can order include a cosmetic kit with decals for number plates, the fork guard, shrouds, seat cover, airbox, swingarm and fenders.
In case your bike decides to eat dirt, rest easy. You can fix things with the plastic rear fender, front fender and radiator shrouds. The clutch lever is another popular part, as is the clutch plate assembly. Tires are abundant on the web. You can even find some great bargains on quality helmets and safety suits.
If you are hesitant about spending the money for OEM parts, check for other parts that will work. Used parts may not hold up against further wear and tear and most of those parts are better off staying away from your bike.
Get a second opinion before spending your money on used Yamaha dirt bike parts and old yamaha dirt bike parts.
Pre-owned yamaha dirt bikes, and abused dirt bikes for kids, may have lots of issues. So try and have an eye for what the sellers telling you, are they being less than truthful? Does the bike look as though its seen many races and not well serviced as well? If so those cheap dirt bike parts are not worth your time and effort restoring.
Home | Dirt Bikes | Cheap Dirt Bikes | Accessories | Mini Dirt Bikes | Motocross Racing
Motocross Gear | Off Road Bikes | Used Dirt Bikes | Wholesale Dirt Bikes
Honda | Kawasaki | Suzuki | Yamaha