BBR pit bikes
An amazing BBR bike.
Many bbr pit bikes can offer single-cylinder, air-cooled, four-stroke, start any gear engines.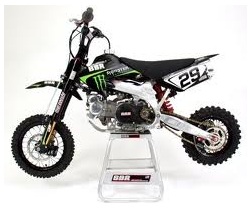 A plus of this model is the Economical fuel consumption, and a CDI electronic ignition the wheel base is normally in the region of (mm): 950. As for wheels rim types are usually spoke / alloy, and a Min. ground clearance (mm): 150.
They boast front and rear disc brakes, double BBR Alloy frames, aluminium wheels and hubs with heavy duty spokes, for lightness and durability.
Aluminium handlebars, aluminium single rear swing arm and footrest's complete a superb bike for many enthusiasts.
Anyone who owns a bbr bike should have a magnificent machine ready to take the punishment of any track.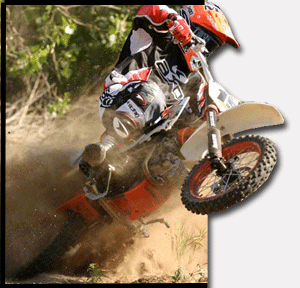 Perhaps when you have been viewing the dirt bike trader magazines, you have checked out the bbr pit bikes . One ride is the BBR TTR150, you can get tons of modifications for this model too, inc. heaver springs and race valving. The website to see these types of bikes in all their glory is www.bbrmotorsports.com and they are great for dirt bike trails.
Of course you can guarantee they come with brilliant dirt bike graphic kits, and you're sure to see these dirt bikes on ebay - to get a bargain. The BBR models often feature in dirt bike rental stores for a motocross holiday so they can't be that bad.
They periodically come under the heading of "other dirt bikes". So research the BBR brand, before you buy.
Buy BBR dirt bikes online
There is now on the market the cheap mini dirt bike, being toted under the heading of "BBR style" dirt bikes, manufactured from china.
Many have 4 stroke 110 / 125cc, air cooled engines and 4 speed, manual clutches. These BBR replicas can do 80km/h and have front and rear hydraulic disc brakes, with kick starts more often than not.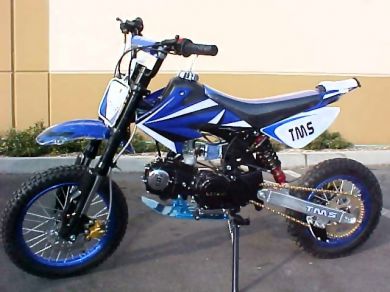 So bbr pit bikes are well specified you'll agree. Do pour over the bbr catalogue dirt bike photos, to see if it's suitable. Will it be ideal for dirt bike jumping? Will it cut it on your local track? All important considerations; plus will you need some dirt bike riding tips for your BBR dirtbike purchase?
A great number of these bbr pit bikes replicas have aluminium frames and alloy wheels / hubs with heavy duty spokes, so if you're a beginner into jumps they might be light on the wallet.
We even came across a 140cc BBR dirt bike with on road tyres, (but this doesn't mean its road legal) so double check this with the store. This pitbike has a Lifan 140CC Oil-cooled four stroke engine and an aluminium alloy T6 frame. So if it's an original or a replica, having a BBR bike should be suitable for most of us to use.
But do insist on a quality built pitbike in any event.
A Jumps dirt bike ?
BBR bikes could be found advertised on ebay motor dirt bike pages. If you do buy dirt bikes online have a list of criteria ready. Will it be a jumps dirt bike ? will you require pit bike acceserios ?
If the bike requires pit bike parts purchasing to put it back in racing condition such as a pit bike exhaust take account of this as the complete cost - it maybe more than you bargained for.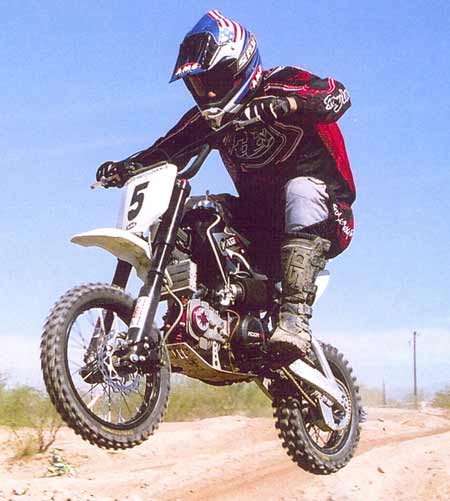 Home | Dirt Bikes | Cheap Dirt Bikes | Accessories | Mini Dirt Bikes | Motocross Racing
Motocross Gear | Off Road Bikes | Used Dirt Bikes | Wholesale Dirt Bikes
Honda | Kawasaki | Suzuki | Yamaha