Cheap mini dirt bikes
Cool and small inexpensive pitbikes
Cheap mini dirt bikes are in abundance wherever you look. Ebay is one place and you can get some seriously good bargains here. If you go for a budget bike ensure this hasn't been damaged as cheaper makes are usually not built as strong, so take care.
Used deals are great too for cheap mini dirt bikes, and you may look at local clubs or groups, where riders want to upgrade and sell their bike. You can pick up their bike for a song and they have cash for a newer bike. Take your time in choosing as there's never been a better time to buy an inexpensive bike.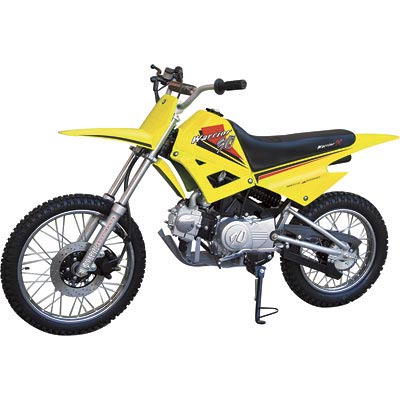 Cheap mini dirt bikes are readily available, from electric mini dirt bikes for kids to a used mini dirt bike bought as an unwanted present. They vary in use to, how about posing on a mini chopper dirt bike or getting down and dirty on the track with a Honda mini dirt bike.
Our first site to investigate was ebay.co.uk which turned up a mini dirt bike for kid fun ride, a 110cc YELLOW ZONGSHEN model. The 4 gear manual 110cc fast ride was only £107! This type of dirt mini bikes moto would suit ages 7 to 15, but it did have some slight damage - in cases like this you're best viewing before the auction is over to see if you can indeed fix the dirt mini bike.
Another choice was a 2008 MINI DIRT BIKE - MOTO MOTARD PIT QUAD MINIMOTO for £109.95 and that was a "buy now" price, no waiting for the auction to end. The RRP was £299, so this is a massive saving and of course a seasonal sale makes all the difference. So what does this bike have? Well - All new 8 spoke Alloys, Uprated Chrome Gearbox, Sports Metal Footpegs and Upside down Forks. Plus a Safety chain guard fitted, Throttle Restrictor and Ball ended brake levers for added security when riding. All this safety gear is really important for your child rather than the flashy Chrome performance TWIN exhaust which this bike has too! This cheap mini dirt bikes model travels at 35mph! And is ideally suited for ages 14 to adult.
A Bike "mini" pocket sale
What next on our search for cheap mini dirt bikes? Well - minibiketrader.com came into our sights selling a used 4 stroke 110cc mini bike for $250, but of course, these small ads all depend on if you live locally. There was also a 124cc, 4 Stroke mini bike dirt moto with a manual clutch, and disc brakes for only a paltry $529. Brilliant prices, but the drawbacks of this site, was that not all ads have pictures and it had lots of Google ads - which became something of a distraction.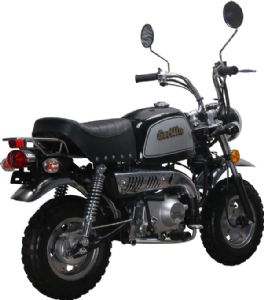 Pocketbiketrader.com followed on during our afternoon of web browsing for cheap mini dirt bikes, which had some nice bike cc dirt mini motos for sale. Easy to navigate pages soon meant we found a 49cc pocketbike that had neon and 2 carbon fibre lights that work fine and it is all tuned up plus the motor has been broken-in for you, all for $180. So a website worth a quick look.
Cycletrader.com brought in some more mini moto dirt bikes buys. A 2005 POCKET BIKE Model DB-809 for sale at $699. This 4 Speed, Single cylinder, Air cooled engine offers up 110 cc power. With a Semi-automatic transmission, electric start or Kick start models, and front & Rear Hydraulic disc brakes set this bike off as a decent model to get. And before we left this website a 2005 POCKET BIKE 49cc Mini Dirt Bike for $349 sprang up. A cool mini dirt bikes cheap purchase if ever we saw one, and ideal for a "dirt" kid mini rider in your family. It incorporates a 49 cc, single cylinder, 2 stroke, air cooled engine and an electric & manual start. The websites very good in that you can search via region so you can be specific in your drill-down. Plus you can search for mini and pocket bikes too, and filter the full sized bikes out - which is a big bonus.
We had a final look at mxchange.co.uk, for any dirt Honda mini motos and possibly bargain prices on panterra mini dirt bike rides. We didn't find any, but we did see a cool looking 2001 Kawasaki KX 65 2 stroke motocross bike. In this case it had plenty of good quality images (always nice to see), and a price of £550.
So as you can see, information on mini dirt bikes purchases are around, but we discovered a lot of junk too. It's best not to buy from the very first advert you see, as if we did we could have missed out on some real GOOD dirt price bikes.
Old mini bike sales
For bargain hunters you should seek out a bike mini pocket sale, for cheap mini dirt bikes there maybe many old mini bike models on offer, but if they have been looked after you should get a good deal. However some mini bike store owners have part-exchange models in their shops so ask around, and if all else fails you can build your own mini bike, and have your ultimate bike too.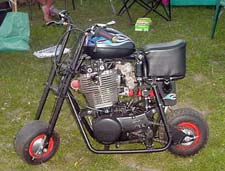 Home | Dirt Bikes | Cheap Dirt Bikes | Accessories | Mini Dirt Bikes | Motocross Racing
Motocross Gear | Off Road Bikes | Used Dirt Bikes | Wholesale Dirt Bikes
Honda | Kawasaki | Suzuki | Yamaha