Cheap motocross boots
MX footwear for everyone.
Needing cheap motocross boots ? How about researching ebay or other auction sites. Perhaps reading the classifieds in a copy of a motocross action mag might find you the right pit bike boots too. However don't buy ill-fitting boots as that's a false purchase. Whatever moto you buy either a honda motocross bike or a yamaha dirt bike, your clothing and boots should be snug but not so tight your having issues riding.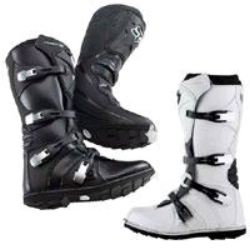 Cheap motocross boots are an integral accessory dirt bike item. Your legs and feet must be protected at all times and although you can ride in your trainers we would advise against it. A quality dirt bike boot should last you a long time, so paying some money upfront is worth it. But cheap dirt bike boot footwear is available.
We found a number of dirt bike sale options in regards to pit bike boots at www.slyfoxmx.com. A couple of makes took our eye the first one being, 2006 Oneal Element boots at a price of $63.60 normally they are offered at just below $90! Built from 100% durable leather construction and adjustable four buckle closure system, it gives all round protection for your lower legs. A Steel Shank plus Injection moulded shin plate and padded heel support. There was also the 2007 Thor Quadrant Boot at a regular price of $149.95 but slyfox had it for sale at $109.95.
This boot gives a superb balance between fit and protection during your atvs dirt bikes racing. Includes ergonomic curves and an injection moulded medial abrasion plate. A steel shank insert and a fully adjustable positive lock buckle feature and action-pivot base completes the impressive quality of this boot, and should be an amazing buy for any rider - cool cheap motocross boots.
The big dirt bike boot search.
Dirt bike protective gear, can soon build in price, so you must save where you can. Boots can be as important as your helmet and body armour to have the most amount of fun out there on your new dirt bike. We took a quick look at www.getgeared.co.uk, and although they do offer motocross accessoire dirt bike items, a great number is for road bikes.

If you're NOT using your dirt bike dirt ride for extreme riding we found a boot - which is ideal for much more leisurely dirt bike tours. This was the PROBIKER Scout Touring Motorcycle Boot for £99.95. It comes with a waterproof and breathable drygate membrane lining. Includes reflective heel tabs and an Oil resistant rubber sole, plus its recommended by Germany's leading motorcycle magazine.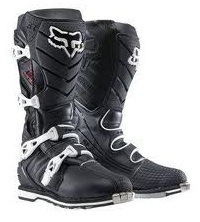 Then we checked out ebay - yes anything is possible with ebay even cheap motocross boots. From a tiny Honda dirt bike accessory or a book about dirt bike racing it's all available.
Last time we browsed over discount dirt bike models and the incredibly cheap dirt bike pocket rides, but now we wondered if any boot bargains could be found.
The site didn't disappoint and we came across the FOX F3 Motocross ENDURO boots, for £45. They look impressive and have a 3D moulded chassis, soft touch buckles and an extreme seal top gasket. Offering a cushioning and shock absorbing midsole with a fold-over burnguard it's a great boot for low-cost.
Then we clicked on some FOX F3 PATRIOT Motocross Boots, for £50. Just before we left ebay, we came across some ONEAL Element Pink MX Motocross and ATV Dirt bike boots. Price was $109.99 for a tough uni-directional sole with steel shank boot, anyone who knows about dirt bikes will have heard of o'neil quality. This dirtbike boot has an injection moulded shin plate and full plastic protection and a moulded rubber heat shield. Lots of heel support and padding for added comfort to the wearer plus 100% durable leather construction make this a superb boot for those on a budget.
Low price Motocross boots.
Next on our list for cheap motocross boots was www.dirtbikebitz.com, selling a pair of 2007 Sidi Charger Motocross Boots with a limited offer of £181.06 on this boot. Which is 20% off! The boot itself contains "a rear support structure, a system similar to the vertebra system used on Sidi's road racing boots making a more flexible joint where the heal ends giving support where it counts." With polyurethane protection inside of the boot and a "Teflon" fabric protector, to prevent total water and sweat absorption this is a well designed boot for demanding bikers using the best materials.

The website mxoutfit.com, also had some motocross boots for sale. One item that attracted our attention was a pair of O'Neal 2008 Element Boots on sale at $89.95, 10 dollars off list price. And a closeout price of $74.95 on O'Neal 2008 M10 Boots.
Which have an aluminium, adjustable four buckle closure system a leather heat shield and an injection moulded shin plate.
Combined with an ankle / shifter plate, side plate and buckle protector for added protection and support and a velcro gasket closure and rear Achilles insert for added flex and protection all wrapped in genuine leather. Nice cheap motocross boots - nice price.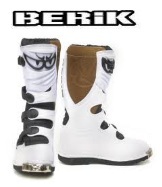 Our final stop was at mx.unlimitedparts.co.uk. To see their BERIK boot, on sale at £99.99, which is 28% off list price.
This pair of cheap motocross boots has aluminium buckles, injection-moulded plastic shin and heel protection and hook-and-loop shin plate closure.
Internal steel shank for shock absorption plus Removable and replaceable foot-bed completes a superb boot.
Obviously at the time of writing this, these sales may not exist, but on the internet finding the right motorcycle dirt bikes and accessories can take hours. So we hope we have guided you to some ideal places to buy a dirt bike boot for knock down money.
Places to find MORE dirtbike boots.
Always keep looking for new clothing and possible bikes from motocross auctions to new store outlets local to you. Always visit a couple of dirt bike events like a local motocross track as the riders there often have the latest cool stuff and cheap discounted items they might be wanting to sell, check out ads in magazines, clothing brands affiliated to MX and of course cheap motocross boots sales online.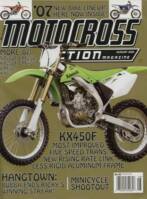 ---
Home | Dirt Bikes | Cheap Dirt Bikes | Accessories | Mini Dirt Bikes | Motocross Racing
Motocross Gear | Off Road Bikes | Used Dirt Bikes | Wholesale Dirt Bikes
Honda | Kawasaki | Suzuki | Yamaha