Cheap used dirt bikes for sale
Bargain Buys - good motocross buys.
Cheap used dirt bikes for sale are advertised in many places in small ads on both the net and in local papers.
Ebay has lots, and you'll be surprised how many maybe just around the corner from your house. You have a number of choices to find a cheap bike – buy new which is expensive, or budget brands such as imports, however they could be of a lower quality.
Or used well known makes that could be slightly more expensive. If a supposedly good bike is for sale at a very low price, ask yourself why – is it stolen or is the bike ok, but the engine is about to blow! If you're not sure take someone with you who is mechanically minded.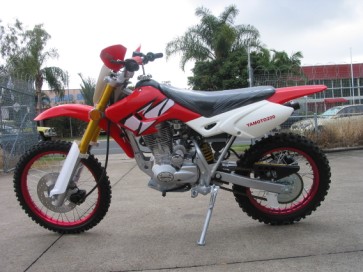 So you're seeking cheap used dirt bikes for sale? A cheap MX bike can be a complete steal, if you're looking for really cheap dirt bikes and can't find the cut-prices on new models. Dirt bikes for cheap prices can be found in classified ads, like ebay.
Of course the most popular are cheap kawasaki dirt bikes, used suzuki and used honda MX bikes so don't linger if you see these bikes in good condition and readily priced. Very cheap used dirt bikes should be approached with a little caution - why are they so cheap! Are they dodgy? Or badly damaged and the seller isn't giving you the full story on a cheap 70cc dirt bike you've just stumbled upon?
We took a look at some cheap used dirt bikes for sale on the web - on your behalf. The site bike-exchange.com seems highly popular and you should in theory find anything from a generic cheap 200cc dirt bike to a pre-owned kids motocrosser. We came across a kawazaki L KLX 125 for only $1900. Not as cheap as some dirt bikes for sale advertised on here, but it was in mint condition. It had also never been raced or jumped and the pics seem to prove the point.
For much cheaper models there was a KC 110 which can move at 65mph, all for 500 dollars if you live in florida of course. This site can let you drill down any location you wish, and each ad gets quite a number of views so a brilliant place to buy cheap used dirt bikes for sale and sell a bike too!
Information on dirt bikes
Mxchange.co.uk too, offers a similar service where we found lots of cheap used dirt bikes for sale; for instance a 2007 KTM SX 85 2 stroke, going for sale at £1,150 or very nearest offer. With only 2 owners and new piston rings, the work had appeared to have been done. But you always want to test ride the bike in any event. On this advert, manuals and a ktm tool kit were thrown in, so always check what is (and most importantly what isn't) part of the final price.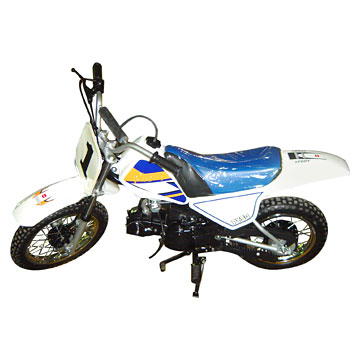 The second ad on mxchange, showed a 2003 Yamaha YZ 250 2 stroke pit bike for about £1,250. Now used yamaha's in good condition don't hang around for long, and this model had been well maintained and had a recent oil change too.
The advert disclosed the bike had a recent new chain and sprockets, piston kit, rear tyre etc. - which might be worth checking why it's had so much work done to it? But this did seem a much loved model and for the money would be a great buy. Overall we liked the website as it had plenty of good quality pictures too.
Older Honda - older KTM.
A place on the web we had never been to for cheap used dirt bikes for sale was - www.oodle.com/vehicle/motorcycle/offroad/. But it did have a number of dirtbike & pitbike classified ads, with good clear pics and layout.
A 2001 KTM Senior Pro 50 caught our eye, and with a price tag of $750 made us look even further. Extras included New Clutch, Fiber Reeds, Doma Pipe, Spark Arrester (and size 5 Fox Fly Boots). Their son had out-grown the used dirt bike, so this is your sons/daughters gain.
Before we left we took a second look at a 2001 Honda XR50 model w/ BBR 88 kit and BBR forks. The price on this was $650 and came with FAST 50's 2 1/2 " extended swingarm, plus new front and rear wheels and tires. You can bet that the owner has spent a lot more on this used honda dirt bike than you will; so although it's a few years old, the price was fantastic.
Ebay gave us our final bite for cheap used dirt bikes for sale, as we browsed a 125cc motocross bike for £200 with only 4 hours 40 mins left ! This 4 stroke model has new throttle and grips, plus new seat and plastics. Although having electric and kick start but no battery - makes you wonder why the seller just didn't put an old battery on it?. So in cases like this take your own battery when buying so you can ride it before collecting it when the ebay sale ends.
Used dirt bike parts should really be avoided especially brakes and cables, they may let you down and there is no way of telling until you depend upon them in a race.
Buying a used dirt bike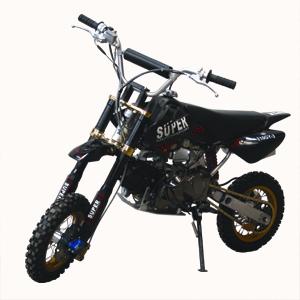 When buying a used dirt bike, or indeed any cheap used dirt bikes for sale, you should go along to motorbike "used" auctions.
If you're in England (offline) UK local motocross & dirt bike "used" auctions are as common as online classified bikes. You just have to be sure of times and dates to go along to local auctions and STICK to your budget - when you DO go.
But before going get as much information on the MX bikes YOU want - as research will pay off when you select your perfect bike.
---
Home | Dirt Bikes | Cheap Dirt Bikes | Accessories | Mini Dirt Bikes | Motocross Racing
Motocross Gear | Off Road Bikes | Used Dirt Bikes | Wholesale Dirt Bikes
Honda | Kawasaki | Suzuki | Yamaha