Dirt bike boots
Well, I am here to tell you, dirt bike boots are essential. So, you've got the bike, gloves, helmet and now you are wondering what else?
Boots in all shapes and sizes.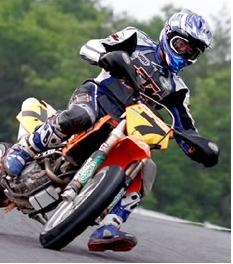 They serve a much bigger purpose than just allowing you to ride in style! If one is to be successful it is important to make sure that you have the proper equipment for the safest ride possible. Dirt bike boots come in a variety of styles, colors and designs. Manufacturers make boots for men, women and children. There is not any reason that all ages and stages can not be outfitted with the best dirt bike boots possible.
Dirt bike boots range greatly in price. There are mx boots from the lower end to the very expensive that can leave you hundreds lighter. Dirtbike boots serve an important purpose for riding and really should never be taken lightly.
Take your time to buy your boots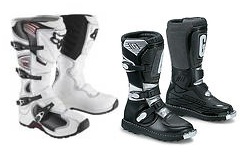 The boots are designed to keep the foot, ankle and leg from the bike pipe and any potential flying objects or accidents. That is why it is so important to make sure that your biker boots are reliable and from a reputable manufacturer.
A good rule of thumb to consider when purchasing your bike boots is to consider the support, venting system and the overall design of the boot.
A good material such as leather is a durable choice that will see you through many rides. The locking and buckle system must provide the ability to get the dirt boots on and off with ease. Comfort is another great way to decide on a pair of boots. If the boots are not comfortable you will likely not ride as well as you should.
Footwear for Racing dirtbikes
Buying a dirt bike boot for MX racing.
Shopping for Dirt Bike Boots – have you done it right?
Ok so you have your perfect helmet – that's good – but time to think on your feet (or about your feet to be exact).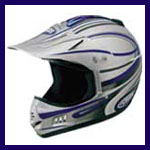 If you're shopping for dirt bike boots then you probably already know that there are tons of different options out there. How are you supposed to choose between all of them, and what should you be looking for?
Use this guide to see for yourself some of the features and characteristics you need to know, along with popular brands, price ranges and more.
First you need to know a little bit about dirt bike boots, as these aren't like the pair of Timberlands that you might wear with your jeans. These will feature thick straps which lock your boots up and tighten them to provide maximum support and protection for your foot and ankle, while also making them easy to get into and get out of.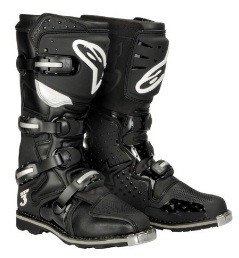 You'll need a very durable pair, and many models are made from leather, although others feature composite materials of all kinds.
But the whole boot itself shouldn't be made just from leather, as one of their main jobs is to protect you during a crash.
So you'll want a hard plastic or another hard, molded still front piece covering the shin and perhaps the top of your foot, and you'll need a real thick, sturdy and gripping bottom sole.
When it comes to popular and high quality brands, there is certainly no shortage of options. Fox Racing, Thor Racing, O'Neal, Gaerne, Alpinestars and more are all high quality choices. What you end up choosing will depend on any number of factors, ranging from that brand's fit, to their style, what options they have available, and of course, price.
Here are three dirtbike boots that are popular at the moment:
You don't need a motocross boots directory and resources page, just keep reading below.
The cost of a motocross boot.
The most expensive dirt bike boots could cost up to $500, which sounds crazy but it's true. The cheap motocross boots / dirt bike footwear still aren't really cheap, they'll still cost you a minimum of $75, and more like $100.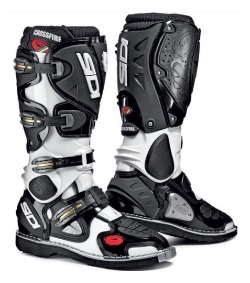 Most will be in that $125-$200 range, and you'll have to figure out how much you're willing to spend and what specific kinds of features you're looking for before you fork over all of that cash.
Finally, don't forget that the majority of dirt bike boots that are available are "full length", which means they go up and cover the shin. However, there are also shorter boots which are like a regular street pair of boots in terms of size and how far they go up -(Up to the ankle).
You won't have any extra shin protection, so you'll need to make sure that you have some good shin pads to cover that delicate part of your body. Depending on the kind of fit and style you prefer, you may end up preferring these.
By now you have some good information for buying dirt bike boots. There are dozens and dozens of different options out there, across many different brands, and some of the biggest names in the industry.
You want something that is protective, comfortable and supportive, and you want something that matches your style and meets your budget. If you can do all of that then you will have a pair of boots you can rely on and will always want to strap on.

Dirtbike tracks
Performing dirtbike stunts will punish your bike and your body while out on the dirtbike tracks. So when racing dirtbikes or using the bike for jumps, have a shortlist of dirtbike products to help you maintain YOU and your moto.
By that we mean motocross clothing, (inc. boots), PLUS a warm-up regime for your body too. Many dirtbike forums should help you out with advice and help if you're a novice.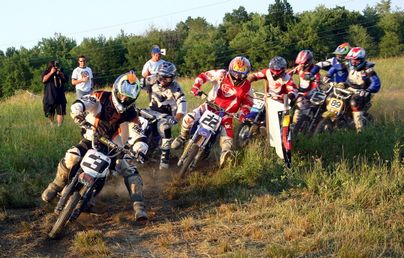 Home | Dirt Bikes | Cheap Dirt Bikes | Accessories | Mini Dirt Bikes | Motocross Racing
Motocross Gear | Off Road Bikes | Used Dirt Bikes | Wholesale Dirt Bikes
Honda | Kawasaki | Suzuki | Yamaha