Dirt bike carrier
The MX dirt bike held onto the back of your SUV?
Any type of dirt bike carrier is important, as most bikes are not street legal. If you have a panterra dirt bike, or even an old honda MX bike, a good device like this - will never let you down. Of course you can get expensive aluminium or cheap steel carriers, which can carry 2 dirt bikes, or even more! Which is ideal if you're in a club.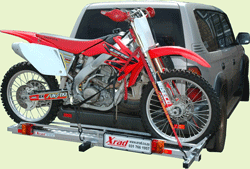 A number of dirtbike carriers are available from the online stores. When taking your ride to a dirtbike trail you can use a dirtbike trailer but dirtbike carriers attached to the back of a pickup truck are far more convenient.
Some dirtbike trails can be very bumpy and dirtbike trailers can make your ride bounce around in the back if not properly strapped down.
So if your hitting the minnesota dirtbike trails or ottawa dirtbike tracks take a look at these dirtbike racing carriers we checked out.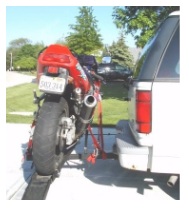 Offroad bike Convenience.
The first site was an obvious choice which was motorcyclecarrier.net. They had for sale a Dirt Bike Carrier which is toted as the only dirt bike carrier that needs no tie downs to move a dirt bike, this pitbike carrier can hold a bike of 500 pounds. The price on this unit was $349, and included a hitch pin.
Its Aluminium and Stainless construction means it will last a very long time. Plus it should be versatile enough to take anything from 50cc dirtbikes to a 200cc dirtbike.
The webpage"www.ourlocalguide.com/GCCarrier/quick_carrier_faqs.htm", advertises for sale a Quick Dirtbike carrier. This new dirtbikes carrier is priced at $299.95 with free shipping.
It has a small ramp included for you to roll the dirtbike wheels onto, so you don't have to lift it up by the dirtbike tires onto the pitbike carrier. The overall weight is 45 lbs. and they do have a Dual hitch extension available at $49.00.
2 at a time - Dirt bike hitch
Hook up and have fun.
For a more all purpose dirtbike race carrier, visit the website "watling-towbars.co.uk/motorbike_scooter_carrier.html". It's not specifically a dirtbike websites page, but more for tourers who have bikes and scooters. The item is called a "Motorack scooter carrier", and this bolts onto an existing tow bar, and pics are included to see if your towbar will be applicable.
"The Watling Motorack" is built in galvanised steel and enamel to ensure it lasts a long time, and comes complete with a 1m loading ramp, a 4' lighting board, and 2 tie-down straps so your ride does not come loose. The prices are available from £235 +Vat (£276 inc. vat). It's ideal for many motor homes and should carry many types of dirtbikes too.
The next site was "discountramps.com/carriers.htm", which had for sale an AMC-600-2 double motorcycle carrier –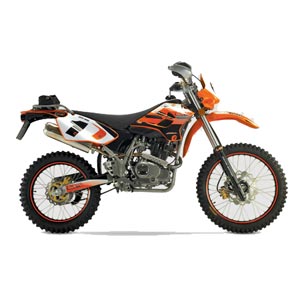 This is ideal for transporting 2 pitbikes at the same time! It's built for carrying dirtbike models across hard terrain. Using a lightweight aluminum ramp (45.5" in size) to make it easier to slide your moto onto the carrier. This item should keep your honda race dirtbikes or any mototcross bike for that matter, safe and undamaged until you arrive at your off-road dirtbike riding destination.
Now for a breakdown of prices :- The AMC-600-2 Hitch Mounted Aluminium Double dirt bike carrier 75 inches 600 lbs. 45.5 inches 6 3/4" 5.5 inches 69 lbs $239.99 +$45 s&h
The AMC-400 Aluminium dirt bike carrier – Dimensions - 75 inches 400 lbs. 45.5 inches 6 3/4" 5.5 inches 36.5 lbs $129.99 +$30 s&h
Plus they also offer a basic 1 inch dirt bike strap tie down kit for pick up trucks and trailers - its an 8 piece kit (2 cam straps- 2 ratchet straps- 4 soft loops) all for $29.99 + $8 s&h. Plus quite a bit more besides - the website was well laid out and this dirtbike trader really knows how to wow his customers. Certainly a pit bike carrier, for those who are serious about riding.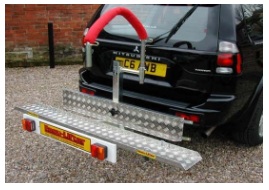 Lastly we come to easylifter.co.uk. It weighs only 13 kilos, and should carry your dirt bike in absolute safety. Its DVLA approved; plus it's Quick assembly & dismantled in under 10 seconds and carries 150 kilo's.
It should fit to most standard tow bars and is priced at £265.00 Inc VAT. The pictures supplied, do show this to be a durable and substantial carrier.
On our travels we didn't see any carriers built specifically for kid's dirtbikes; but if you contact the sellers, they should be able to inform you if certain models are suitable for smaller bikes.
If a dirt bike carrier does not suit you, how about a street legal dirtbike. You then don't have to carry it anywhere, let it carry you!
Motocross / dirt bike Carrier
Some trailers or carriers can be improved with a few dirt bike graphic images & stickers, (but remember it can be an offence to have an offensive decal on the back of your carrier).
Always have an excellent lock too, so your moto is safe and secure on the roads. Also be aware of the law and carriers in your country, some may require you to have another licence plate (on the carrier) – as the MX bike may obscure your original vehicles back plate. Check out these websites above and find your perfect carrier.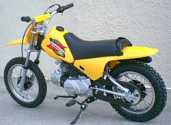 ---
Home | Dirt Bikes | Cheap Dirt Bikes | Accessories | Mini Dirt Bikes | Motocross Racing
Motocross Gear | Off Road Bikes | Used Dirt Bikes | Wholesale Dirt Bikes
Honda | Kawasaki | Suzuki | Yamaha