Dirtbike manufacturers
Fine MotoX bike models – built by?
With so many dirtbike manufacturers in the market it's hard to know where to start.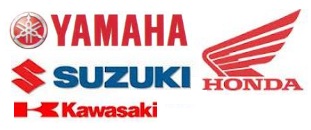 Yamaha is widely regarded as the market leader; they provide high quality bikes and innovation.
However, known brands such as Honda, Kawasaki and Suzuki, all have some great models that many dirt riders love.
After these big four, as we could call them, there are numerous smaller dirtbike manufacturers, who rely on innovation and design to attract the buyer. There are far too many to mention here, but be aware the rarer or lower numbers built, the harder or more expensive it maybe to obtain spares.
Traditional Dirtbike Manufacturers and Their Followers
Get the pricing from dirtbike manufacturers because $10,000 including tax is typically a good starting point for the 150cc and up for popular brands.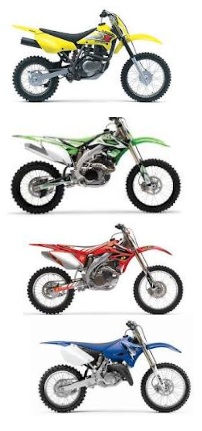 Focusing on the traditional companies, it is always good to look at Kawasaki, Suzuki, Honda and Yamaha to find out what is happening with their dirtbikes and why.
Up front, competition is the biggest factor for change, especially when their focus is competing against each other to increase sales and offering the best competition for riders, because winning is the objective.
Each of the above dirtbike manufacturers have incredible research and design staff to complement the engineers and technicians. One bad point for any of these companies is that sometimes features popular with the riders are changed by an upgrade riders dislike.
Neighbors appreciate a quieter engine, but the rider wants revving noise to get the heart thumping. If an electric start is failing at crucial moments, a technician is usually evaluating the situation within moments. It is correct to refer to the employees of each company as a team.
They observe how the bikes perform in races or on the trail and invite riders from various dirtbike magazines and organizations to test, evaluate and offer suggestions, which often lead to more changes.
Several years ago, Kawasaki responded to Yamaha's 125cc dirtbike overhaul by offering new color and paint schemes, the BNG (bold new graphics) approach and it makes sense. If your bike is a peak performer, it is much cheaper to toss in new paint to show some type of change. This year, Suzuki is using that approach while Honda plugs along making a change here and there. There is a threshold of what the ordinary rider is willing or able to pay and it is important for dirtbike manufacturers not to cross that barrier.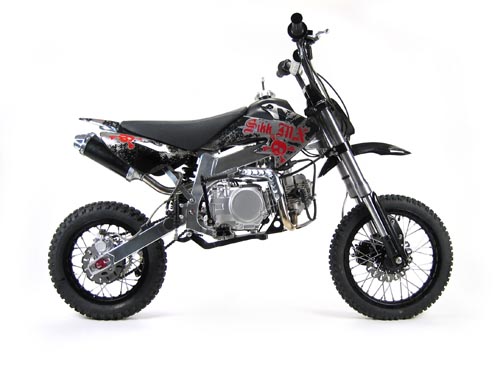 Ok so we dealt with the main manufactures now what about the cheaper end of the scale?
So who are the Chinese dirt bike manufacturers? The guys that produce the 80cc pit bike and the other cheap dirtbikes 4 sale you see in online stores?
You don't need to build these dirt bike models, and many are below RRP of the big Japanese companies.
We scoured the net for those firms making a dirt bike in china. This is by no means a definitive list (you can always find out more in dirtbike forums), if you're looking for a specific 2 stroke moto or some inexpensive thrills.
A big website for dirtbike manufacturers is called globalsources.com which may be able to help; as they list a number of mini dirtbike manufacturers and other firms making pitbikes.
The chinese Cheap dirtbike
Who makes these oriental motorbikes?
ZheJiang XingYue Vehicle Co,.LTD. is a large firm that build EEC & EPA approved rides situated on the Chinese mainland. They have some 4 stroke bikes, and you should find a number of dirtbike pics on their website.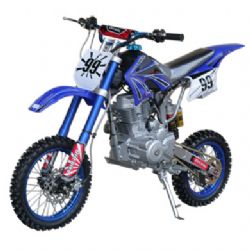 Another firm Chongqing HuanSong Industries (Group) Co., Ltd, offer many popular dirtbikes. Some with 2 and four stroke engines. Again situated in china, you're sure to have come across their 70cc dirt bikes and other models on your travels.
The next website called b2bchinasources.com, lists quite a number of mini dirtbike performance manufacturers and dirtbike parts makers as well.
We list a number of dirtbike manufacturers here:-
First is the Chongqing Shineray Motorcycle Manufacturing Co, Ltd. They are mainly Dirt Bike Manufacturers, but they also produce ATVs, scooters and street bikes.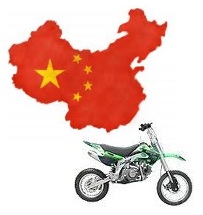 Then there is the Kinroad Xintian Motorcycle Manufacture Co., Ltd. A Manufacturer of dirtbikes, ATVs, go karts, engines, shock absorbers, fuel tanks, frames, & other motorcycle parts.
Many of the items they produce have passed ISO9001 and 3C certificate regulations. It's possible they'll also produce dirtbike wheels and pitbike stickers for certain models.
You want more dirtbike manufacturers? ok - Jiangsu Jinjie Motor Manufacture Co., Ltd. Is a manufacturer of motorcycles, dirt bikes, pitbikes, ATVs, off road moto's, & engines. Which have all passed CCC certification!
For parts and pit bike spares try Xlent Technology ( Wuxi) Co. Ltd. Who make motorcycle carburetors, tail boxes, cables, gears, cylinder assys, motorcycle helmets, rubber parts, springs, rear mirrors, electric parts, fuel tanks, shock absorbers, wheels, and complete dirtbikes. We are unsure if they sell dirtbike repair manuals or tips about how to build a dirtbike; but it maybe worth enquiring as they make so MANY accessories.
The impossible Free dirtbike ?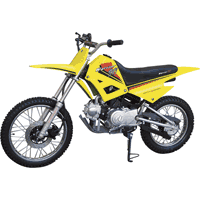 So you have a number of choices on MX bike makers, listed above. You can go for the popular suzuki dirtbike models or a cheap chinese dirtbike, maybe even a used one! A used motocross bike makes sense for beginners and those on pretty tight budgets.
Gumtree.com can be an ideal starting point for local moto x bikes. The ideal is a free dirtbike, but that's almost impossible unless you get one being thrown away, by a neighbour.
But in this day and age of recycling, and the web (with sites like uk.freecycle.org) a free motocross bike could be do-able but expect some work with the spanners to get it track ready.
---
Home | Dirt Bikes | Cheap Dirt Bikes | Accessories | Mini Dirt Bikes | Motocross Racing
Motocross Gear | Off Road Bikes | Used Dirt Bikes | Wholesale Dirt Bikes
Honda | Kawasaki | Suzuki | Yamaha