Dirtbike women & girls
The real motocross & pit bike girls.
Many dirtbike women involved in the sport are riders themselves, many ladies now participate heavily in biking.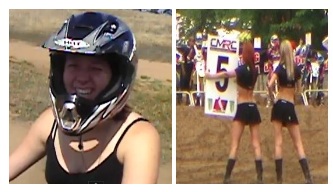 Other women on the circuits can be wives, girlfriends or models like the 30 second girls in the supercross stadium races.
Many enjoy the sport thorougly, and the female bikers are now excelling in a number of events. Even having their own events and clubs too.
If you're a fan its worth checking these out and there are plenty of pictures about on the web as well. Most stores now cater for female dirtbikers, with specific clothing, and safety gear plus numerous other accessories.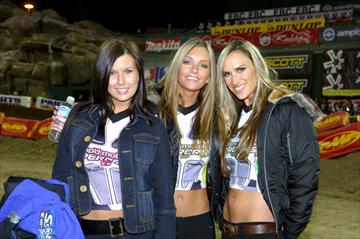 Ok, we realize a lot of guys like chicks on dirtbikes and the girls of motocross. They could be motocross trophy girls or 30 second motocross babes, perhaps even the motocross chicks and models that turn up for super cross events! They all add glamour to races, and to see motocross fitness girls and motocross babes on the track circuit; gives the event a little zing.
A lot of guys turn out to see the miss motocross pageant, to decide on their favorite motocross girl. So we are having our own competition below, who is your ALL TIME favorite girl / motocross woman from our list below? None are nude girls on dirtbikes, - so dont even go there.
MotorBike dirt girl
Womens motocross has expanded in a modern world.
Dirtbike Women: The Best Female Motocross Riders in the Past and Today
Talk about dirtbike women today and Ashley Fiolek is definitely one of THE names tossed into the conversation. Fiolek's determination to be successful brought attention from Honda Red Bull Racing. Dirtbike women earn a fraction of their male counterparts, so a gig from Honda is a significant asset. A concussion during practice for the X Games led to her being pulled from competition on the advice of her doctor and consent of her parents and Honda.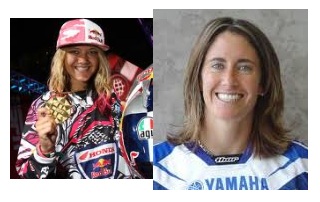 She will be back competing very soon. Racing is what she loves to do. Fiolek has worked around her deafness by watching shadows and sensing the vibration caused by other bikes and is one of the best female motocross riders today.
Looking back at the history of women's motocross is like looking through the phone directory: the names keep changing. Over 9,000 gathered to watch 300 female motocross riders at The Powder Puff National Championship of 1974. It was the first chance for dirtbike women to compete for and gain a national title. Nancy Payne, one of the first Americans to ride in Europe, was the first and last to win the Powder Puff Race (its name was later changed to Women's Motocross Nationals).
Sue Fish, called The Flyin' Fish by the press, earned four Women's MX National Championships in the 1970s, won a silver medal in the Vail World Championships and participated in Evil Knievel's 1979 Australian show. Her AMA Men's Pro Racing License was a rarity among women and winning an AMA 125cc National Men's Pro rarer still.
Dee Wood loved the thrill of MX racing and proved it with her MX National Champion and AMA Women's World Champion titles in the 1990s. She was a member of the first US Women's Motocross Team in 1992.
Womens motocross boots are made for walking - & MX riding of course.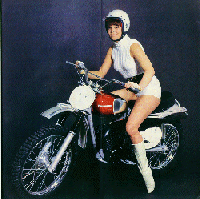 Mercedes Gonzalez from Madrid was part of Kawasaki's Team Green (she later married MX racer Derek Natvig and hyphenated her last name with his). Kim Douglass and Lisa Akins-Wagner were two of the few seriously competitive and skilled challengers.
Their retirement during the late 1980s led to Gonzales' eventual retirement in 1993. It is just not fun when the competition is gone. All of the above are without doubt the best female motocross riders in the past and today.
Aside from Ashley Fiolek, today's women are receiving attention and gaining sponsorships with the men's teams. Jessica Patterson is part of the DNA Shred Stix Star Racing Yamaha team.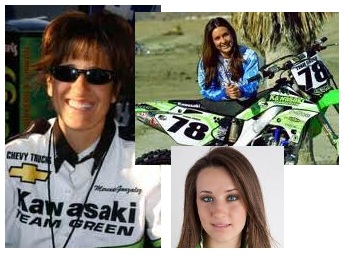 Sara Price has been on Monster Energy Kawasaki Team Green since she turned 12.
She started her racing career at Southern California's Perris Raceway on a Honda XR50. Her drive and determination to be the fastest woman racer ever helped her win the 2006 Loretta Lynn's Amateur National Champion (Girls Class) and 2009 Lucas Oil Women's Class Rookie of the Year.
Price was the first female racer to pit under the same tent as SuperX and MotoX champion Chad Reed. Absorbing the knowledge that makes great MX riders incredible, the winningest amateur female in motocross history is standing on the pro podium more and more.
Others taking up the challenge of being included in the category of best female motocross riders in the past and today include 2003 Women's MX National Champion Steffi Laier, part of the Red Bull Teka factory team. Laier's 2011 point total is unbeatable and she will take the 2011 Women's World MXs Championship.
Chiara Fontanesi, another dirtbike womans name to watch, edged Laier from the win at the Women's MX GP of France. So as you can see - The sport for women is alive and well.
Motocross Girl Video ORF Sommerzeit
"Girl" dirt bike gear
Dirt bike girls love the tracks as much as the guys. A dirtbike girl rider has great ability and the more famous are now having quite a following. A dirt bike girl gives a new slant on the races in which motocross operates. If your a girl who loves dirtbiking, then get involved in this briliant sport, and dont forget your "girl" dirt bike gear to keep you safe on the mud track - and it doesn't have to be PINK!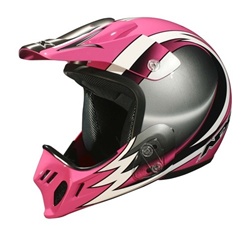 Home | Dirt Bikes | Cheap Dirt Bikes | Accessories | Mini Dirt Bikes | Motocross Racing
Motocross Gear | Off Road Bikes | Used Dirt Bikes | Wholesale Dirt Bikes
Honda | Kawasaki | Suzuki | Yamaha