Dirtbike wrecks
Smash and crash in motocross sports.
Some dirtbike wrecks can be seen on video clip sites such as youtube.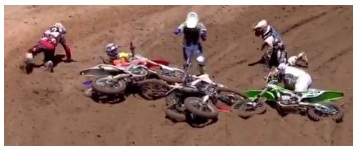 Often they are riders in races that are unfortunate and perhaps in the wrong place at the wrong time.
The speed and frantic pace of a dirtbike race is almost a guarantee of the odd crash, leading to a few bikers taking home wrecked bikes.
You will see however most are fortunate enough to be wearing all the safety gear to stave off injury. So have a look at the wrecked bikes on youtube, but make sure your aware when riding or racing you always take precautions and you avoid your precious bike from becoming a wreck too.
Dirtbike Wrecks are Part of the Ride
Dirtbike wrecks are part of the action and the best steps to avoid serious injury or death is to wear safety gear. A dirtbike rider is not a prima donna, which means dirtbike pictures will identify you by your number when riding, having draped your precious body with safety gear.
Any rider who has never tapped another bike or laid one down is defying the odds. Extreme sports carry penalties, so minimize them with protection.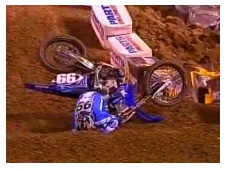 Stay aware of what is going on around you and do your best to avoid a pile-up. Watch videos of dirtbike wrecks and analyze what could have made a difference in the results.
Practice safety and work on different styles of evasive action. The longer you ride the more experienced you get at recognizing potential situations and avoiding them.
Always wear a helmet when riding and do not shortchange the protection. Make sure your helmet is the right fit for you and has great protection for your face, head and neck. There is no need to list the gruesome results of crashing without a helmet, because you have already heard the lecture. Simply stated, use your brains before you lose them.
Leather has a reputation for being tough for a good reason - it is. Snug fitting safety gloves with leather palms protect hands in the event of a slide. It is human nature to extend the arms and put the hands towards the ground while the body is skidding, so give hands great protection.
Jerseys and pants that cover your arms and legs often have padded elbows and knees for extra protection. Chest protectors help avoid cracked and broken ribs. Good boots cover much of your lower legs. Walking away from dirtbike wrecks will make you appreciate every inch of safety gear that gave you the ability to do so.
Pointers of what NOT to do.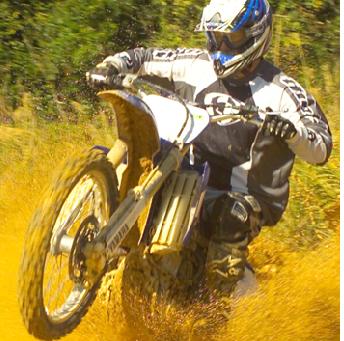 So you enjoy motocross crashes or looking at dirtbike wrecks through your hands?
We can't say we found some of the worst motocross crashes in the world, but taking a look on youtube does give you plenty of motocross crash videos to view.
A motocross vid can be amusing to see, especially funny dirtbike crashes.
They also give you pointers, if you view a few BAD dirt bike crashes; you'll know if you're becoming a good rider. You will see a motocross wreck ahead and know instinctively how to avoid it.
Extreme Dirt bike Wrecks.
One of the reasons motocross has such a following is the extreme action. Whether it's a bunch of young kids out on the track learning to ride or veterans showing the rookies what it means to ride the circuit, there is learning and activity. You never know what you are going to see and that includes dirtbike wrecks. Fortunately, most of them are simple slides or bumps.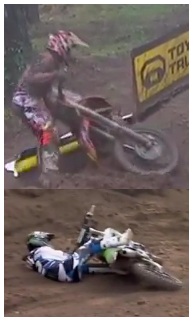 Decals protect the MX plastic - and motocross helmets, clothing, boots and gloves protect the rider. That is why there are so many regulations about safety gear.
Both James Stewart and Justin Barcia can tell you the last thing any rider wants is to lose the opportunity to ride and compete, even for fun.
Seeing dirtbike wrecks in person makes you aware of how quickly they can happen. Sometimes they are part of a stunt to show other riders the proper steps to take in case the same situation happens.
Other times they just occur and you hold your breath and offer advice to those involved in the scene as it unfolds. It is one of those hurt while you learn situations for the rider and a good experience for you if you can piece the events together that led up to the crash and how the rider responded, with the final results.
Dirtbike wrecks at the track may happen where you can't see them. Videos are good to watch time and time again so you can determine what was going right, when it started going wrong and what caused the accident.
Analysing track conditions, weather, riders moves, bike action and any other factors that may have contributed to the situation allow you to become a better rider without the agony of a crash. Mental preparation for certain events makes those techniques come automatically in an emergency.
The MX crash pictures in the crash movies below, were all taken randomly from recommended youtube video selections. You're sure to find lots more dirtbike crashes and motocross wrecks on this site than we did.......
Learn from motocross crashes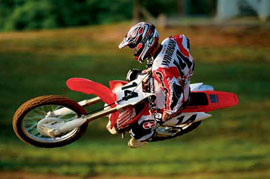 Do look out for the funny dirt bike crashes and dirtbike wrecks - we enjoyed those a lot more.
You'll also see the pro's come unstuck as their crashed dirtbikes are seen by the racing crowds. Don't have a dirtbike crash yourself, stay safe and watch these MX movies; and learn from their mistakes.
Pit Bike Crash
Another motocross bike crash
Pit Bike 125cc - Just funny a wheelie crash!
Motocross Wreck Compilation
Dirt bike protective gear
Ok you may be riding a small pitbike on your back yard, and think I'll be alright. Thing is - that's how most accidents occur. Not on the circuit, where track marshals and first aiders are on hand to help. But when goofing around on some local ground, it takes seconds to put on your dirt bike helments, gloves and protection. If you DO attempt that mad jump, or unexpected manoeuvre, you'll be very glad you wore your gear.
Home | Dirt Bikes | Cheap Dirt Bikes | Accessories | Mini Dirt Bikes | Motocross Racing
Motocross Gear | Off Road Bikes | Used Dirt Bikes | Wholesale Dirt Bikes
Honda | Kawasaki | Suzuki | Yamaha