The Dirtbike - open your eyes.
A Honda and Suzuki dirt bike trek.
The dirtbike sport like never before has opened the eyes of fans worldwide. The choice of engine sizes, new materials and great motocross tracks, really gives the rider a sense of adventure.
Behold The Dirtbike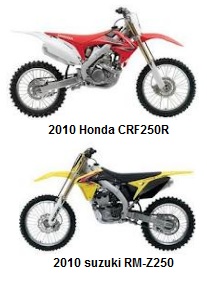 A welcome competitor in the dirt bike lineup is the 2010 Honda CRF250R, a proud performer with changes from top to bottom. In the never-ending battle to trim weight while increasing performance, Honda made the frame lighter and changed the engine, now smaller with more power.
Handling is a dream with Honda's progressive steering damper, abbreviated to HPSD. Corners are easier to maneuver, giving stability and control. It is easy to admire the liquid cooled 249cc single-cylinder UNICAM 4 stroke engine and the whole package a good reminder of why Honda remains a top contender in the Big Four.
While talking about the changes in the dirtbike arena, Honda's 150R got the same type of upgrade for good reason. Riders like performance and power and since kids are mastering the smaller bikes early and want to move up to something bigger as well as better, the 4-stroke single-cylinder liquid cooled 149cc engine responds to that wish.
Adults, as well as kids with experience and the ability to handle a larger bike, will enjoy this Honda for years to come. Your potential MX champion history of outgrown rides will now consist of changing parts and upgrading here and there.
Put aside the idea of corporate spies, as the entire industry watches all riders and machine performance. Problems on a racing team bike get the entire company involved to resolve the dirtbike trouble quickly. When Suzuki decided to make the RM-Z250 engine fuel-injected for 2010 it involved some changes that resulted in five pounds of new weight gain.
The bigger Suzukis had fuel injection under the belt, giving engineers a heads up in making it work well. Changing the timing, throttle and louvers are some of the modifications to make the change appeal to riders faithful to the brand and machine.
The best resource pages.
For many – new Honda's and Suzuki's will be out of your price range. So what's the alternative?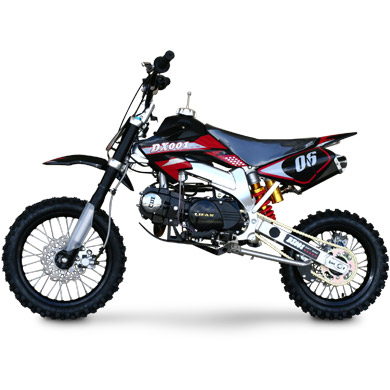 You can now buy very strong and lite pitbike machines, which have excellent suspension for jumps and tricks.
Pitbikes are often the way most riders get into the sport of dirt bikes. They are cheap, fun and mostly reliable and handle pretty well. They are a great taster for bigger motocross rides.
When you're starting out, information – or rather good information is the key. What are the best gas powered dirt bikes? Where can I buy dirt bike bedding ? Or play free dirt bikes games ? or you might be seeking some simple motocross advice?
Tips and help are the most important and the problem with the web is conflicting opinions – particularly in forums. Some websites can be quite patchy too while others have very specific in-depth technical data – confusing to a beginner.
We went on the internet to check what the best resource pages are, for advice for a new rider interested in this sport we call dirt biking.
The first site we went to was dirtbikerider.co.uk, they offer all manner of things from bike tests which give comprehensive reviews of the latest bikes available to "a buy and sell" section, where a database of bikes can be searched. The site has news and so much more however you may have to register to use a number of the functions.

Motocross and more.
If you're a dirt rider, you have to go to the Dirt Bike Show at least once. To have a look for updates go to the site dirtbikeshow.co.uk. The latest show has been a massive success and always has a good selection of manufacturers and retailers competing for the public's attention.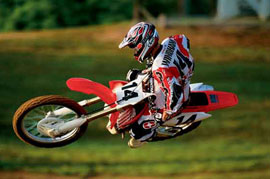 150 stand holders in the uk, gives any biker a lot to look at, plus a live arena to watch the pro's do their work. This website is great for updates, and has a couple of videos too.
At a show like this go with an open mind, you could pick up the latest 250cc dirt bike for sale or a novelty rc dirt bike toy. But don't overspend – its easy to get carried away!
Should you require a magazine subscription then dirtbikemagazine.com should be for you. With racing, industry news and galleries of dirtbike pics it's also the place for back issues and tests and reviews. Do seek out subscription costs, and any offers that may be available.
Magazines like this are an excellent source of finding a cool honda dirt bike for sale or a kawasaki dirt bike part. Good stores will advertise their dirt bike offerings and perhaps the latest roketa dirt bikes catalogue? We always find the ads at the back of such magazines the most rewarding. A highly recommended magazine for motocrosser's.
If you want REAL adventure then try toursintheextreme.com. This website lets you visit Ancient temples and remote goldmines, and other exciting places on your dirtbike & pitbike. Touch the Laos, Thai and Vietnamese borders for a unique adventure. The costs of spending hardly more than $1,750 USD for the whole 12 days will appeal to many MX riders on a budget.
This type of challenge is not for everyone, but for those that like 2 wheeled excitement, they should look through their web pages. There seems to be no restrictions; so you could (in theory) ride on your vintage dirt bikes or your lifan dirt bikes through the exotic trails – but double check this with the organizers.
The dirt bike way of life...
The dirt bike sport is getting larger each year, from crowd-pulling motocross events to the ever spectacular FMX. MX Apparel and gear too have never been in greater demand or choice. The materials and graphics give you many options to choose from and even custom choices are available.
So if you're thinking of getting into the dirt bike way of life, you've never picked a better time. You can be active and race every weekend on your bike, or perhaps you're a spectator only buying supercross tickets for a show – that's fine too. All are welcome.
---
Home | Dirt Bikes | Cheap Dirt Bikes | Accessories | Mini Dirt Bikes | Motocross Racing
Motocross Gear | Off Road Bikes | Used Dirt Bikes | Wholesale Dirt Bikes
Honda | Kawasaki | Suzuki | Yamaha