Dirtbikes and quad rides
Lots of off-road goodies.
The choice of either dirtbikes and quad is dependent on what you wish to do. The dirtbike is ideal for race events and freestyle jumps as the lightness of the bike makes it ideal and superb handling gives you a great deal of fun.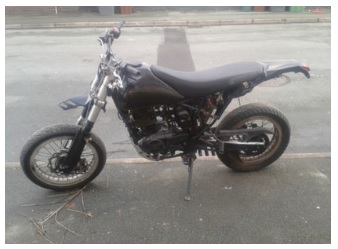 The quad bike is of course much heavier, although great to race against other quad bikers, you'll get left behind competing with dirtbikes.
However a number of riders love the stability of the quad, and its still great entertainment on dirt and mud tracks. If you're a professional or looking to use an ATV for your job, a quad can carry a lot of equipment. So both dirtbikes and quad motos are ideal but tailor your machine to fit its purpose.
Who likes quads and dirtbikes? Yes we do too. An atv is better than dirtbikes, claim some as they are better planted on the ground. But don't forget Ozzy Osborne's accident, you can still flip one over if you ride your atv motocross quad hard.
The advantage of having dirtbike wipeouts (if your unlucky enough to have one), is a full motocross pit bike is still far lighter than any atv motocross quad under you.
But dirtbikes and quads are still a heck of a lot of fun. Some magazines and websites pit them against each other, such as dirtbike vs atv contests. Do you like dirtbike or quad rides?
We show you some excellent dirtbike and atv websites where you can buy motocross bikes and quads to your hearts content. Our first online motocross store is maxmoto.co.uk. They have a number of mini motocross bikes and hot motocross quads. The mini bikes include the RX 50 Challenge and the Rx 50 Experience. Quad atv motocross rides range from the Quasar Quad 50 to the more powerful Quasar Quad 180.
The Aprilia Mini RX 50 Entry bike has a 50cc, 2bhp engine and is priced at £1,035, where as the Aprilia Quasar Quad 50 is £1,309 in price and has a 50cc, 2-stroke, 3bhp engine. Both monster dirtbikes / quads looked fantastic, and should be ideal for female and young riders, brochures are on offer too if you contact the dirtbikes and quad website store owner.
An ATV bike "dirt" sale
Touring the internet for Mud-plugger vehicles.
The next motocross dirt bike website we looked at was muddystuff.co.uk. Which is one of the uk's most popular classified ads pages. You can search easily for dirtbike jumping bikes and find motocross quads as well. What we liked about this site is that it doesn't take long to place your motocross for sale advert and they have a feature called ScamWatch. They name and shame culprits with email addresses, so you know if the person you're having dealings with is a scammer. Muddystuff also give you some pointers and advice on motocross sale scamsters, so we like this site a lot!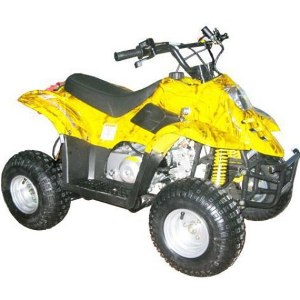 Following along from this was the site motomerlin.co.uk, they are primarily a bikes and service store. Based in the uk, but ship all over. Models include a Gas Gas Enduro, to a Gas Gas Supermoto.
They have the brand new 2009 Beta Evo Trials bike, and makes such as Husqvarna, KTM and the always popular Yamaha pit bike are listed on their nav bar. The more unfamiliar Sherco, Scorpa and Montesa models are also offered. Plus they have books and dvd links, that you can purchase from their listed adverts.
If your really into your dirtbikes and quad models then do seek out - apachequads.com. They have a willingness to help and are based in the uk. The site has three main categories, childrens quads, junior quads, and adult quads. We had a browse over at the children's and junior offerings. They had a mini tomahawk 50cc which has a remote-cut off and an easy to use ignition – just the thing for small kids. But the range went right up to an Apache Formula 100cc engined quad, that's virtually a pro's ride. This model is ideal for the motocross track, and don't forget your motocross helmet, you'll need it for all these quads when your racing on the ragged edge.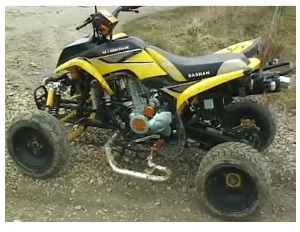 We completed our tour of dirtbikes and quad stores at quads4kids.co.uk. These guys do everything from Off Road Go Karts to Scooters. For £1,199, a quad called a Bashan KC200s-7 is a road legal quad.
Spec includes a 4 Stroke, Water Cooled engine, and electric ignition. A warrantee and registration documents are included. This quad will require assembly too, so as you can see not all they sell is just for kids.
As for track motocross bikes we did see a model called a BSE - BSEDM04. It comes with the excellent Lifan 150cc 4 Stroke engine and Mikuni carb. All for £595.00, including hydraulic brakes. If you have motocross fever pour over the dirtbike pictures on this websites store.
If you're going to the dirtbike races, and buying a motocross bike for sale or quad, you should find something suitable on the pages above. Remember when you're on the motocross race track with your new atv, save some money as well, for the safety gear you'll require for both dirtbikes and quad rides. Or you will find the track owner will turn you away.
ATV / Dirt bike parts & accessory items
So you've looked in the used dirtbikes and quad ads, and you have your new quad (or) motocross bike – what happens when you need a part? The store owner should have a supply, but not always – so be sure to check that. Atv and dirt bike parts are always needed and many online suppliers give percentages off and keep you informed of sales they have – so keep on their mailing lists. A good dirt bike part and accessory store is worth its weight in gold, so have a shortlist (+ ebay) but always keep an open mind to new offers.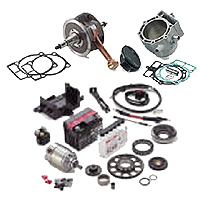 Home | Dirt Bikes | Cheap Dirt Bikes | Accessories | Mini Dirt Bikes | Motocross Racing
Motocross Gear | Off Road Bikes | Used Dirt Bikes | Wholesale Dirt Bikes
Honda | Kawasaki | Suzuki | Yamaha