Electric mini bikes
Electric Mini pitbikes for smaller children.
Electric mini bikes are of course a lot slower than their engined, and water cooled big brothers. They are however ideal for small children who want perhaps a safer ride, and of course no petrol or combustible liquids anywhere.
The electric mini-bikes have proved a popular choice for parents, for their children to have great fun outside – sometimes even inside the home. Because the bike is electric these bikes are limited with the charge on the battery, which can be a drawback, but for small children it's an ideal choice.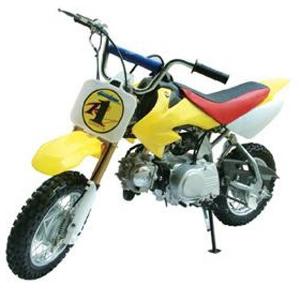 Interested in electric dirt bikes and electric mini bikes? Well your probably hunting one down for your son or daughter and why not an electric dirtbike is safer, quieter and isn't as fast as the petrol motocross sport bikes.
It's a great motocross gear package for the beginner. The electric motocross rides are often thought of as toys but don't be fooled – some can move at 15mph, so you will need an MX helmet for your child.
Check with your motocross dealer if a helmet comes with the bike (it might do). If you really want your child to look the part – what about some kids closeout motocross gear? These days, you can even get baby sizes. But don't ever be tempted to put a very small child on an electric motocross bike.
Electric motocross motorcycles are brilliant fun, and are basically scaled down pit bikes of the real deal. Mini motocross bikes too are becoming a league of their own. Remember too some of these dirt bikes (mini motos) are pitched towards adults and are very fast – so are not suitable for small kids. The electric motocross bike manufacturer will usually give an age range on the electric motocross dirtbike when you buy it.
Any electric dirtbike, will come with a cool stickers pack and good motocross instructions – some electric mini bikes may even require a little bit of assembly.
The electric MX Pocket bike
Electrically powered motocross minimotos.
Ok, on the net what is around for the electric dirt bike makes and models?
A website that's jammed full of free info is minidirtbikers.com. Written by a true fan, they discuss, - 50cc dirt bikes, (preferred by most young dirt bikes enthusiasts), Cheap kids ATVs, the Benefits of different mini ATVs, tires and Electric dirt bikes and advantages over gas powered dirt bikes. With a lot more besides, written in a jargon free way – it's an excellent site to browse over.
An unexpected site for electric mini bikes was antiquereproductions.org.uk.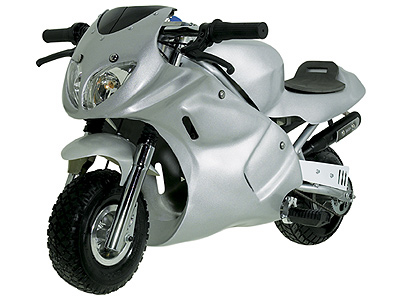 They had an electric motocross ride for sale at £130.00 with Free P & P.
It's a CE Certified bike, Max Speed of 24kmh (15 mph), 250W Motor and a Charge Time of only 4 - 6hrs. Of course this comes with the usual chargers and acceleration is point and go from the twist grip.
Next along was scooter-manufacturer.com. With a number of electric pit bikes and electric mini bikes, they all had a full compliment of motocross decals but no dirt bike prices (well none we could see).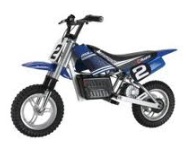 The motocross fotos were clear, and models ranged from the DB-E02 to the DB-E05 – which are easily forgettable names. But spec was good - 250 watt DC electric motor, Charge Times of 3-6 hours and a speed of 14mph. But the range was an incredible 11 miles. Colors were unspecified but we saw a blue dirt bike and a red pitbike within the sites pages.
How could we forget ebay.com in our search for electric mini bikes. They had a new GIOVANNI MINI DIRT BIKE with a 49CC motor (discontinued model). It was a gas bike rather than electric, so we are not sure what happened to our ebay search! - however for $24.55 (which seemed incredibly cheap), you could buy a 45-55km/h bike. We were actually seeking a razor electric dirt bike but ebay failed to produce the goods on this occasion – never mind. Ebay is worth coming back to week on week for used electric motocross bikes – and you will eventually turn up some gems.
So to close the day we went to sportsbikestore.com. Who are really wholesalers, and we saw more descriptions of cool mini mx bikes in their catalogues. They do have a huge inventory and amazing quality products on the market – but we believe you have to be in the trade to buy from them (but if you know different let us know?).
So if you have dirt bikes (mini or electric), you'll know what joy they can bring to a child – and if you don't have any and want them – do check out our picks on the internet.
Elec. Pocket bikes & mini motos
The electric motocross pocket bike is a great fun bike for kids and some adults; and the smallness of the Electric mini bikes has seen an increase in sales - perhaps due to its cheapness. Electric pocket bikes still go along at quite a speed so always wear your helmet anyway. These types of Pocket bikes & mini motos, are safer fun and ideal for the quick n' clean Eco motorbike lover in your family.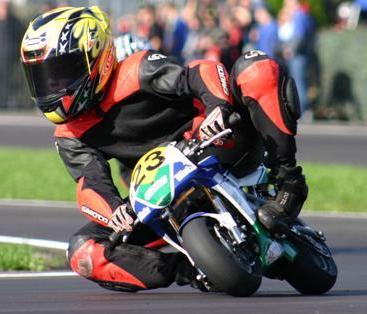 Home | Dirt Bikes | Cheap Dirt Bikes | Accessories | Mini Dirt Bikes | Motocross Racing
Motocross Gear | Off Road Bikes | Used Dirt Bikes | Wholesale Dirt Bikes
Honda | Kawasaki | Suzuki | Yamaha