Electric motocross bike
Choose your electric motocross bike.
The electric motocross bike is ideal.
Electric power is great for a children's dirt bike and isn't as fast as a normal engine.
Even gasoline mini-motos can be dangerous for a small child. With a bit of motocross training and some practice, the low powered electric dirtbike is perfect for a beginner.
Also you'll see that electric motors are developing into the larger dirt bikes too.
Fun and Fancy with an Electric Dirt Bike
Some people consider them the next generation of dirt bike but the mighty roar motorized bike fans love needs added to the electric motocross bike before that happens.
Here is a free tip for the manufacturers: add a button on the handlebar that delivers the grating sound when the button is pushed. One of the latest bikes on the scene is Zero MX, designed to take on the track quietly. Getting past the sound of silence, here is what the Zero promises to deliver.
This electric motocross bike, created to compete on the track, is ready to go in spite of the light frame of the bike, one of the reasons it delivers performance. Conquering harsh terrain with the specially designed suspension system is easier thanks to an exceptional ratio of power to weight.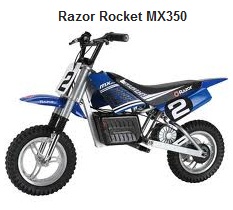 Riders are surprised with the response and control even over hard bumps, which the manufacturer attributes to the alloy MX wheels.
An Agni motor yields more power and better acceleration. The braking system is incredibly proficient. The clutchless one-speed transmission lets the bike travel up to 40 mph on dirt with a range of 30 to 60 minutes.
Moving to fun for the kids, the Razor MX350 Dirt Rocket is a good-looking electric motocross bike designed for the 12 years and up crowd. It achieves a speed of 12 mph and the scaled down image looks and feels the same as some of the bigger bikes.
The tires are knobby and large, perfect for mud and loose dirt. Although powered by an electric motor, it has a high torque, rendering the ability to climb small hills. They are available online through stores such as Walmart, Target and Sports Authority. Remember to wear a helmet, gloves and other safety gear when riding the bike.
Zero ....in
The electric dirt bike is often a cheap pit bike imitation. Children who have motocross mania can get involved in dirt bikes without all the danger of flammable liquids and fire issues.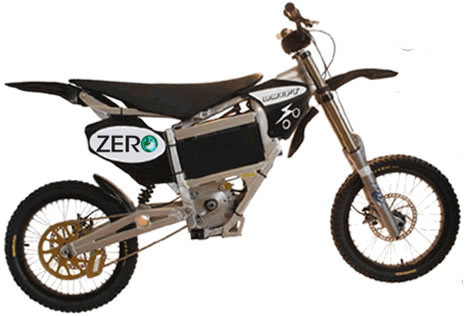 These models are sometimes referred to as an electric mini moto pit bike, but don't get these confused with petrol engined minibikes, that are ridden by adults at quite high speeds.
Most childrens electric dirt bikes, scoot along at about 5 - 10mph, and are little pieces of motocross art (scaled down versions of the real thing). These MX models are super little motocross bikes to get your children involved in the bike world – they are an excellent idea for motocross gifts for a young kid – and come with a full complement of stickers and instructions.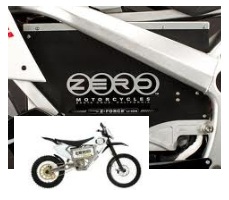 For bigger kids (youths and adults really), you can still buy electric racing bikes that do much faster speeds. Have a look over at zeromotorcycles.com.
They have a full scale dirt bike for sale, it's a rugged and tuff machine designed for the sole purpose of off-roading. It's a light, clean and safe bike that has an Initial Deposit of $1000.00; the Sport model is $7450 and the Extreme is $9450.
Not cheap but this dirt bike does have the latest in innovation with its Z-Force™ lithium ion power pack. Big benefits include no emissions or sound and costing less than $.01 per mile to operate, its a dirt ride that's very cheap to run. So think seriously about the electric motocross bike.
Motocross on a battery
No fumes, no mess, no hassle…….
If you want a good choice in the kind of Electric bike to buy - then ebay is a must. Ebay had a Kids Electric Motocross Dirt Bike for sale at £255.00. With £50 knocked off, and it too is really only suitable for those of ages 12 and up. Electric bikes do give better torque, which UK bike riders, use to pull fantastic wheelies – and these bikes are no different. Top speed is reported at 22mph, it's advertised as "not a toy" and all protection must be applied. At these speeds your youngster will still have a nasty fall, so mini "dirt" gear and helmets must be worn.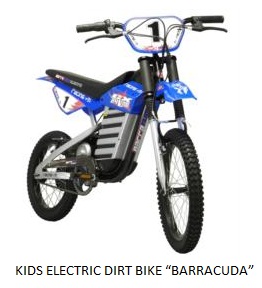 Also on ebay was a brand new KIDS ELECTRIC DIRT BIKE "BARRACUDA", for only £199.00. The MX bike store was offering free shipping too on their electric motocross bike.
This electric motocross bike was a twist and go ride, and came complete with a warrantee – all things you NEED to get on a new bike. Ideal for 8 years and up, 15 Miles Range and a top speed of 15mph. Alloy V brakes with a Fishbone Alloy Crank makes this a well designed bike for any child.
An electric bike classified, on ebay should have plenty of pics and in-depth descriptions. It should not matter if it's a quirky mini dirt bike or the latest full sized Yamaha.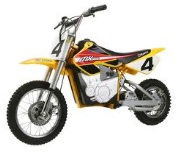 Electric MX bike ads should mostly be the same – As long descriptions give you a full & frank indication of what you're actually buying. Plus you want to know what chargers, spares and after sales service you'll get as well.
Most of the electric bikes we came across operated in the 5 – 25mph range. If you do like being in the electric motocross camp, use our examples to gauge what you would like to buy. Budget for that all important motocross gear too, as offroad helmets and clothing will need to be purchased to keep you safe.
AC/DC Motocross training
Perhaps after you buy an electric motorbike, and have ridden it a number of years, you're now ready to step up to the gasoline bikes?
Well if you do you may need advice on the correct cc your son/daughter can handle; perhaps a local track may make a few recommendations? The yamaha and ktm motocross bikes are highly recommended, but this again depends on your budget. Who knows perhaps one day your child will compete in a transworld motocross event? All thanks to that early electric dirtbike they had as a child.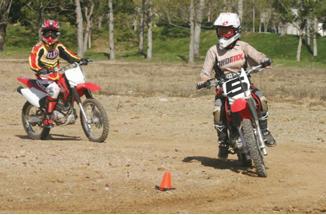 ---
Home | Dirt Bikes | Cheap Dirt Bikes | Accessories | Mini Dirt Bikes | Motocross Racing
Motocross Gear | Off Road Bikes | Used Dirt Bikes | Wholesale Dirt Bikes
Honda | Kawasaki | Suzuki | Yamaha