Electric pocket bikes
Kids mini bikes? mmmm...let's see.
Electric pocket bikes are normally for children. They are much safer than their engined cousins and ideal for young beginners. They sometimes have all the brilliance of the bigger bikes and none of the danger.
Good Times with Electric Mini Bikes.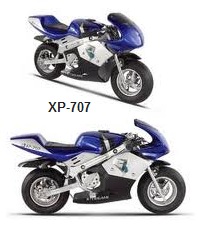 Some of the advantages of electric pocket bikes include quiet operation (some insist this is an advantage), reduced speed, although still fast, and no fuel to buy as it has rechargeable batteries.
They are every bit as stylish as any other pocket bike. One example is the chain drive X-treme Electric XP-707 Pocketbike, known as the Race Rocket E-Pocket, available in blue or red.
The 700- watt motor is the largest motor yet in electric pocket bikes. Three powerful batteries totaling 36 volts are responsible for the power, which provides speeds of up to 20 mph. Vented disc brakes are standard on the front & rear.
It has a full faring, tinted windshield, a faux racing style gas tank and racing tires. There are no lights on this 65-pound bike, which can hold riders up to 300 pounds. Keys and a tool kit are included. There is a thirty-day warranty on defective parts.
Fun and fantastic for kids age 3 and up are the electric pocket bikes from Feber. This 6-volt mega-racing bike features a top speed of 3 to 4 mph and uses the foot pedal for the throttle. Estimate 6 hours for charging the bike, which weighs approximately 32 pounds. What a great way to introduce young family members to the feel and balance of sitting on the bike. They will learn the proper technique of cornering.
In addition, the new rider will soon grasp the importance of adjusting speed before making any sudden moves that can cause the bike to turn over. Older kids require a larger and slightly faster electric dirt bike and parents will be pleasantly surprised to discover how inexpensive they are when compared to their fuel-burning cousins. Like many other dirt bikes, most electric pocket bikes are not street legal.
Begin at the start...
Electric pocketbikes of course are much slower and will need charging, but this is ideal for a youngster. There are now so many models of electric bike its difficult to know where to start, but ensure your child can sit comfortably on the bike and has the ability to stop it.
An electric pitbike for sale might be just what you're looking for but where do you begin?
Are you thinking about the many cheap chinese electric pitbikes ? or go for a trusted brand with lots of customer feedback? So it's important to buy the right MX pocket bikes from the store. Dirt bikes.... dirt bikes everywhere, but what should you get? Will it be a mongoose electric motocross bike or will it come from the mini razor bike selection.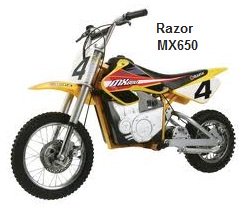 We went through a number of electric pocket bikes, and pitbike sites to find which mini manufacturer offers the best deals and quality.
Extremescooters.biz presented itself first of all, and they have a well stocked backroom, with products listing from Pocket Bikes, chopper dirt bikes, Mini Atv's, Mini Dirt Bikes, Electric Bicycles, and Gas Scooters. Our interest fell on a couple of bikes, the Razor MX 350 Electric Dirt Bike at $299.99 (25% off RRP), and a Razor MX 500 Electric Dirt Bike for only $439.99, and finally the Razor MX 650 Electric DirtBike for a mouth watering $509.99.
All these mini motocross bikes came with a decent percentage knocked off, and free shipping too. These dirt bikes or electric rides are suited more for 13 years and beyond as they travel at speeds in excess of 16mph, and go up to 10 miles on a single charge! The Design of the motorcycles are scaled down versions of the real thing, so obviously appeal to all youth riders. Nice electric motos and cool prices too.
Electric razor pocket bike
Cheap small motos …and quick….
Antiquereproductions.org.uk has an electric bike page. Only the 1 dirt bike seemed available, but for £300 you can buy a CE Certification ride, with a huge 450W Motor. It has a top speed of 35kmh, (or 22mph) and an overall weight of 45kg.
Because of its speed its suited more for ages 12 and up, and isn't designed to be a road model. The charge time is approx 4 - 6hrs, and the charger is an AC110 ~ 220V/36V. The twisty grip controller on the handlebar varies the power plus the front and rear drum brakes should give adequate stopping power.
Amazon.com had a Razor MX500 Electric Motocross Dirt Bike within their extensive catalogue for a sale price of $359.99. The pictures on the website were clear, and delivery was within 3 days!
Specification was good with a top speed of 17 mph, and a powerful 500 watt electric motor powering it - its good to go. If you want a kids item with dirt bike credentials amazon does have a fair number of catalouge choices.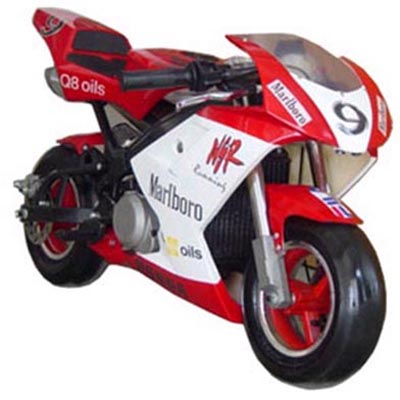 Amazon recommended a Razor Full Face Youth Helmet for around $44, which was indeed a nice MX helmet but you might get them cheaper at slyfoxmx.com.
The websites discussed should serve you well; and now you have some quality models to look out for; it's now a question of comparing prices and getting the best deal possible. None are old models, so warranties should be offered on all pocket bike purchases.
The mini electric bike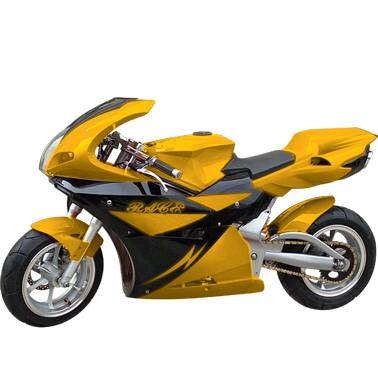 The electric mini pocket bike is a small and clean moto. There is the choice of the electric razor pocket bike, brilliant for kids and children starting off on the motocross sport.
Or there are other brands of Electric pocket bikes that have a lot more pep – which would you pick?
If you buy used electric MX bikes, you save cash sure, but you get no warrantees – so a new bike, especially for a small child (and if it's their first motorbike) – would be a better idea.
However cheap electric pocket bikes are numerous and used models are for sale everywhere, so if you're after an electric mini bike, check out auction sites and your local classifieds.
---
Home | Dirt Bikes | Cheap Dirt Bikes | Accessories | Mini Dirt Bikes | Motocross Racing
Motocross Gear | Off Road Bikes | Used Dirt Bikes | Wholesale Dirt Bikes
Honda | Kawasaki | Suzuki | Yamaha