The Extreme pit bike & MX Bikes
Maybe free pitbike info is the answer?
Many of the pre-loved extreme pit bike for sale rides have been used in a hard environment. So it's important when looking at a pit bike advert, to examine the ad in close detail. Check it's not been damaged in races and that it does run correctly.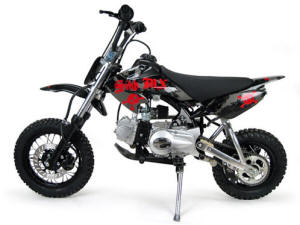 Extreme pit bikes forsale covers a broad area. They might be an sdg pit bike or an ssr bike or perhaps just custom pitbikes built for the hard trails. A pit bike competition pulls out a number of extreme small moto bikes. If you go along to your local track you will most likely see the yamaha bikes and the smaller honda bikes with aftermarket parts on them. Things like exhaust performance parts and other pit bike tuning items, like carbs and filters.
It all adds to the MX bike fun. So we give you some free pit bike information on those smaller dirt bikes you may see and where you can buy them from.
Dkoffroad.co.uk was our first stop off. They have a cool range of mx pit bikes, most with Warranties and full specifications. The whole site was welcoming and easy to use. Range was right across the board from a 50cc pitbike to a 150cc pit bike and above! Models included the fantastic Aprilia RXV 550 2007, the Yamaha YZ450F 2009 and the Kawasaki KX85 S/W 2008. But this is only a small selection – the choice is massive. All the big brands of big n' small pit bikes can be seen here, with paragraphs of descriptions.
Further on was mxtrax.co.uk, which is a classified advert website. Again easy to use, but depending on the time of year, you might find choice a little limited. However we found a OORacing Monkey Bike priced at £1500, a 125cc dirt bike for £329 and a klx110 kawasaki going for £1600. All contact details of the seller are listed, and we found these bikes without any fuss. If you're looking for vintage dirt bikes for sale you might be disappointed, but most models should be there.

Vintage Pit & dirt bikes
Trying to find the classic pitbike models?
A pit bike forum of course can help in pointing you in the direction of certain pitbike events and what dirt bike gear to buy too, as well as buying an extreme pit bike. Also if you're seeking vintage motocross bikes, they are much harder to track down due to their hard lives. Dirt bike vintage models are notoriously hard to buy, but there are places you can still get them.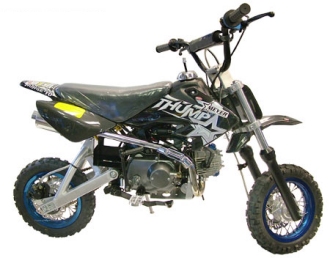 Cheneyracing.co.uk is one such website for vintage extreme pit bike models. They do service and repair right upto checking over your old vintage honda dirt bike or vintage Yamaha ride, should you have one. But they can make you a vintage motocross bike as well. From vintage bits, motocross frames to complete whole bikes.
Cheneyracing do have some fantastic vintage motocross pictures in their catalogue. Models we could see are the Cheney BSA, Cheney BSA C15G and a Cheney Honda (a used Twin shock 4 stroke from 1980). We didn't see any vintage motocross racing jackets for sale – or other accessories. But they are true blue bike builders, and sellers of pre-loved dirt bikes. This website should be the best place for tracking down a vintage dirtbike exhaust or vintage dirtbike shocks.
If you do enjoy hammering your ride into pit bike ramps. Sooner or later you will need to visit a parts store. One of the best ones we have encountered is dirtbikestore.co.uk. They sell all manner of spares from TEC Inc Hydraulic Brake Levers for £29.31, DEP Silencers for Yamaha models from £59.95 and Honda CR 125 2000 - 2002 Engine Parts (camshafts from £125.00).
Use all our suggestions to dig out better deals, and keep safe.
MX Bike - Pit Motorcycles
Remember to test ride the pit / dirtbike motorbike you buy; it's the best solution, but this isn't always possible (if the bikes a considerable distance from your home). But DO make the effort; a pitbike is no good to you if your aching because you're in the wrong position riding it – or the bikes just too big/small.
You could make your own dirt bike or extreme pit bike - and you then have a really unique bike! However this is expensive and takes considerable time and money to build a competitive small dirtbike, into an extreme pit bike. So if you dont have the time, seek out our recommendations for online mx stores.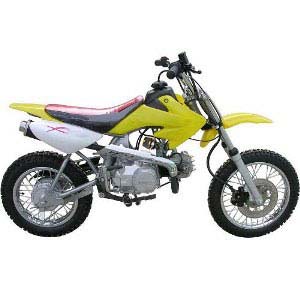 ---
Home | Dirt Bikes | Cheap Dirt Bikes | Accessories | Mini Dirt Bikes | Motocross Racing
Motocross Gear | Off Road Bikes | Used Dirt Bikes | Wholesale Dirt Bikes
Honda | Kawasaki | Suzuki | Yamaha