Extreme pit bikes and MX bikes
Rugged and strong scramblers of all sizes.
Two Incredible Extreme Pit Bikes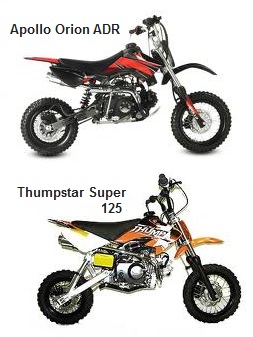 Small, but powerful, is the easiest way to describe extreme pit bikes and their performance. Drop the automatic transmission by reverting to manual and add a larger engine. Speed is of consequence and these bikes are set up to go 50 mph before additional modification.
A quick scan of bike blogs has a list of riders claiming to top a hundred mph on these machines. Once a convenient way to travel from one end of a pit to the other, now races are being set up around the world for the enjoyment of riders who want to compete against others.
You will find competition among manufacturers of extreme pit bikes, also. They want your business, such as Apollo's Orion ADR. Riders have a choice of a kick or electric start. The rear shock is upgraded - so comply with the demand for agility and speed.
The 4-stroke engine is air-cooled and the 125 cc engine provides 9.8 hp, with an unmodified estimate of 50 mph. Needless to say, it is not for new riders who may jump in over their head and lose control. A heavy-duty steel frame increases the bike's durability and offers all you expect during competition.
One of the other names you run across whether on the track, trail, web or shop is Thumpstar and they have seriously addressed the concept of extreme pit bikes with the Thumpstar Super 125cc Pit Bike. A couple of the special features include the Mikuni carburetor and telescopic forks.
50 mph plus is also the expected range before modifications and its 9.45hp engine delivers. It has a 4-speed quick shift gearbox and serious teenage and adult riders will enjoy the performance and great handling, as well as the ease in transporting the bike.
Pitbike Parts and spares.
When buying extreme pit bikes in particular you will need to know where to lay your hands on pitbike parts.
Spares from a local store are best, so if you get the model number wrong you can return it easily. Mail order or the internet, is still good for specialised spares, but can take you longer to return and get the correct parts back. This can then take you longer to get your pit bike running again.
Fitting the MX parts is entirely up to you, things like filters you may be happy doing yourself; but unless you are very mechanically minded, a local garage or dealer - should sort out any bigger jobs for you.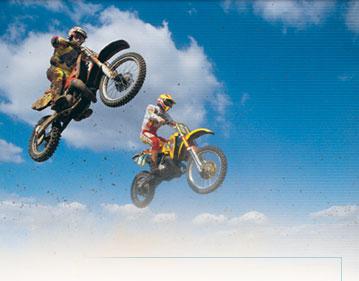 Getting the right extreme pit bikes for your needs, can be a difficult task. Atv's, dirt bikes & pitbikes come in such a variety what do you buy? The best pitbike is not often the latest and greatest super-powered bike. But a ride that fits your abilities and strengths.
However extreme motocross gear should be bought, including the best motocross helmets you can afford and maybe a little strength training for motocross too. Upper body ability will see you over the demanding motocross course and other freestyle motocross events on your nimble pitbike.
Where do you buy xtreme motocross bikes & pitbikes? Well first take a look over at extremedirtbikes.com.au. This store has some brilliant mx bikes for your local motocross park. Would you enjoy the PITSTAR 125cc PRO HR priced at $2250.00?
It uses a full alloy frame, a fast-ace rear shock absorber (adjustable), and alloy hubs & rims are all included. Or maybe you would buy the ORION 138cc oil-cooled ride for $1050.00. Prices are not cheap, but they should steer you over the roughest dirt country tracks you'll encounter.
Top dirt bike race track pitsters
A list of the best offroad pit bikes.
If you are asking what are the best extreme pit bikes out there today for the money. Worry no more the mini motocross results are now in.......
Kawasaki KLX110
Yamaha PW50
The sdg speed minis
Demon 150 ELITE
Stomp Elite 150
Honda CRF50
Pitster Pro X3R
And the two pit bikes we mentioned above. Be aware of course some of these bikes can have additional accessories added to them for stunting, performance and tricks.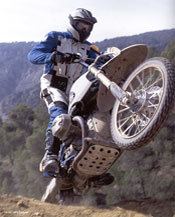 For general information about extreme pit bikes the pages on dirtbikerider.co.uk should help with any questions you have. You can do a bike model search, check out the Motocross and Supercross sections - etc.
Plus there is a Getting Started page and How to Advertise with Dirtbike Rider magazine as well. Its a big and varied site with a Gift Shop, Competitions & a Dealer Directory, info on MX Riding Kit and you can even Upload Your Own Videos.
But if you want a real extreme adventure then africanoffroadtours.com might be for you. Buy some motocross chest protectors and brush up on your best motocross techniques and ideally take a pitbike & motocross mechanic with you as this website offers the opportunity to be trained by some of the very best motorcycle riders in the country. Prices seem to be fixed from a Novice Riders 1 day course from $350 to an Expert Rider Refresher (1 day) priced at $350. You obviously need to be honest in your abilities and if you're an amateur pit bike rider used to the motocross practice tracks back home - you will need to let them know. However it is fairly certain they are sure to accommodate you. Full details of what's included is all on their web pages.
Motocross & pitbike accidents can occur however careful you ride on your extreme pit bikes. So simply follow the motocross rules, you shouldn't have to buy the latest m2r motocross helmets or expensive protective body amour. Some of the latest in motocross non-branded gear may suffice. Do check for safety certifications on ALL MX helmets & gear though, you always need a certain degree of quality. If you are doing stunts and tricks, start buying up knee pads, elbow pads and MX boots too.

Good Pit bike info helps
Having great information on dirt bikes & pitbikes gives you so much of an insight into buying a superb off-road track bike. Watching a dirt bike video clip on the net might give you some ideas, but check out the bike models above, and other big brand bikes for an amazing extreme pit-bike experience. Take video pointers of what the "super-stars" of the pitbike world are using and see if that is ideal for you? But do not be worried if those bikes are WAY powerful, they are the superstars after all.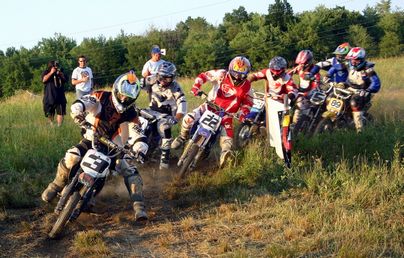 Home | Dirt Bikes | Cheap Dirt Bikes | Accessories | Mini Dirt Bikes | Motocross Racing
Motocross Gear | Off Road Bikes | Used Dirt Bikes | Wholesale Dirt Bikes
Honda | Kawasaki | Suzuki | Yamaha