Fast pocket bikes
Speed demons on Fast pocket bikes.
Many fast pocket bikes are now what you could call pretty quick.
Water cooled engines give out such a lot of power, and the small engines have come such a long way.
Most models use innovative shapes to cut through the air and improvements in manufacture and materials have also lightened the bikes.
Fast pocket-bikes are what enthusiasts demand and get. That's why you should always wear your helmet, just because it looks such a tiny and non threatening bike, they travel at such speed if you do come off injury is inevitable. Have fun but remember these pocket bikes are certainly not toys.
A racing bike does not have to be a full sized extreme bike. The smaller minibikes; because of their cheaper nature are gaining force. You may still need your alpinestars motocross gear and motocross chest protector as these mini xtreme bikes can travel at quite a speed.
Speed varies from 20mph to 50mph and beyond! If you have seen the pocket dirt bikes & minibike videos and wondered if you could afford one, see our picks below and see if it answers your mini & pitbike racing questions.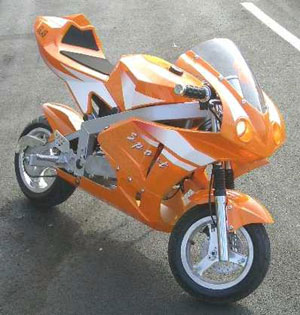 Tomaliscooters.com has an excellent store. They operate regular hours and offer ATV's, Scooters, Go-Karts, Mini Choppers, Dirt Bikes and other types of Motorcycles. They are mainly wholesalers and have Chinese connections, so we would hope the savings are passed onto the pitbiker. The little dirtbikes they had on sale were – A Dirt Bike with a 125cc High Quality engine, code number TYGS-134 on sale at $739.00.
Or perhaps you would prefer the 50cc 4 Stroke Kids Dirt Bike, for $575.00 and a 49cc 2 stroke was being offered for $399.00. An Ideal pocket dirtbike for kids ages 6 to 14 years. The motocross catalogue looked good; and we enjoyed our visit to this online store.
The next site is great for questions about pitbike parts, talking about the mini motocross bike or finding used minibikes. As pitbikeclub.co.uk is more of a forum, but you can advertise your pocket & motocross bikes. We encountered a Mini moto b1 replica, with a 39cc engine. It had custom dirtbike seats and a top speed of 50mph! The price was only £110, and included a racing exhaust and a big K&N styled air filter. The forum ad didn't include pictures of course which was a bit of a drawback, but the fans that use this site certainly have motocross urban fever, where anything can be discussed.

Super fast pocket bike
The joy of tiny motorbikes.
Our next website - minidirtbikers.com, had a number of pages but was more in tune with advice and info for pocket dirt bikes.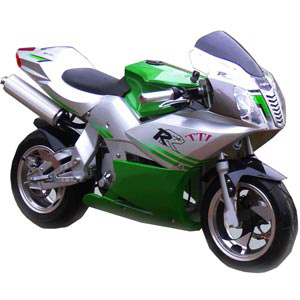 Almost like a motocross magazine article, the site is well written and should help you buy the correct 110cc and 50cc dirtbikes for sale out there. If you look hard enough the sections about honda motocross bikes and avoiding a stolen dirtbike should be read too.
Sdscooters.com is a proper pit bike accessories store and shows off the latest sikk pitbikes. One range of bikes called the "125XL Perimeter Dirt Bikes" were selling for $1599. Looking amazing they are built from top quality components and parts.
Some parts are made from aircraft grade aluminium with new Inverted Long Travel forks and black Lightweight Aluminum Rims the bike has a winning combination. This sikk mx pit bike is a 125cc, 4 Stroke, 8 horse power ride that should easily negotiate all types of motocross corners. Also on offer is their New 125 ULTIMATE PIT BIKE at only $1399. So there are bikes for all types of budgets.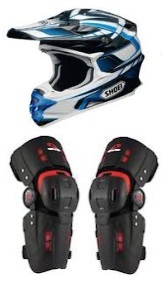 We liked the site as it was easy to find the bikes for sale. If you are a freestyle motocross ramp jumper or an american / canadian motocross rider, certainly add this place to your shortlist.
For any pocket motocross bike keep your motocross knee braces and MX helmet handy. Only a fool will underestimate these cool stickered motocross rides. Be sure you have a list of midimoto dirtbike spares stores available as you may require spares in a hurry.
Quality gear like fox or shift motocross clothing, will be fine for pocket pitbikes. You might even want to create a motocross myspace page about your adventures on your mini moto. Should you be considering building a motocross track in your backyard, pocket bikes take up less space to do so – which is another bonus of fast pocket bikes.
Fastest pocket bike costs
Do you want a super fast pocket bike? or to buy the fastest pocket bike? There are lots of choice and options today, you can even build your own custom model. Your best checking out the forums for the latest opinions on the fastest bikes, such as the 110cc pocket super moto.
The more sophisticated a mini bike is; costs will also increase as the fast pocket bikes (of your choice) becomes ever more expensive. So keep a tight limit on your budget; and try a cheap bike first, if your only starting off in this sport.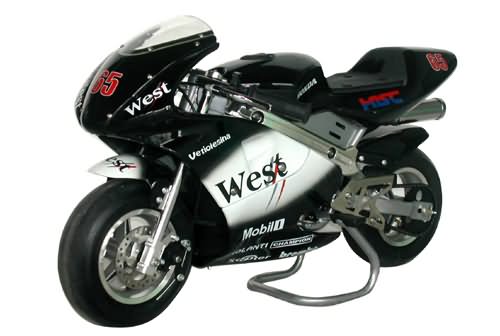 Home | Dirt Bikes | Cheap Dirt Bikes | Accessories | Mini Dirt Bikes | Motocross Racing
Motocross Gear | Off Road Bikes | Used Dirt Bikes | Wholesale Dirt Bikes
Honda | Kawasaki | Suzuki | Yamaha