For sale mini bikes
Bag a bargain in the small AD's.
When adverts appear to ask "for sale mini bikes", take care and read them at length. Check any pictures alongside look genuine, and feedback is good when dealing with ads on eBay. Motorbikes "for sale" classifieds can cover a lot of information and take your time checking that the overall spec is what you require.
Is the price very low on the for sale mini bikes adverts ? Ask why? Or is it missing some vital information of a particular model? Again ask the seller questions. If you take time buying you normally get the bike you want. With so many mini bikes out there, bikes are plentiful and a bargain is always around the corner.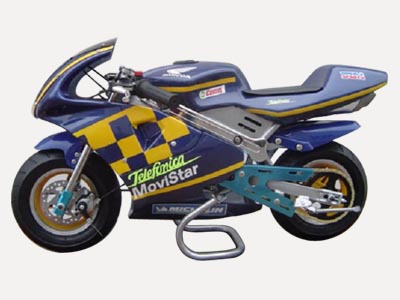 You might be considering gas dirt bikes and perhaps a dirt bike rack for the back of your pickup. But why pay out for a rack when you can fit your pit bike & pocket bike on the back seat – inside the car!
With a mini pit bike ride, you can do just that. They often come with zingy dirtbike graphic kits, cool looks and a pit bike manufacturer warrantee (if you buy new of course).
Don't underestimate these mini pit bikes they might be cheap bikes but you'll still need your motocross neck braces, the best motocross knee braces you have and a good MX helmet. Although speed can be restricted you can do most of the dirtbike stuff, like tricks and races that you would do on a normal honda motocross racing track.
Looking over the dirtbikes for sale in America, can be good in one way - and overwhelming in another - it can be a bit hit & miss if your just browsing aimlessly. So check out motocross magazines and midi dirt bike sites for information first; as a starting point. Also carry on reading below for our mini dirtbike news and reviews of places we checked out to buy mini pitbikes online.
Petrolscooter.co.uk, began our journey on "for sale mini bikes ads". They had a lot of mini pit bikes parts such as a Mini Moto Dirtbike Exhaust Gasket for £3.99 and a replacement gearbox for a mini dirt bike, which bolts right on for only £19.99. All cheap you'll agree, but we did find a cool ride; a Puma 125cc Pitbike priced to sell at £499.00. Shipping was an extra £60, and some minor assembly will be needed as well.
However this model has a Lifan 125cc engine, Mikuni carburettor and 33mm upside down forks plus a gas rear shock. SDG 14" front and 12" rear wheels, a set of wavy disc brakes, and an alloy fuel cap. Imagine pulling a dirtbike wheelie on this dream machine....excellent.
Buy mini dirt bikes
Purchasing the smaller motorbike, comes easy.
Maxmoto.co.uk have a range of aprilia mini mx bikes within their store. There is the Aprilia Mini RX 50 Entry bike, which has 2hp, custom dirtbike graphics and it's ideal for children ages 4 – 6. Or you might want the Aprilia Mini RX 50 Experience bike for 8- 10 year old kids. More suited for the experienced rider, or those attending a dirtbike show or race. If you're concerned about your childs abilities do seek out some dirtbike training from a local school, as this will pay off from a safety standpoint. The maxmoto.co.uk website is large, and other pages include Aprilia Accessories, Motorcycle Helmets, Motorcycle Insurance and even Servicing & Tuning. No other brands such as Kawasaki or Yamaha could be seen as they obviously deal with Aprilia only, but this exclusivity may help in getting some discount.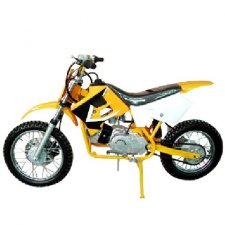 Mxminibikes.com was next in our whats for sale mini bikes search - and they can certainly write sales patter. But they had some cool bargains. How about an Intermediate level bike for $869! The model name is OPBS X3 - 125cc, and it comes with a Mikuni Carb, and a D-Section Exhaust, Adj. suspension etc ..(what a fine - for sale mini bikes ride).
Or would you enjoy a 250 CC Pro, 4 Stroke w/Perimeter with an Aluminium Frame. Priced to sell at $1199.00 it has a 250 cc Honda style motor, PZ30 Japanese Carburettor, 19" front/16" back wheels and goes at over 95 MPH (which is an awesome speed if true).
Supaprice.co.uk followed along and we looked at "for sale mini bikes" and turned up a number of amazing smaller bikes. The top one was a 125cc dirtbike (2008) for only £180, but postage was £35 as well. The site links into ebay and in that way is always current, so it's a kind of portal more than a real mini MX store.
Lastly was maxmx.co.uk, they have a great number of minibike plastics and minibike engine parts as well as those for sale mini bikes. The site is well laid out and has sections on Minibike Wheels and accessories, Minibike Brakes, Minibike Handlebars and Controls plus Minibike Engine Tuning. They have tires and tubes too, for instance a heavy duty tube for a 12" front /Rear wheel would set you back only £3.99! A Formula Front Brake kit for a CRF Monster bike was a little heavier at £137.99. But an enjoyable website if you like your motocross & dirtbike shopping on a mini scale.
Pit bike videos on youtube might suggest some bikes to buy, but they are more for entertainment - though some instructional and review videos of the smaller dirtbike can be found. The motocross giant site is certainly a worthwhile visit for items such as msr motocross gear and the latest mx helmets. The list here is by no means exclusive and more stores are opening all the time so if you know of great "for sale mini bikes" bargains let us know?
Minimoto dirt bikes
Used mini dirt bikes give the best bargains of course, and mini dirt bikes in classified adverts are so much cheaper than new bikes, but remember you have no guarantee it's a good bike. When you buy mini dirt bikes check the bike out and ask questions with the seller (don't be afraid to ask some awkward ones if need be). The good thing is; Minimoto dirt bikes have a big fan-base and clubs and forums will help you where they can in your "for sale mini bikes" adventure - so use this free resource.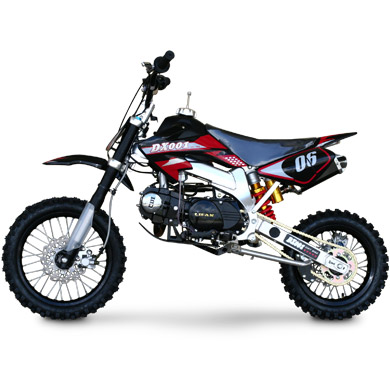 Home | Dirt Bikes | Cheap Dirt Bikes | Accessories | Mini Dirt Bikes | Motocross Racing
Motocross Gear | Off Road Bikes | Used Dirt Bikes | Wholesale Dirt Bikes
Honda | Kawasaki | Suzuki | Yamaha