Free online motocross games
C'mon and play those dirtbike games
Getting free online motocross games is very easy but getting quality ones can be hit and miss.
Good Fun with Free Online MX Games.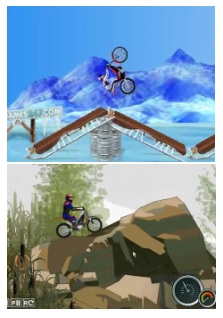 So there you are sitting at the desk waiting for everyone to be ready to leave with about ten minutes to kill. There are many free online motocross games available and chances are good that you have already tried several of them out at one time or another.
Since the browser is already up and running, why not have fun playing one of the proven favorites, such as Bike Mania on Ice or Uphill Rush 3, both of which have great graphics and easy to follow instructions. Available at Games Freak.net, it is similar to riding, as it takes lots of practice to be at the top of your game.
New free online motocross games, as with other sports online games, are developed on a regular basis. Companies often set them on the net first to get an idea of how gamers feel about the graphics, action, reality, directions and so on, before spending a lot of money designing an uninspiring game. One of the newer games, Moto Trial Fest, is easy to access from congregate.com.
There is a short commercial and then select play. Choose the color of your helmet, suit and bike. The directions are good and the challenges fun. The trick is keeping your balance while riding across rough terrain.
FMX Team 2 is another one of the free online motocross games and uses the left and right arrow for balancing the bike, the up arrow for the throttle and the numbers 1 through 6 for tricks while in the air. Custom bike tuning and composing a team add to this game found at Games Freak.net. Most are quick to learn and fun to play. These are also great games when you are babysitting and want to focus the kids on some sitting down activities.
Why free online motocross games?
The free ATV & dirt bike game downloads have usually got poorer graphics but game play may be still great. Its worth seeking a few out to make your own mind up, they may not be playstation quality but you can pass a few minutes away having some fun. Use Google and other search engines to find these free action motocross games, there are many in number but only a handful give any real feel of dirtbiking, though they are improving.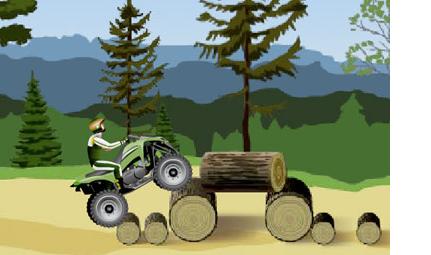 If you're searching for online motocross games you should be spoilt for choice. Motocross racing games are increasingly popular and those who like dirtbike flash games can spend a few hours on the many "free" games websites.
We went over a few free motocross games sites on your behalf, freeonlinegames.com has a section called "sports games" and a page solely dedicated to dirtbike & motocross games. Or "sports-games/dirt-bike.html" to be exact.
The first example of a MX game was obviously called "dirt bike", where you ride your bike over lots of obstacles and the level difficulty increases as you improve - In these dirtbike games points make prizes.
Another games page was called "Bike Challenge", which others have played and recommend, this is a cool freestyle motocross racing "type" game - where you can pull various moves and tricks. Plus there were many more choices on this website for free online motocross games.
Dirt Bike Madness and Bike Mania
Test your skills and co-ordination from your armchair.
If you want a link to a free MX game, try this one - http://www.2dplay.com/dirt-bike/dirt-bike-info.htm
They have a game called "Dirt Bike", which gives all your skills a test over many levels. Ride your high performance bike over the rugged terrain to gain points and improve your skill. A superb free online motocross games experience - even if the graphics look a little clunky by todays standards.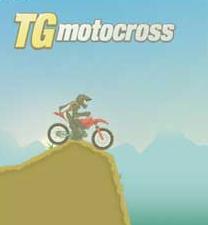 Or what about tripledoublegames.com. Not only do they have a number of classic arcade games and sports games, but a page on what we want - free dirtbike games! A couple of titles include Bike Stunts, Bike Mania On Ice, the impressive dirtbike 2 game and of course Dirt Bike 3. They are all flash games and are presented in an easy way to navigate and select. If you have issues playing any of these free online games you can contact the webmasters. Or more likely – just make sure your running the latest version of flash player, its free to download anyway from ADOBE.
Gamesfreak.net have a massive list including, Uphill Rush, Bike Mania 2, Dare Devil 2, Moto Rush and a game called simply Motorcross. Plus of course Dirt Bike 4, TG Motocross 2, and tg motocross 3; all have ratings as well, many games seem to score a 7 or more - so you should have lots of fun here!
Last but not least was holybikegames.com. They have some amazing titles on their free online pages, such as Winter Rider, which is riding over obstacles. Bike Mania 4 Micro Office where you're riding your MX bike in an office environment! Bike Madness which is certainly recommended by those that have played it and you use your skills over a variety of challenges. And Adrenaline Challenge, this is an ability game based on your motocross skill. It contains loads of offroad tracks which should keep you happy for ages.
It took us only a few minutes to find cool sites to play motocross racing games, and these sites seemed some of the best for games in general. The more popular seem to be obstacle dirtbike games, but you can vary it and try your skills on ice, wooded terrain or even over office desks! These websites have a huge variety of titles so finding something to interest you should be a breeze.

Action motocross gaming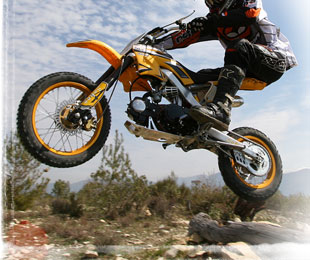 One game worth playing is tg motocross, where you can race the clock over cliffs and jumps. It's available from www.teagames.com and you will need at least Macromedia Flash 8 (or the latest version) to play this game on your computer.
There are very few motocross vintage games out there, for some free dirt track adventure.
But with new ones appearing fairly regularly, it's the MX games that create a buzz, that are the free online motocross games to hunt down and have a go on.
---
Home | Dirt Bikes | Cheap Dirt Bikes | Accessories | Mini Dirt Bikes | Motocross Racing
Motocross Gear | Off Road Bikes | Used Dirt Bikes | Wholesale Dirt Bikes
Honda | Kawasaki | Suzuki | Yamaha