Freestyle motocross ramps
Jumping on an mx ramp.
Freestyle motocross ramps can be bought or even made by yourself in your own backyard. It's best getting some blueprints or measurements before you start. Also choose your materials wisely, its best not to get junkyard wood as it could be rotten and let you down when you're at a critical point in your jump. You can buy complete ramps from respected suppliers but be aware this will not be cheap. You could ask at stores where motocross bikes are sold, for good suppliers.
Making or Buying Freestyle Motocross Ramps.
Built for dirt jumping bikes.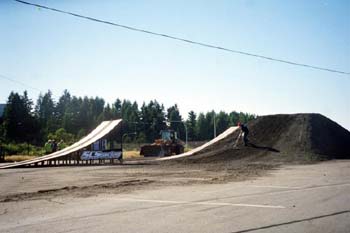 For many riders, making, building or buying your own freestyle motocross ramps is an obvious next choice when you have started to ride for a bit.
There are many reasons to do so, including taking things up a notch, improving your riding, getting more practice time in and also simply having an awesome way to have some fun on hand.
It doesn't take much to get started either, all you really need will be to have your own bike and some open space to work with. From there, with a little bit of money, time and effort you can have your own freestyle motocross ramps in your backyard or wherever else.
The first question that everyone has with this is whether they should build their own from scratch, whether they should buy prefabricated ones and put them together or what. The good news is that there are lots of options for people of all experience and skill levels.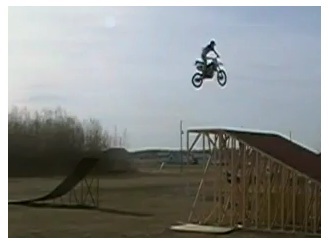 There are also lots of options for people of all experience and skill levels when it comes to construction. The determining factors for which route you take will ultimately be your budget, your comfort with building things, and the amount of time you have on your hands.
The most popular option today is probably buying the plans for freestyle motocross ramps and then buying all of the components yourself, and handling the construction on your own hand.
With high quality plans, it's pretty easy to get something like this together. Plans are affordable, and you can buy all of the pieces and parts yourself at a local hardware store for much less money than you would if you bought a ramp that was already built.
Motocross ramps for sale
So buy dirt bike ramps.
Many people though either aren't comfortable or interested in building their own ramps, or don't have the time to put into a project like that.
In this case, you can opt to buy already constructed freestyle motocross ramps. From a local dealer, track or friend, you can buy one already completely together, and get it hauled over on a truck bed or something like that.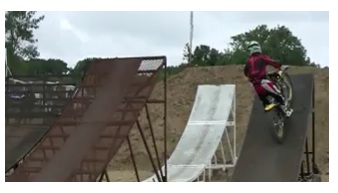 If you're buying one online from a store, you'll end up with prefabricated pieces which need to be joined together, but all of the legwork will already be done for you.
Of course, you can also build your own freestyle motocross ramps at home without any parts or components. This of course would be the dirt ramp.
With some practice and intuition, you can form some pretty good, solid and safe ramps, and ones which allow you to get some real height and hang time. But once again, it comes down to effort and time versus budget, and whichever kind of investment you'd want to make.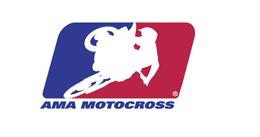 Some people love getting their hands dirty, and the process of building something with their own hands from scratch or from a plan is ideal.
Other people just want to hop on their bikes and ride, and don't want to be bothered with anything else.
Which kind of rider are you? Either way, it's pretty simple today to end up with freestyle motocross ramps to use within your own property.
Suggestions & ramp questions….
A friend could know someone that builds ramps. Sites or organisations like the motocross ama might also give suggestions too, or use a forum to ask such questions. So if your interested in freestyle USA dirt biking or even canadian motocross & FMX (which is thriving and increasing in fans all the time), find out as much info as you can before building/buying your ramps.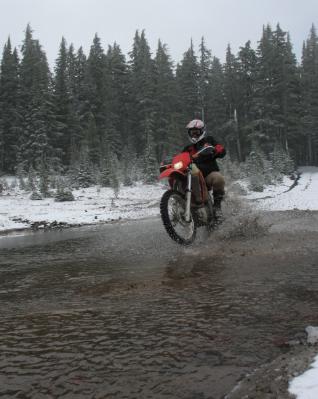 ---
Home | Dirt Bikes | Cheap Dirt Bikes | Accessories | Mini Dirt Bikes | Motocross Racing
Motocross Gear | Off Road Bikes | Used Dirt Bikes | Wholesale Dirt Bikes
Honda | Kawasaki | Suzuki | Yamaha