Freestyle motocross
Jump that dirt bike FMX rider!.
Freestyle motocross is now a very popular arm in the dirt bike sport. There has of course always been motocross racing and will continue to be. However the spectacular freestyle events in supercross stadiums really draw a crowd. Some of the top stars perform almost unbelievable jumps whereby the riders virtually let go of the MX & pit bike completely during a jump. Or indeed that's how it seems. But you can guarantee all these top riders have suffered many injuries over their career.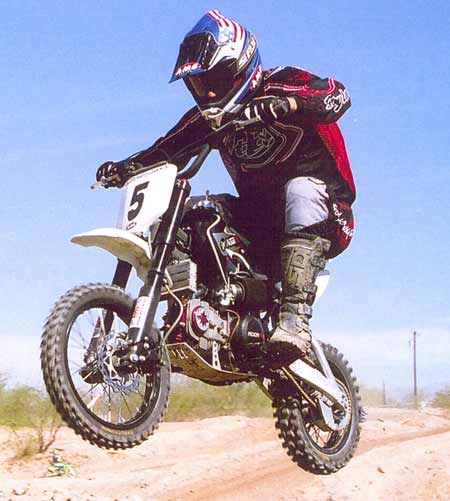 Riding and racing on offroad mx bikes is not enough for some bikers. A growing number want to be freestyle motocross riders. The FMX bikes have come a long way, and looking at a gallery on the web, it's always the trick pictures of freestyle motocross stunts that get the attention.
These fmx dirt riders, are almost like gymnasts. You're sure they will fail in their specialized competitions, and yet they land with ease. Some do have an fmx crash its true, and we have the foto's to prove it; but if your going to be an occasional trick rider and want to find stunt dirt bikes for sale , then follow our steps below.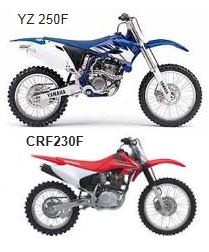 Freestylebikes.co.uk was an obvious choice with a re-stocked range of yamaha bikes.
Examples included a Yamaha YZ250F 2005 which needed new graphics, but otherwise excellent for £1400 and a Yamaha YZ450F 2008 in excellent condition, and has had a full piston change, and pro-accessories, selling for £2900.
Now if your seeking a specific model of freestyle motocross bike such as a honda MX bike, then freestylehonda.com.au should be your destination. Not only do they sell mx Honda bikes, but they have a spares dept and finance area, to help with your purchase. They sell aftermarket motocross parts for the Honda dirtbikes, and offer some pre-loved rides as well. Examples of new bikes for sale were -- The new CRF230F, CRF250X and the CRF450X were all catalogued as well.

See the best FMX poster selection in our new dirt bike store.
Freestyle Festivals & manuals
The joy of watching other riders, and playing stunt games.
The ever popular ebay site was our next choice. We found no actual bikes under the word "freestyle" so you're always best looking under the wording of "dirt bikes" and "pit bikes". However accessories we did find were a Haynes Manual for Freestyle Motocross at £11.98 a freestyle dirt bike chest vest for £127.57 and a Freestyle fine art poster for only £4.75. All these prices need shipping to be added of course.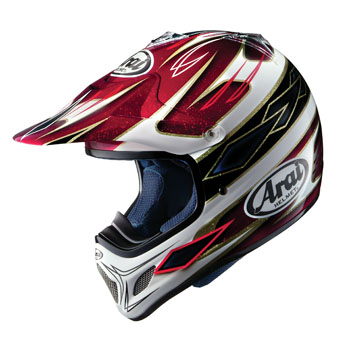 Now if you like watching freestyle Kawasaki tricks and yamaha fmx stunts, have a look at freestylemotocrossteamfmx.com.
They offer Freestyle Motocross motorcycle stunt shows. They perform great FMX tire ripping excitement in your locale. The riders in their MX riding gear have performed in over 10 countries, using specialized dirt bike engineering and cool professionalism. The website has blogs, rider info and videos too and is a joy to explore.
A niche website is freestyleriders.co.uk. Very much for local riders in the Uk. They have Galleries, Downloads a Forum and an About Us page. They have something called a "Yellow Chopper Festival", and weekly meet on Wednesdays. This friendly site might be worth popping by with your kawasaki MX bike if you live in the Briton Ferry area.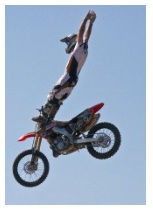 To round off - what about a freestyle mx game from cargames60.com. They have a page called Moto-X-Freestyle-.htm.
This fmx games adventure will see you, ramp jumping and pulling stunts.
Don't get cross if you don't do it first time. But the good part about being in a trick game is no wear and tear on your precious michelin mx tires.
Although we have discussed freestyle bikes in this article, don't forget your closeout mx boots, fmx pants and dirtbike gloves & helmet (slyfoxmx.com should sell all of these items).
See the best FMX poster selection in our new discount store.
Fmx Jumping bike gear
So when you pick out your motocross gear ensure it's of the highest quality as you will thank yourself if you're performing freestyle jumps or stunts. FMX events are fun for all ages and they'll certainly give you ideas on what you'd like to do. But don't try and do too much too soon if you're a novice, and always keep your gear ON no matter how small the stunt.
Stunts by their nature can cause injury so never take success of a trick for granted.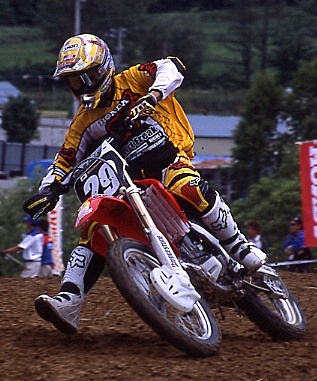 ---
Home | Dirt Bikes | Cheap Dirt Bikes | Accessories | Mini Dirt Bikes | Motocross Racing
Motocross Gear | Off Road Bikes | Used Dirt Bikes | Wholesale Dirt Bikes
Honda | Kawasaki | Suzuki | Yamaha