History of motocross racing
A brief history lesson about the dirt bike.
Among the earliest records, the history of motocross racing is quite varied.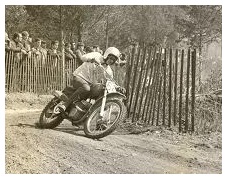 The most popular events were, hill climbing, racing on tracks and trial biking.
These events particularly the trial events could be over a number of days, to test the ability of the rider.
The early events do seem quite simple by today's standards, but after all the organisers had nothing else from which to go by. As time went on, they became more organised and what was just a dust track event developed into more noticeable sections such as crossing streams, obstacles such as rocks, inclines and even bogs.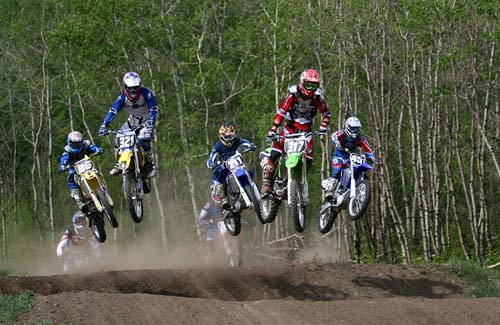 The history of dirt bikes is a long and varied one. So we will look at dirt bike history through a couple of well known manufacturers.
Yamaha's history of dirtbikes is entwined with the history of motocross racing; which was born after world war two. When President Gen-ichi Kawakami used old aircraft factories to build what has become the vintage yamaha enduros of yesteryear. The Nippon Gakki Company of which Gen-ichi Kawakami had built, then split from the Yamaha Motor Company – which was named after its founder Torakusu Yamaha.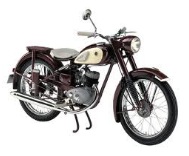 The name of Yamaha was known for instruments of music not motocross bikes and dirt bike parts back then. The YA1, was built in 1954, but the first Yamaha vintage enduro was called the DT1 complimented by a 250cc engine, which followed along some years later.
The history of motocross for Honda, began in 1959 USA. Where Soichiro Honda opened his store in LA. These were bikes for the American road, looking not dissimilar to pelicans.
However by the end of 1959, Honda had sold approx 1700 bikes with 15 active dealers, but had lost $54,000 ! Motocross history looked bleak for Honda, and it wasn't until off-road motorcycles took off in California that things began to look up and the history of motocross racing was slowly born.
Motocross dirt bike evolution
Ever heard of the scrambles?
Dirtbike history and the history of motocross racing; began way before that, in the UK the "Scrambles", was the first classic dirtbikes event which took place in 1924, in surrey.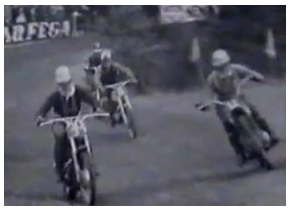 Growing slowly in the 1930's; England embraced dirtbikes with enhancements such as swinging fork rear suspension in the 1950's.
BSA was the brand of choice and sold in large numbers. So Kawasaki dirt bikes and yamaha MX bikes where only a twinkle in a riders eyes back then.
The history of american motocross began with the popularity of off road sports. The 60's and 70's had improved Japanese bikes. Plus the Pit bike back then was a small motorcycle that was used to carry racing drivers back to - the pits!
The history of the dirtbikes is quite recent, as Honda, Suzuki, Kawasaki and of course Yamaha brought out newer models each year. With colorful vintage mx stickers, and improved performance, the history of dirtbikes became assured.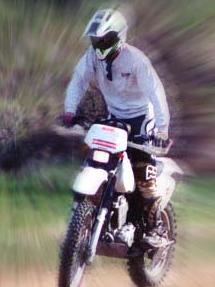 Or what about the recent history of the mini dirtbike, the Honda XR-50F / CRF-50F moto had a massive impact, which made biking fun and cheap to do. Although the mini motocross bikes were originally designed for kids, adults found out how much excitement they could get from such an inexpensive machine. Also no trailers were required as they could be packed up in a suburban pickup truck.
Stadium events didn't begin until 1972 at the LA Coliseum. And today we have new pretenders to the throne with KTM, Husqvarna and Husaberg building credibility with amazing bikes.
Many of the MX online websites will have further reading about the history of the dirtbike plus dirtbike links. We only give a brief overview here. Also don't forget Amazon.com for vintage motocross books where you can read up on the history of motocross racing, and of course articles in vintage dirt bike magazines.
Restoring Dirt bike history
The old vintage motocross bikes are starting to gain in value. The motocross / dirt bike has been around some time now, and early examples are becoming a little rare. If your good at restoration; buying an older off road bike could be worthwhile. However do your research on dirt bike history to be sure you buy a valuable model worthy of your time and effort.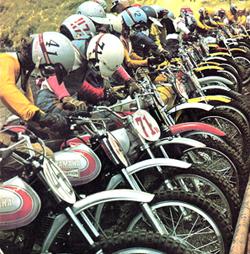 Home | Dirt Bikes | Cheap Dirt Bikes | Accessories | Mini Dirt Bikes | Motocross Racing
Motocross Gear | Off Road Bikes | Used Dirt Bikes | Wholesale Dirt Bikes
Honda | Kawasaki | Suzuki | Yamaha