Honda dirt bike accessories
Honda Dirt Bike Accessories – Fun and Accessible
There are several gift-type holidays in every year. Most of us want to get something for the ones we care about that will make them happy.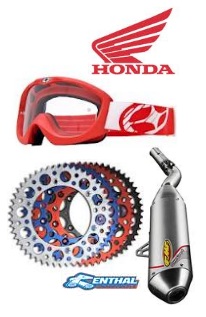 A loved family member or awesome friend may have hinted for a 2012 CRF250R and that is beyond the budget, but Honda dirt bike accessories are on the agenda for the Honda bike already owned.
Those who have already seen the 2012 Honda CRF250R recognize the traditional Honda quality in parts, action and handling. One of the surprises is that many of the typical 2010 and 2012 Honda MX accessories have identical prices.
Once you start searching for upgrade and replacement Honda dirt bike accessories and parts, you will see familiarity is essential to make sure the right equipment is ordered. Prices also fluctuate according to demand and when parts take a bigger hit on the track, more people are looking for the same thing, driving supply down and prices up.
The AGC Cover is the same price through Honda as it is from other suppliers, such as freedomcycles.com. On the other hand, Honda's aluminum skid plate starts at one price through the manufacturer and gets more expensive at other suppliers. When you reach a site that demands all sorts of personal information and an account before any information is available, pass it by. Too many good blogs, online companies and parts houses stand ready to help the casual and serious shoppers and those who do not want to share parts availability and prices are suspicious, to say the least. It is never a good buy when compromised identity and bank accounts are the result.
Varying prices on clutch covers are no surprise with bids on eBay going over $30 above Honda dealer costs. A safe place to compare prices is Amazon.com, where looking at the different sites and bundles is half the fun.
The front brake line clamp and front wheel spacer set render no deals at any site checked. A Rockstar Graphics Seat Cover Kit from H & H is the same price at the five spots checked, which brought up another good feature of Amazon hints. They put it in writing that the graphics kit fits the Honda CRF 250R (2010-2011) and CRF-450R (2009-2011), so Grandpa or Uncle Bill know whether it WILL fit your bike. So that leads on to Honda dirt bike accessories in the form of personal gear that teams up with your bike's color and model.
Motocross goggles in red and white match the bike and provide the protection from dirt and rocks tossed up by other bikes. Great optics and moisture wicking are integral parts of goggles. Jerseys, pants, boots and a helmet are all accessories that can declare to the world the type of bike you are riding. There are deals on every one of these items, but the most important thing is proper fit and great protection. Especially with goggles and a helmet, walk past used and get new.
If you are looking to increase performance and action, the Renthal chain and sprocket kit is a good upgrade at about $140, a common price tag on several sites. The FMF Powercore 4 slip on exhaust 4-stroke, however, ranges in price depending on which sites you visit. Shopping and comparing accessories helps to find the best deal possible.
Popular Honda accessories are –
Honda MotoX Heaven - All the bitz for your Honda motorbike.
You can buy Honda dirt bike accessories from almost any good stockist.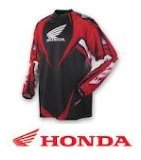 Honda has been a quality brand for many years and is still sought after by many dirt bikers. Whether its jerseys or pads, or actual parts and items for your bike, you'll know that Honda won't let you down.
Ideally if you have a Honda pit bike or MX bike, you'll want your outfit to match and due to the vast array of choice in the Honda range, you should have plenty of options open to you. There are also lots of used deals being advertised so don't forget about those too.
If your trying to find a cheap set of MX tires or a set of decals & stickers for your honda, then your looking for honda off road accessories. From dirtbike videos to complete Honda off road motorcycles, a good motocross store should be able to get you what you require.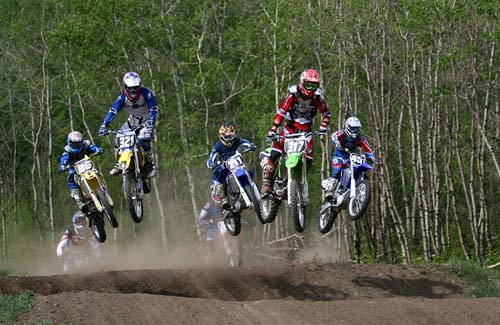 The Honda off road bike has a massive following and getting a racing part or a cheap tire for your Honda, is just a matter of tracking it down. Because Honda extreme bikes have been around a long time used dirt bikes will be around as well. So bargains on parts, honda dirt bike accessories and dirt bike classifieds are in abundance.
Ok, so let's begin our online adventure......
Powersports.honda.com was our first place to visit to dig up some cool honda dirt bike accessories. Not exactly an accessory - but they had the fun Honda CRF150R which could be Honda's best teen motocross machine. Using the powerful Unicam engine, and innovative Showa suspension means it's a high performing dirt bike. Unfortunately we didn't see any price on this MX bike, but you should look at this fine trail store, for other cool offers.

Honda dirt bikes - gear up!
A run-down of honda prices and places.
Now for a plethora of off road accessories dirtbikebitz.com is hard to beat. The MX store handles all manner of Honda Accessories from £10.99 upwards. How about a set of Honda CR125/250 Bike Graphics at a price of £47.49. The Honda CRF250/450 Bike Graphics and Honda XR250/400 Bike Graphics sets were the same price as well. All kinds of dirt bike parts and cheap gear is available here – certainly a great place for any rider.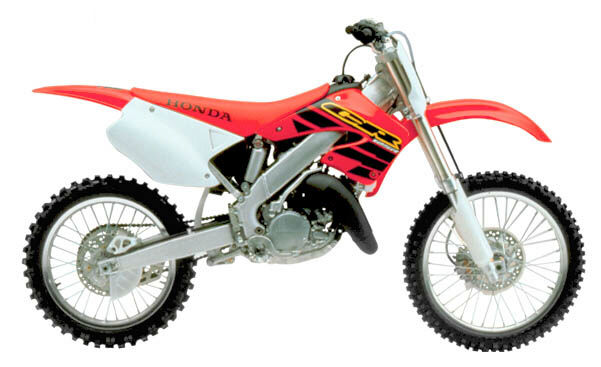 Hondajackets.com as the name would suggest is a clothing store, BUT fine for some honda dirt bike accessories. Some links went straight into ebay and we encountered a number of hjc helmets and a PINK Helmet for a Honda or a Yamaha lady with a starting bid of a measly 99 cents! Make sure any helmets you buy meets & indeed exceed DOT & ECE Standards, which this one did. Other helmet purchases for the track were a girls motocross helmet (in pink again) for $19.99 and a youth HONDA CRF MX helmet(in red) coming in at only $9.95.
This got us thinking if we need off road motorcycle gear for our Hondas why not just go straight to ebay? Motocross parts for custom off road projects, and honda dirt bike accessories flow through ebay like a river. What did we find for Honda racers?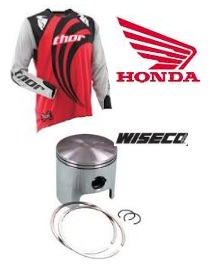 Well a fly pit bike race jersey for around £9.50 – or that was the current bid anyway. Ideal for most off road events its constructed from silky polyester and incorporates raglan sleeves and a lycra collar. All pre-cut style graphics on the jersey are built to withstand a lot of sports abuse - a hard wearing buy.
A full set of Honda type "thor riding gear" at $45.00 followed; as did a new MX helmet (Honda Adult Red Helmet DOT) - at a starting bid of $19.95 - (with only a day left of bidding).
Maybe a Honda CR125R Wiseco Piston Kit is more your thing priced to sell at $94.99. Other dirt bike accessory items and Honda spares were littered throughout ebay - and very easy to find.
Motorcycleproducts.co.uk, is however the best we have seen for Honda spares and honda dirt bike accessories. They have pages listed with each model of Honda dirtbike, and you can then drill down to what specific bit you need. Listed were ATC350 Parts and CRF450X Parts. As was Honda CRF100 Parts and CRF80 Parts – the list was truly staggering! Of course you might find it easier to contact the store, just to check your part is still in stock. But this is a "must see" for a Honda MX biker, or any Honda rider for that matter.
If you need Honda off road motorcycle clothing or spares, and many other honda dirt bike accessories these websites should deliver easily. But don't forget some motocross training if you're a novice. As all the cool Honda stores n' stuff on the net wont save you from an accident. Have fun – stay safe.
Honda bike - MX accessory buying
Buying a honda dirt bike part for any of the honda bikes in their ranges shouldn't give you too many headaches. Honda has a huge amount of spares - both from dealers and specialised aftermarket Shops. Firstly narrow down your specific model such as a 125cc Honda MX bike, and then have the ACTUAL model number and even be specific to the year of manufacture. Then you'll see that getting perfect honda dirt bike accessories for your bike is a snap.
Add some value to your bike - such as quality aftermarket carbs or exhausts. Plus when you get down to buying MX clothing, you don't have to be decked out in red Honda jerseys and pants too! But keep the quality feel with an Arai helmet (perhaps in Honda's famous red and white), and you'll look the biz on any track you encounter.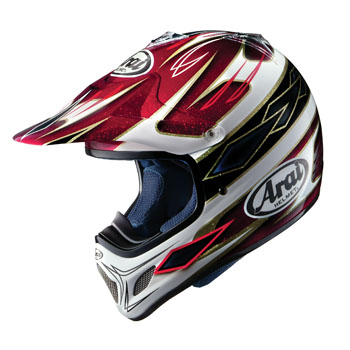 Home | Dirt Bikes | Cheap Dirt Bikes | Accessories | Mini Dirt Bikes | Motocross Racing
Motocross Gear | Off Road Bikes | Used Dirt Bikes | Wholesale Dirt Bikes
Honda | Kawasaki | Suzuki | Yamaha