The Honda Dirt Bike
Cherished Memories of the Honda Dirt Bike
Whether a person is six or sixty, there is usually a Honda dirt bike happy memory for a special reason. Maybe it is the first bike noticed on the track for the very first visit to an MX track or the first one owned.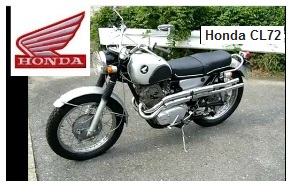 Whatever the reason, a trip down Honda memory lane adds an explanation of its rise to the top for quality & reliability.
Motocross is a competitive market and the major MX bike manufacturers enjoy challenging one another for the opportunity to recapture a share of that same market. Sometimes all it takes is a certain popular rider or introduction of a high-demand feature, such as disc brakes, to draw sales.
At first, Honda designed off-road dirt bikes by using popular street bikes. The 1961 CB72 Hawk 250 had the chassis modified, kept the minimalistic look and was transformed into the 1962 Honda CL72 Scrambler 250. Riders Bill Robertson and Dave Ekins each rode a Honda 4-stroke CL72 Scrambler 250 from Tijuana, Mexico to La Paz, Mexico. The Baja trip of 1,000 miles set a record, & was completed in less than forty non-stop hours.
More impressive is that maintenance was minimal and the bikes were easily repaired.
America loved Honda motorcycles and the presentation of the sleek, trim and powerful Honda dirt bike in 1973 proved that point. The CR250 Elsinore 2-stroke MX bike had 29 hp with 229 pounds dry weight. Rather than a recycled street model, the Elsinore was Honda's first competition bike built from scratch. The 1973 AMA 250 national MX series saw Gary Jones winning with his switch from Yamaha to Honda's Elsinore.
Another memorable bike, the 1983 red and orange CR125 2-stroke featured liquid cooling, a 6-speed transmission, thirteen and a-half inches of ground clearance and a dry weight of 192 pounds. KYB forks and shocks were standard, as were the drum brakes. Easy handling drew the first group of fans and the extreme burst of power at the top end drew the rest.
Learning to keep the bike revved to get up to that point to avoid backwards propulsion of the rider was a skill. Owners replaced the brakes and continued to love the incredible performance of the bike.
Skipping to 2009, the CRF450 Honda dirt bike underwent an enormous attention-grabbing change. The bike dropped weight thanks to a slimming down on the crankcase walls and a smaller capacity fuel tank, a result of the added feature of fuel injection.
In addition, Honda redesigned the brake rotors to save an additional 65 grams of weight. Larger front and rear forks, a steering damper and a restructuring of the frame bolstered the handling.
Honda technicians, mechanics and engineers keep watch on any needed changes, upgrades and tweaks because they have some of the best competitive riders on Team Honda, capable of reaching the podium in any given MX race. Ashley Fiolek is the 2011 WMX champion, her third career championship.
Josh Grant and Trey Canard of Team Honda, Justin Barcia with GEICO Honda and Chad Reed with TopTwo Motorsports draw attention with their skill and the Honda style. If there is a problem, the team is right on it and that makes the dirt bikes from Honda better for all riders and ensuring more cherished memories.
The Honda Dirt Bike offers incredible value and choice from pro to enthusiast.
The Honda Motocross Bike - Why is it so loved?
Are you a professional or an amateur, well it does not really matter, the Honda motocross bike is the right choice to make.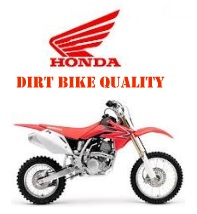 Are you a dare devil who constantly wants to do something exciting and fun? Dirt bikes are the way to go! There is a rush going through your body that tells you to do something out of the ordinary. A decision is then made and you are off looking for a top model Honda Dirt Bike.
Honda motocross bikes of course are among the best, where else would you look? Why is Honda the best choice? For many reasons, Honda bikes are the top sellers because they provide the highest quality. Quality is Honda's trademark because this manufacturer always successfully pleases the customer.
Honda is working hard to make improvements and better themselves as a company. Honda motocross bikes offer speed, power, maneuverability as well as many choices of off-road bikes to select from.
When riding a Honda dirtbike you will always see and feel the difference and THAT is guaranteed.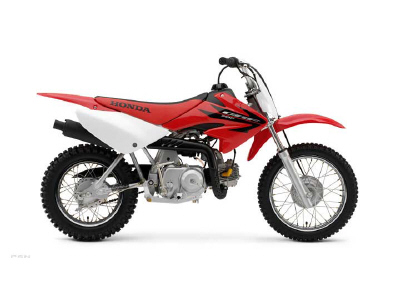 Some of Honda's best dirt bikes are the CR125R models, but it's not made for your everyday rider, it is the professional's choice.
It is a constant winner in races and is a lightweight and easy to handle bike - as well as powerful. The cost is about $5449.
Another popular model for gifted enthusiasts, is the CRF250X. This model is named the "best bike" by Dirt Bike Magazine. It is light and has a four stroke engine. With this MX bike you will get to wherever you need to be easily. This is "THE" off the road dirt bike model for any experienced rider.
Honda used dirt bikes
Let's remember the honda mini dirt bike (CRF50) is a popular moto for kids and adults alike. The smaller honda kids dirt bike has lots of power and is compact enough to fit in the boot of a car (in most cases); and fabulous value if you're buying pre-loved.
If you want something bigger why not try the used honda's AGAIN, for some realistic Honda Dirt Bike buys; and they are one cheap bargain for sure (like the CRF125, and CRF250X). But they do need checking over properly (like any other ride) before spending your money.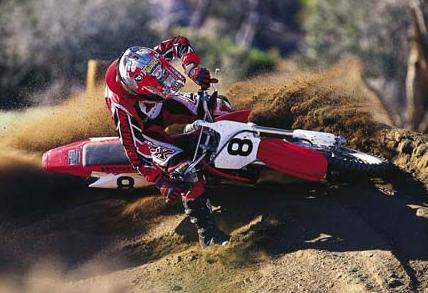 ---
Home | Dirt Bikes | Cheap Dirt Bikes | Accessories | Mini Dirt Bikes | Motocross Racing
Motocross Gear | Off Road Bikes | Used Dirt Bikes | Wholesale Dirt Bikes
Honda | Kawasaki | Suzuki | Yamaha